It has been a cold, gray week in NYC. The sun came out for a few hours on Wednesday afternoon, and we took advantage of the slightly warmer temperature by going on a long walk across the Brooklyn Bridge to the Staten Island Ferry, riding the ferry there and back, and then walking back home. The sun set as we rode back across to Manhattan on the ferry, lighting up the sky with bright orange and yellow fire.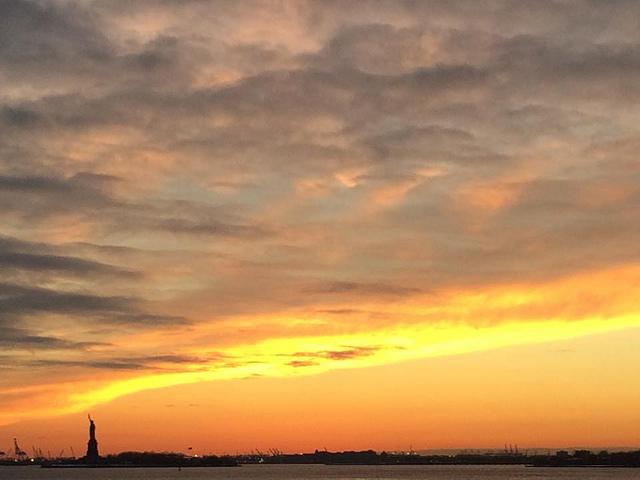 On Saturday big fluffy snowflakes fell all afternoon, covering up the old gray snow piles and making the city feel beautiful and magical on Valentine's Day. Graham and I cooked Red Wine-Braised Short Ribs. I had never made short ribs before, but they are a favorite of mine to order at restaurants. This recipe is fantastic. They are extremely tender – the meat falls right off the bone, and the red wine sauce is divine. We served it with mashed potatoes and a loaf of fresh french bread, followed up with cookies from One Girl Cookies for dessert.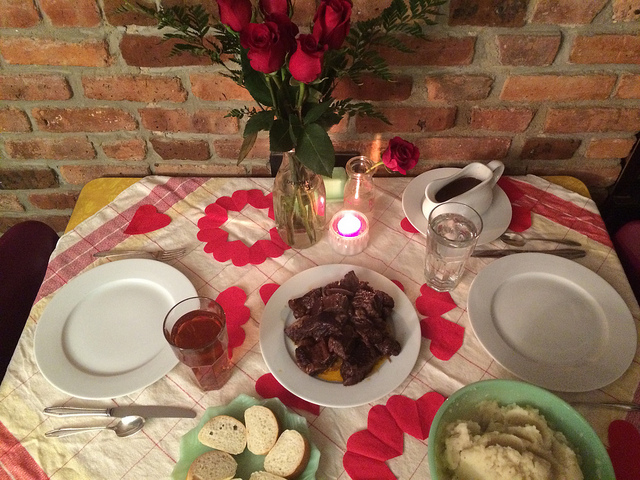 This week I shared a travelogue from our few days in Glacier National Park, wrote a post about my experience buying my first rare book from Strand's Rare Book Room: a signed Vonnegut edition, and posted a review of an absolutely wonderful collection of essays – The Wave in the Mind by Ursula K. Le Guin. In honor of Valentine's Day this week I posted photos of a charming antique valentine I bought in England, and this week's quote of the week is from my favorite literary couple of all time – Anne Shirley and Gilbert Blythe.
READING
This week I finished Norwegian Wood by Haruki Murakami. There's still so much more of his work I want to read – especially Kafka on the Shore and 1Q84. I love his writing style, and I'll share a review of Norwegian Wood soon.
Now I'm reading Reinventing American Health Care by Ezekiel Emanuel and Turn Right at Machu Picchu by Mark Adams.
WATCHING
We started watching West Wing this week – neither Graham or I have ever watched it before. We. Are. Hooked. It's so good and I can't believe it took me this long to watch it. Isn't starting a new series that you love and having 7 seasons ahead of you to enjoy just the best?
I am also so very happy that John Oliver and Last Week Tonight are back.
LISTENING
Reading The Wave in the Mind made me decide to finally start reading the Earthsea trilogy. I got the audiobook of The Wizard of Earthsea, narrated by the wonderful Rob Inglis, which is the first book in the trilogy. It's fantastic, and I am having so much fun listening to it. There's something about a great audiobook narration that can make a book extra magical.
LINKING
Just one link this week – I was so excited to see a Kickstarter for Kurt Vonnegut: Unstuck in Time – a documentary 33 years in the making. If you're a fellow Vonnegut fan I encourage you to check it out and consider backing it – it looks like it could be very wonderful.
//
That's it for my week! How was your week?