During my recent book purging project and efforts to minimize my material possessions, I scaled my book collection down by about 15%. As a result, I had about 250 books to sell or donate. I donated the majority of them, and the ones that had a bit more resale value I took to Strand to exchange for store credit.
Last week I took one of the last loads of books to Strand, including a few signed books. I took the signed editions up to the beautiful rare book room on the third floor to sell them. While they evaluated them, I browsed the signed books for sale and became curious about whether they currently had any signed Kurt Vonnegut books in stock.
I have wanted a signed Kurt Vonnegut book for almost a decade. While he was still alive, I hoped to be able to attend one of his events and meet him in person, which would have been better than any signed book. After he died I regretted that I'd never had the chance to meet him briefly at an event, but I decided that someday I'd still buy a signed edition of one of his books.
Darren, the wonderful rare book room manager, gave me a run down on the different editions they had and the value and uniqueness of each. They had a few books in a wide range of prices. At the highest end (and way out of my price range) was a first edition Cat's Cradle for $3,000. But I wasn't interested in owning an extremely valuable rare book anyway, I just wanted something signed by my favorite author. Whatever it was would become very special to me.
Then he showed me a signed, first edition hardcover of Conversations with Kurt Vonnegut, edited by William Rodney Allen. It's a collection of the very best interviews with Kurt Vonnegut that have been published over a span of 30 years (I already owned a regular copy, in paperback). This one was much more in my price range, and my store credit from selling books would pay for about 2/3s of it.
I thought about it for a bit while I browsed the store, and then came to this decision:
And so it became mine. Here's the signature: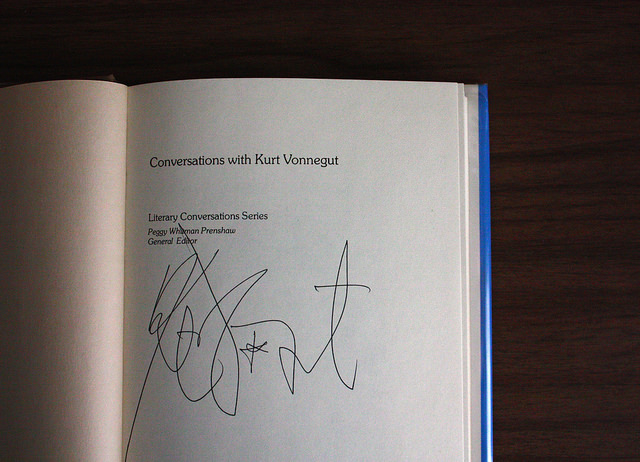 This book brings me a lot of joy, and I think it's kind of neat how it came to be mine: I released a lot of books I no longer have use for out into the world where they can make other people happy, and in exchange I now have one new book that brings me joy. If this isn't nice, I don't know what is.