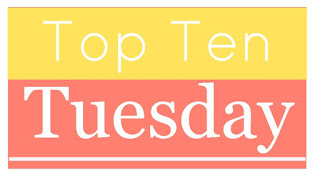 This week's Top Ten Tuesday, hosted by The Broke and the Bookish, asks for "Top Ten Best Books I Read In 2015."
I decided to focus this list on the excellent non-fiction books published in 2015 that I loved reading this year. Here's my list, with very oversimplified descriptions of when I'd recommend reading them.

IF YOU WANT TO BE DELIGHTED
The Penguin Lessons by Tom Michell (my review)
IF YOU NEED A DOSE OF BAD-ASS FEMINISM AND POLITICAL ACTIVISM
My Life on the Road by Gloria Steinem
IF YOU WANT TO IMMERSE YOURSELF IN THE MIND OF A CREATIVE SOUL
M Train by Patti Smith
IF YOU WANT INSPIRATION TO CREATE
Big Magic by Elizabeth Gilbert (my review)
STILL NOT DONE WITH CREATIVITY AND WHAT IT MEANS TO BE AN ARTIST?
Hunger Makes me a Modern Girl by Carrie Brownstein

IF YOU NEED A BIT OF HEALING WILD
H is for Hawk by Helen MacDonald (my review)
IF YOU WANT TO IMPROVE YOUR HABITS
Better Than Before by Gretchen Rubin (my review)
IF YOU WANT TO BROADEN YOUR WORLD VIEW
Between the World and Me by Ta-Nehisi Coates (my review)
IF YOU WANT TO LEARN ABOUT AN IMPORTANT AND DIFFICULT ISSUE
Missoula by Jon Krakauer
IF YOU WANT TO ESCAPE IT ALL
The Dead Ladies Project by Jessa Crispin (my review)
//
What are your favorite non-fiction books of 2015?