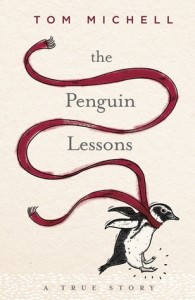 Here's what I think you need to know about this delightful book:
1. First of all, I need to thank Lauren for putting this book on my radar. You should head to her review for a longer, more thoughtful review than this one.
2. What you'll find inside this true story is this: a young British man moves to Argentina in the 1970s. He's longing to stretch his wings and discover a bit of the world for himself. He's employed as a professor in an English boarding school there, which affords him some free time to explore the continent on his motorbike. During one of his adventures in Uruguay, he finds a beach completely devastated by an oil spill. Hundreds of dead penguins covered the beach – it looks like all living things have been destroyed. He continues walking along the beach and discovers a penguin that is miraculously still alive. He "rescues" it himself, cleans off the oil that covers it, and attempts to smuggle it back into Argentina so that he can figure out what to do with it. And hence his world is changed, forever. I think you'll fall completely in love with this penguin, now named Juan Salvador, and delight in both his actual personality and ingenuity, as well as the charming anthropomorphizing liberties that Tom Mitchell takes in describing his friendship with this remarkable bird. But wait, there's more! You'll also get a dash of adventurous travel writing and thoughtful descriptions of Argentina during a tumultuous period of its history.
3. If this sounds good to you so far, you could find a print or ebook copy and read it, and you would probably enjoy it. OR… you can get the audiobook and let Bill Nighy read it to you, penguin voice and all.
4. (SLIGHT SPOILER ALERT) Are there any books that feature a human's friendship with a beloved animal that don't end with said animal dying? Probably not many, and this one, unfortunately, isn't an exception. Which isn't much of a surprise considering he met Juan Salvador 40 years ago. However – this isn't one of those animal books that makes you wonder if it was funded by a tissue company. It's quite sad when Juan Salvador passes, but the majority of the book is about his wonderful personality and life and the positive impact he made on all of the humans around him, and I didn't find the inevitable end to be completely devastating. I point this out because I'm a huge animal lover and nothing makes me more hesitant about an animal book than whether or not the animal's death will undo me. I refused to go to school in third grade the day we were scheduled to finish Charlotte's Web. I read ahead the night before, cried for hours in bed, and refused to go in and subject myself to it all over again. So if you, like me, are wary of such books – fear not. This one is much more uplifting than weep inducing.
It should also be noted that the main image in the blog header above is not Juan Salvador. It doesn't sound like any photos of him survived, which is a shame. But it is a photo of a Magellianic Penguin, the same species as Juan Salvador, so he would have looked quite similar. It's hard to handle the cuteness, isn't it?
//
Buy this book at an Independent bookstore.
Main penguin blog image is by Pablo Fernicola.  (CC BY-NC 2.0)