There are times while traveling when you arrive at a long anticipating destination and the experience doesn't match your expectations. I knew that Machu Picchu would be full of tourists. Most popular destinations are – I'm pretty good at ignoring crowds and finding my own personal experience and quiet moments in well-visited places. What I didn't expect is that we wouldn't actually be able to see Machu Picchu when we arrived.
When we arrived at Machu Picchu at about 7am, this was our view: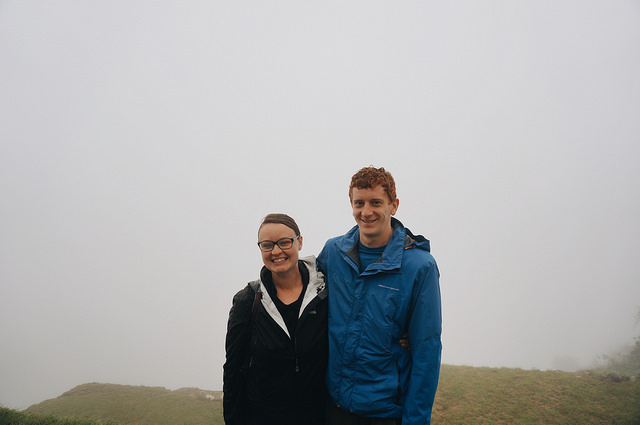 When you visit Peru during the wet season, you risk encountering a Machu Picchu hidden by fog. We walked up to the guard tower with our guide and couldn't see anything more than 5 feet away. We had plans to walk up to the sun gate, but it wasn't worth the hike – there was no view that day. So our guide just started our tour of Machu Picchu. Luckily once we went down a bit from the guard tower the fog was less extreme, we could see the immediate area around us. We had a great tour, but still couldn't see the mountains surrounding us, or get the famous "big picture" view of Machu Picchu.
After the tour, we took a break to grab some food and relax for a while. It was only about 9am, and we were free until 3pm. We could stay as long as we wanted at Machu Picchu before catching a bus back down to Aguas Calientes. We decided to stick around and see if the fog would lift.
Luckily, it did lift. Not completely, but enough so that we could see it in its entirety, and catch glimpses of the stunning and dramatic mountains surrounding us. Here are a few photos: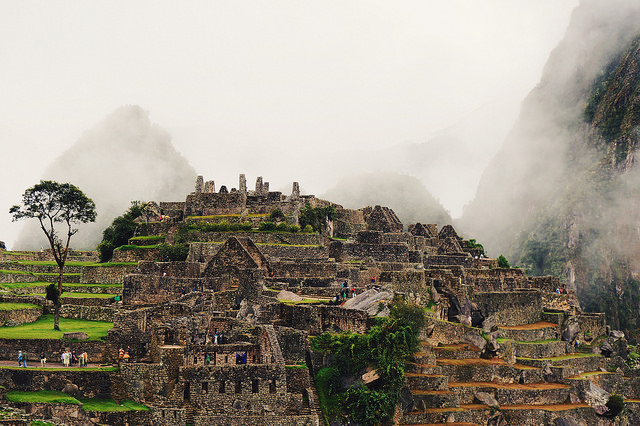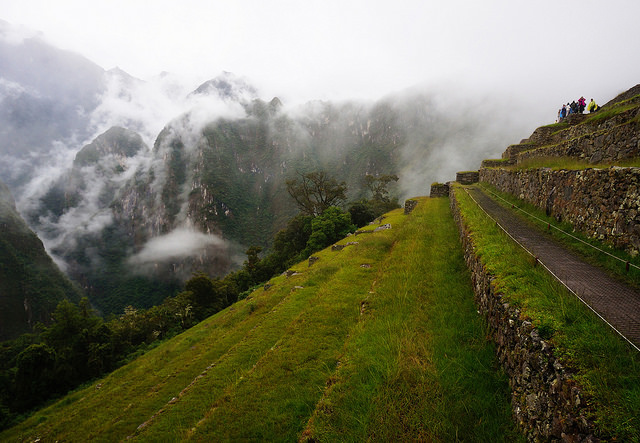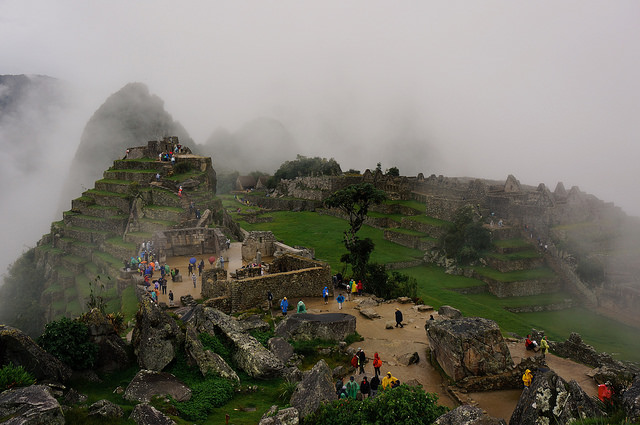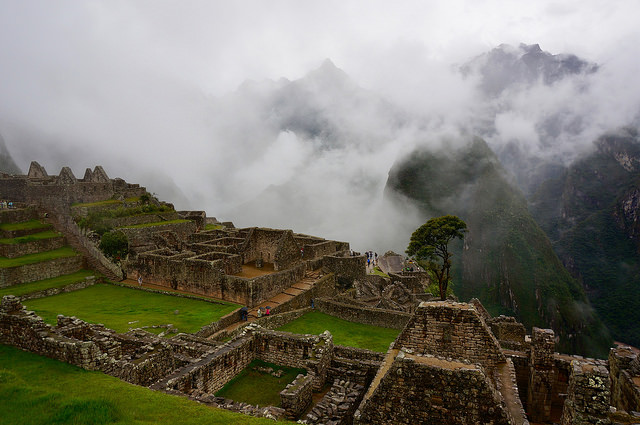 I'm so happy that we stuck around and that the fog lifted a bit. I'd still love to someday see Machu Picchu on a gorgeously clear, sunny day, but I am so grateful I was able to visit this incredible place. It's really magnificent, and the rain/mist seemed to curb the number of other tourists there. I really enjoyed wandering through the amazing ruins and imagining myself alive in the height of the Inca Empire, rebuilding the city around me in my imagination.
There are a lot of great books that cover Inca history, and I highly recommend immersing yourself if you plan on visiting Peru. I enjoyed reading Turn Right at Machu Picchu by Mark Adams the most – a very readable and fun introduction to Inca history and Peruvian culture. From there you can dive into a more in-depth history of the Incas (such as The Last Days of the Incas) or explore the world of Hiram Bingham's expeditions (in his own The Lost City of the Incas or Cradle of Gold by Christopher Heaney).
//
Have you ever visited a famous "bucket list" place and found it completely different that you'd imagined? Have your travel plans ever been completely derailed by weather?
My previous Peru travelogues: Condors and the Lares Trek.