One of the most incredible parts of our time in Peru was the morning we spent watching Condors fly across Colca Canyon.
We woke up early in the morning on Condor Day. We were staying in Chivay, a small town in the Colca Valley. We had to drive about 2 hours to the the Condor viewing location – the spot you're most likely to see a Condor in the morning, if you're lucky. It wasn't very far away from Chivay, but the road is unpaved and windy – it's a slow trip.
When you arrive, this is the magnificent scene before you: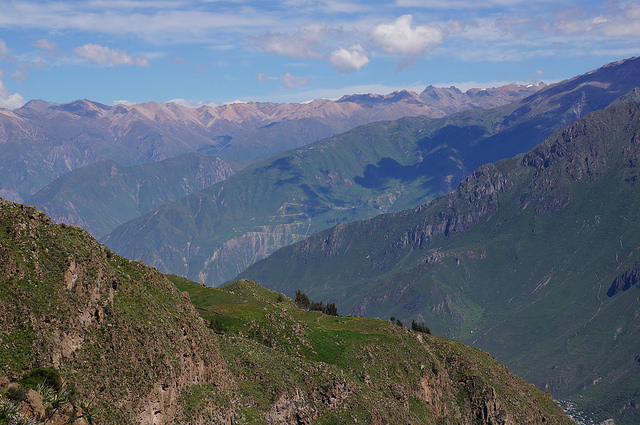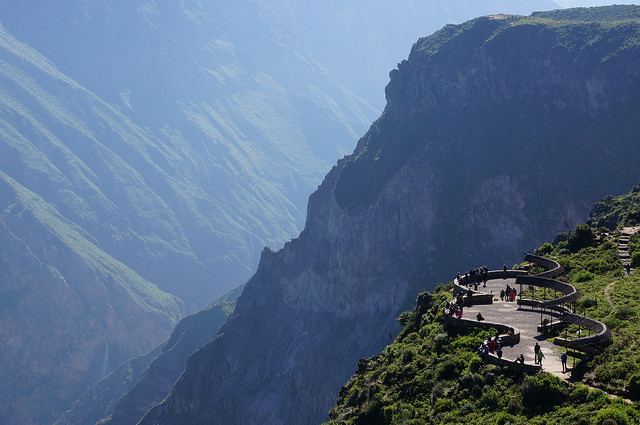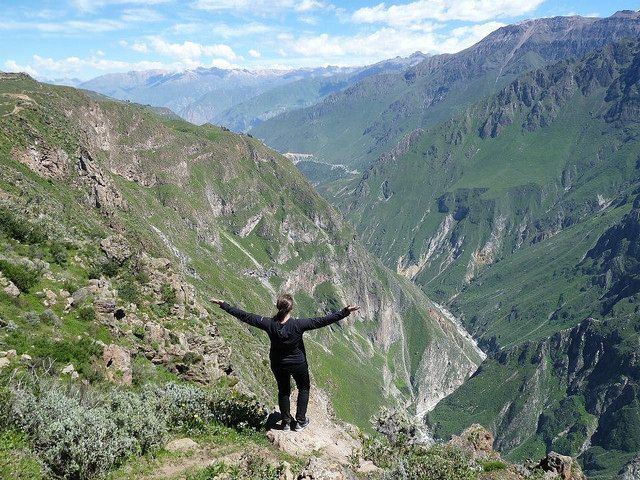 Is it any wonder that this is where the Condors choose to live? It's stunning.
We arrived about 8am. When you get there, you pick a spot to stand / sit, and then begin to wait as the sunlight starts to roll into the valley. It was a beautiful day, and I was feeling happy to be alive and in such a spectacular place… and also feeling a little antsy about whether we'd see any Condors or not. (On a sunny day, there's about a 60-70% chance that you'll see them. Which means there's a 30-40% chance that you won't.)
After about 45 minutes, we started seeing some activity from the other side of the canyon. One or two Condors were started to move around – flying a few meters around the ledges. The canyon is very wide, so it was hard to spot them, you just had to look for movement.
About 15 minutes later, it was as if there was a scheduled showtime that was now ready to begin. It started with one Condor – emerging from the shadows and soaring around across the canyon to our left. It seemed miraculous.
Then it flew closer – it came within about 10 feet of us before circling back to the left. It was incredible. After a few more minutes of flight, it went back to its ledge across the canyon. There was a lull of about 10 minutes, and then what appeared to be Condor Rush Hour started: we saw about 6 to 8 Condors in total, soaring back and forth over the valley. We watched them fly up close, and we watched as they soared far away against the mountain backdrop. The hour of my life I spent watching them felt serene, wonderful, and special – one of the best hours of my life.
Here are some photos: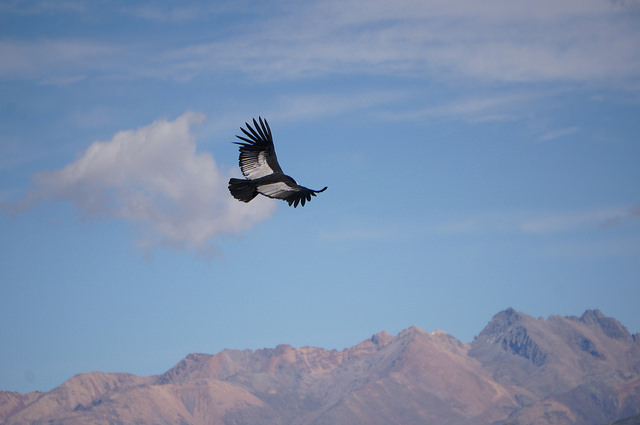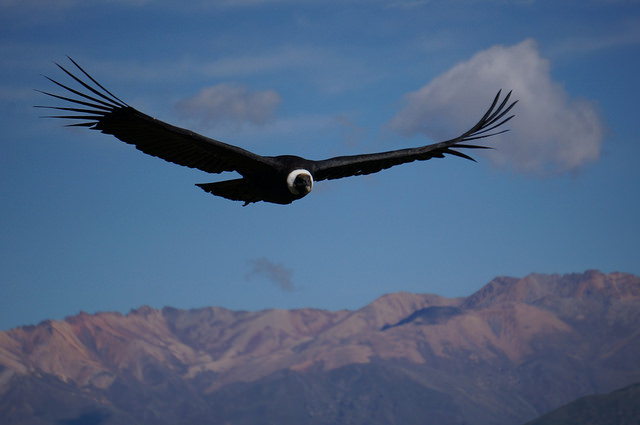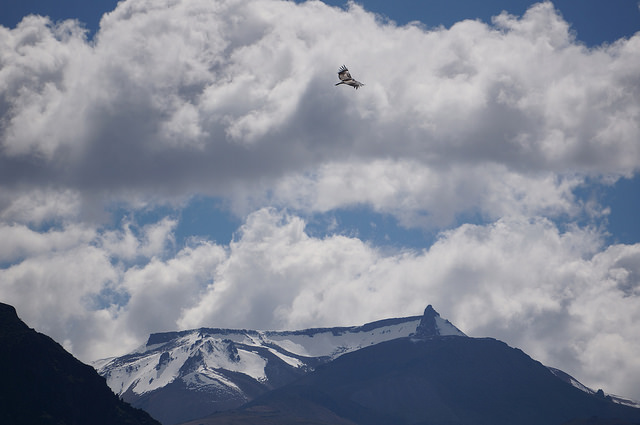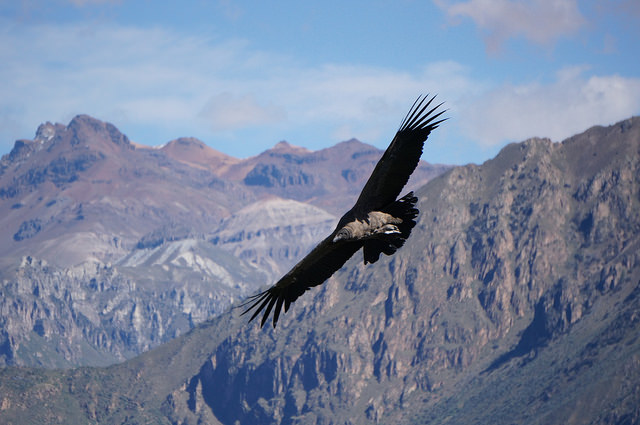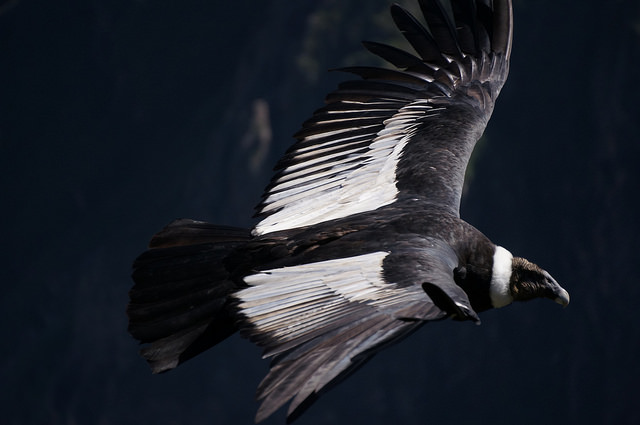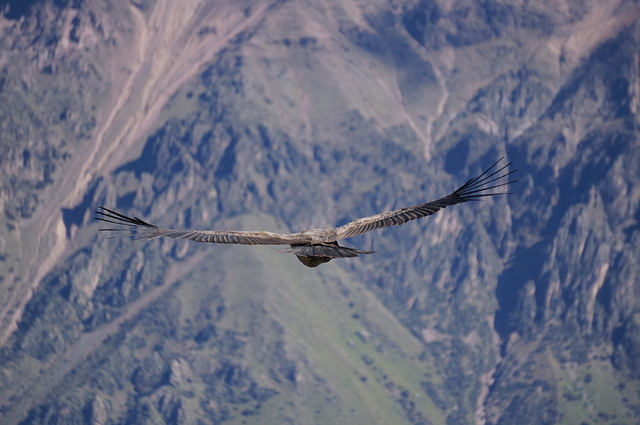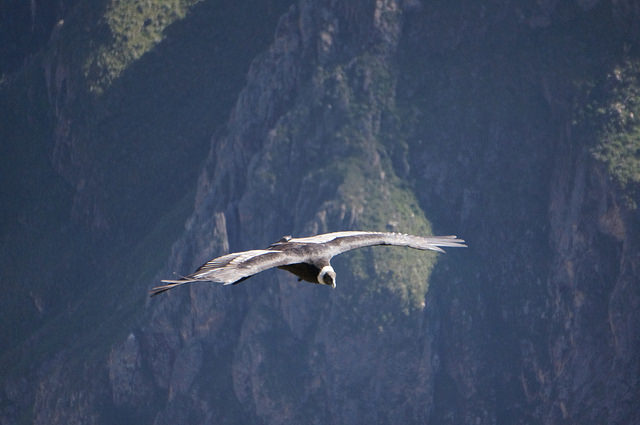 Andean Condors are  huge – they have a wingspan of over 10 feet. The younger ones are brown and gray, and the older ones are black and white.
A few of them flew so close that my zoom lens couldn't focus on them, resulting in photos that look as though a Condor photobombed my picture: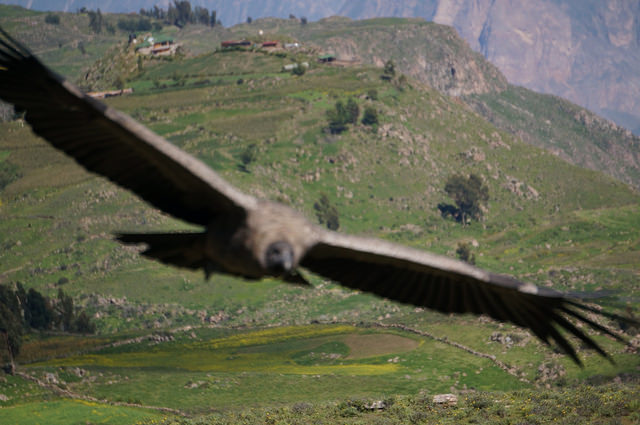 While I was busying snapping photos, Graham was taking some incredible video footage. Here's a clip (the snapsnapsnapsnapsnap sound is my camera going off at rapid speed):
I'll remember that morning my entire life. If you visit Peru, I highly recommend visiting Colca Canyon and trying your luck at catching a glimpse into the lives of these magnificent birds.