There are so many beautiful homes for books around the world. And there's no shortage of articles compiling amazing photos of them, inspiring wanderlust in even the most home-bodied of book lovers. Here's 62 of the world's most beautiful libraries compiled by Mental Floss. Here are the 16 bookstores you must visit before you die, according to BuzzFeed, or Flavorwire's 20 Most Beautiful Bookstores in the World. I've also written previously about my own love for Independent Bookstores.
So what does it look like when you head out into the world and actually try to visit a lot of these spectacular libraries and bookshops? I spent last year traveling around the world and the US, and along the way I visited as many beautiful libraries and fantastic independent bookshops as I could fit in. Some of them were planned, places that were on my itinerary from the beginning. Some of them I stumbled upon serendipitously. All of them were treasures.
What I discovered is this:
1. You can't get into all the libraries easily. Some of the most beautiful university libraries are only available to students. Some of them (like the Strahov Monastery in Prague) don't let you actually go into their beautiful spaces, you can just peer in through a doorway and pay a few Crowns for the permission to take photos as people around you elbow you for space. Others, like the Bibliothèque Sainte- Geneviève in Paris were only open to non-students if you arrange a private tour as a librarian or architect. I am neither, but somehow managed to snag a private tour anyway, thanks to a very lovely librarian.
2. It's not always easy to take great photos of bookstores and libraries once you're in them. The lighting is usually dim. They are often full of people wandering around. If you're in an independent bookstore or library it can feel a bit invasive trying to take photos while people are trying to peacefully browse or read. I tried to respect the sacred spaces of learning and bookish pursuits – I didn't use a flash and only took photos in actual working libraries and bookshops if I could do so in an unobtrusive way.
But taking photos isn't the reason to visit any of these wonderful places. It's about going into places where physical books are treated with care and reverence, and the pursuit of knowledge treated as a universal human need. It's about the fantastic smell of books. The quiet and relaxing hum that can only be found in libraries. The thrill of so many volumes collected in one place, inspiring awe because of all the lifetimes it would take to absorb all the knowledge contained under a single roof. The feeling of community you feel because, despite the fact that you might be halfway around the world from home, you're surrounded by familiar objects that are cared for by people who share your passion for books and reading. It's marvelous.
So here, presented in the order I encountered them last year, are some of the bookstores and libraries I had the delight of visiting in 2014. A small tribute in thanks of the joy they added to my travels.
//
I was strolling around Sydney near the Opera House before the John Waters show I attended there, and stumbled into The State Library of New South Wales. I wandered around happily, taking delight in their lovely main reading room and the many free exhibitions available, wonderfully curated throughout the enormously beautiful building.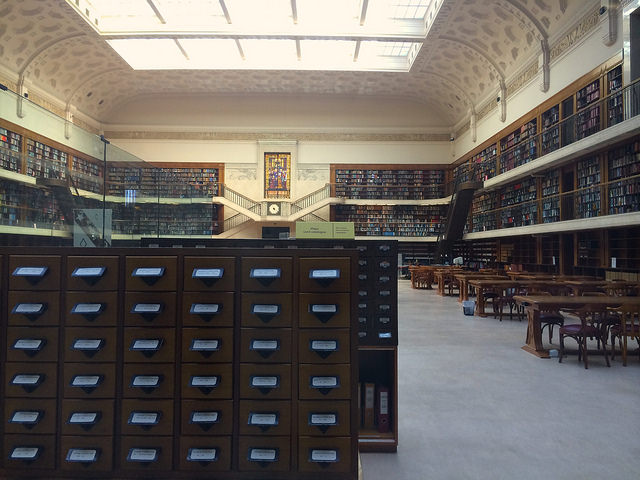 My third day in Sydney I visited a lot of lovely bookshops in Darlinghurst, on the way back from Bondi Beach. Here are a few photos from Ampersand Bookshop & Cafe: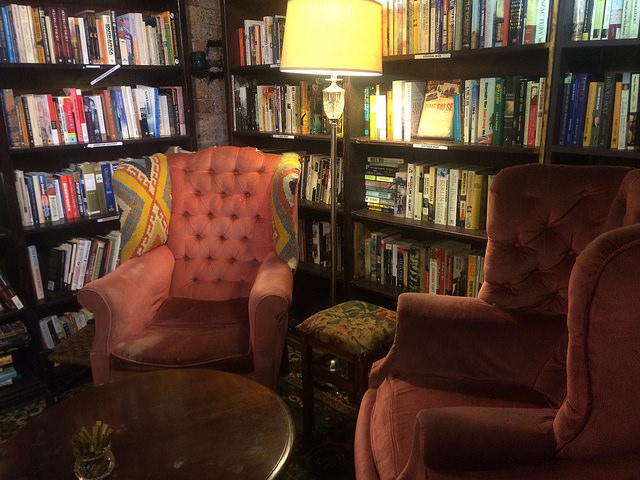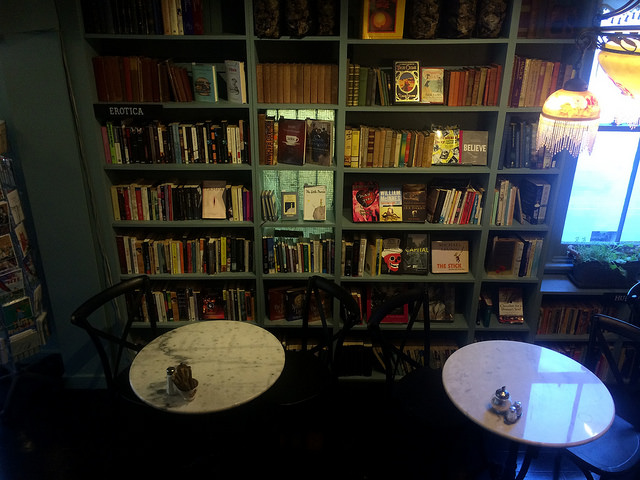 Graham had already been to Asia by the time we met in Australia, and I headed to Asia while he went to New Zealand. He recommended that I check out Gecko Books in Chiang Mai, Thailand. It's a great little used bookstore, and the books are priced very reasonably. I swapped out a few of the paperbacks I was carrying for fresh books for the next month of the trip.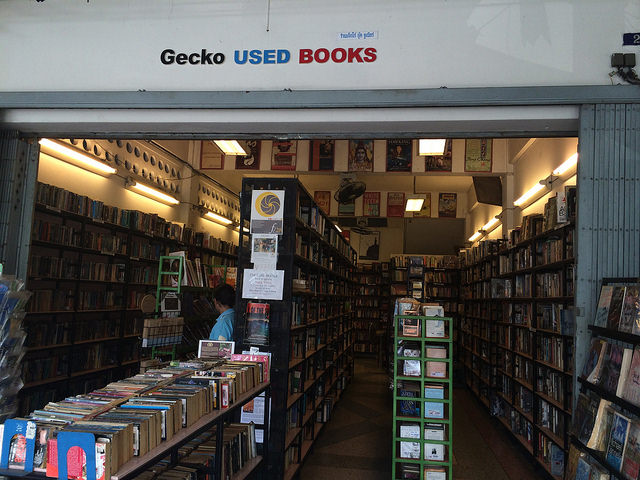 I'm not sure why, but it was incredibly hard for me to find the State Library in Austria. It's not very far from the National Library – their current circulating library, and people try to point you towards that. And then when I actually found the State Hall on Google Maps, it seemed impossible to walk to it – I kept going around in circles down weird side alleys and winding up back where I started. After a ridiculous amount of time and energy expended, I found it. And what I found was well worth the effort: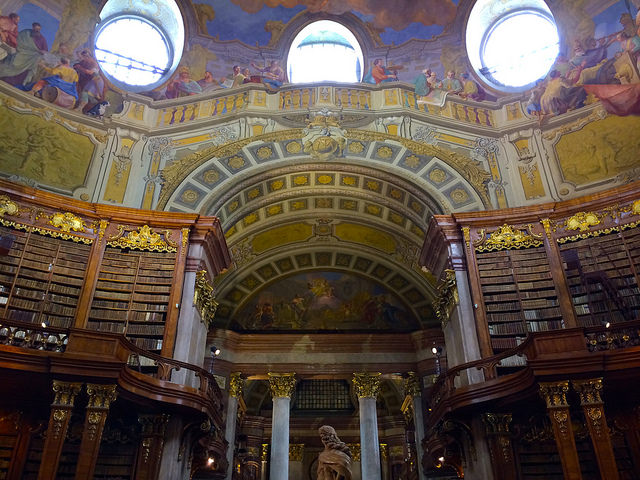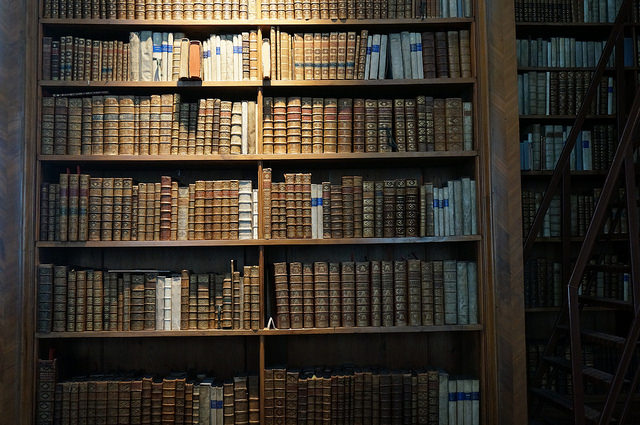 Shakespeare & Company seems to be a universal name for English language bookshops around the world – I found many of them besides the infamous one in Paris. We even have (or had, I think they closed) some in NYC.  Here's a small but well stocked one in Vienna Austria: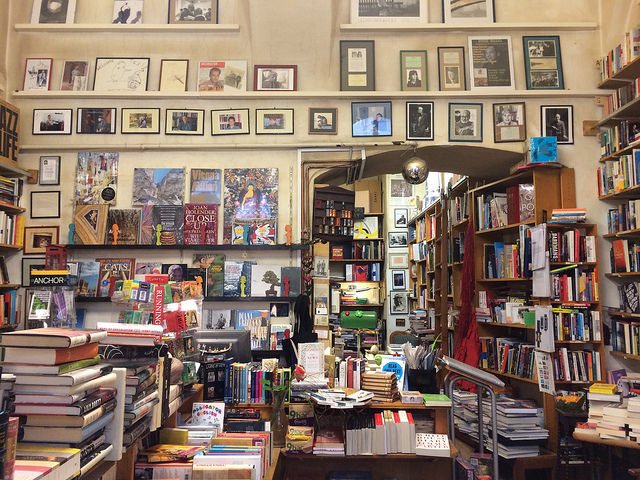 Michelle recommended the Strahov Monastery in Prague, and I'm so glad that she did. It's absolutely stunning. They have two halls – the Theological Hall and the Philosophical Hall. You're not allowed to go in, but since they aren't extremely large you can view them from the doorway. While it would be incredible to go in and wander around, the unspoiled view from the entrance is so beautiful – you can see the splendor of the design and antique volumes without a ton of people in your way.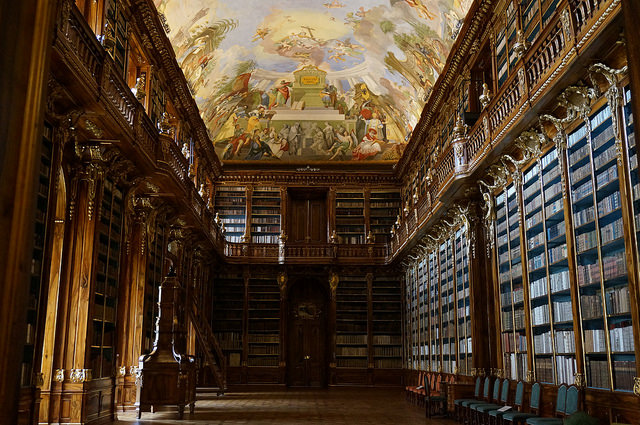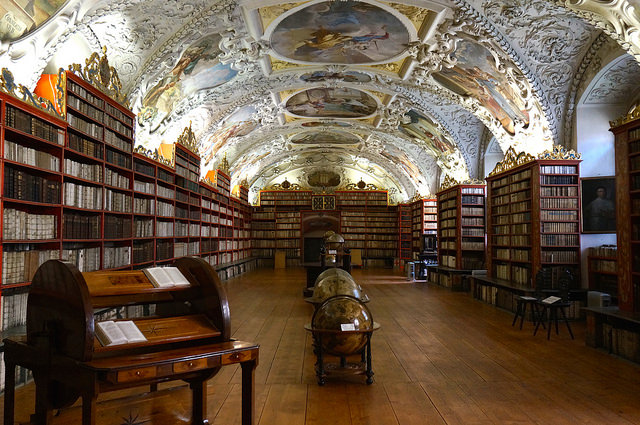 The Rijksmuseum was my favorite museum of the entire trip. Their collection is fantastic, and the Art as Therapy exhibition curated by Alain de Botton made the entire experience even better. While I was wandering around, I found their Research Library and loved the beautiful reading room: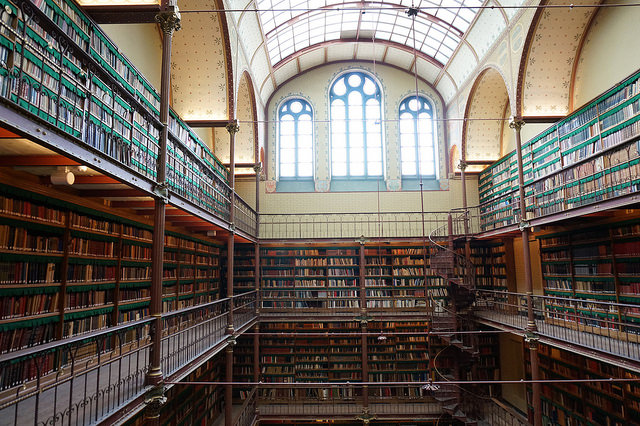 Most of the libraries I visited on the trip were historic, old fashioned libraries with classical design and a lot of marble and/or mahogany. The exception was the Openbare Bibliotheek in Amsterdam. The Openbare Bibliotheek is the main branch of the public library, and it's enormous and so very incredible. The current building opened in 2007, and has 10 floors and 1200 seats – 600 of which have internet connected computers for public use. There's a restaurant and cafe on the top floor with an outdoor terrace and excellent view of the city. In addition to books, CDs, music and magazines attractively displayed and housed, it was full of endcaps and display cases with historic materials curated to present information that was relevant to current trends and news. It was absolutely bustling while I was there – hundreds of people on every floor taking advantage of their city's incredible library. It's the sort of modern library that demonstrates that people predicting the death of libraries are completely bonkers. It was so well designed, being in the building was a joy. I took a lot of photos to try to capture the wonderfulness of this place, but you really need to see it for yourself someday: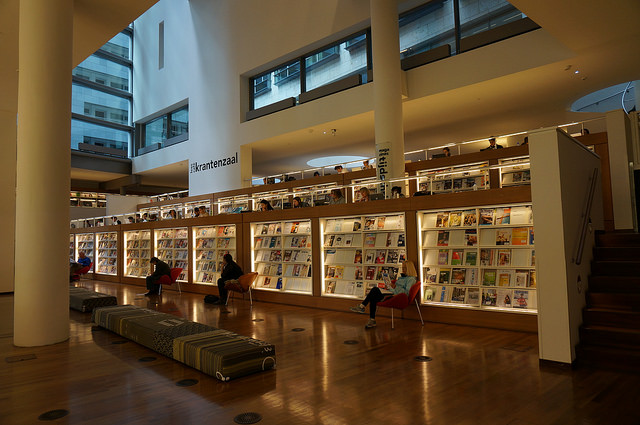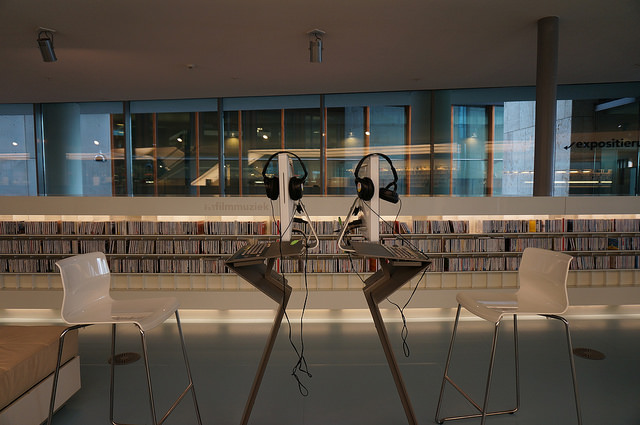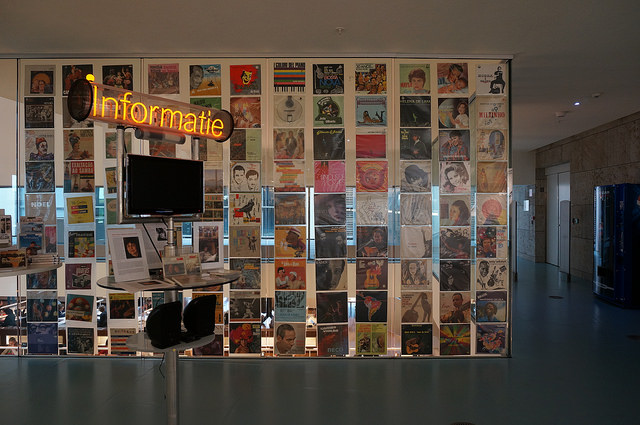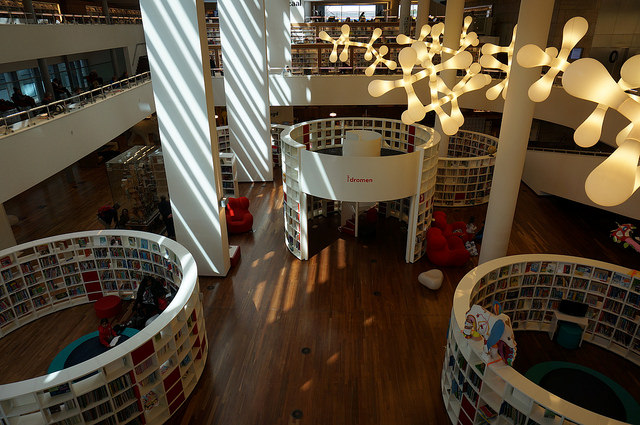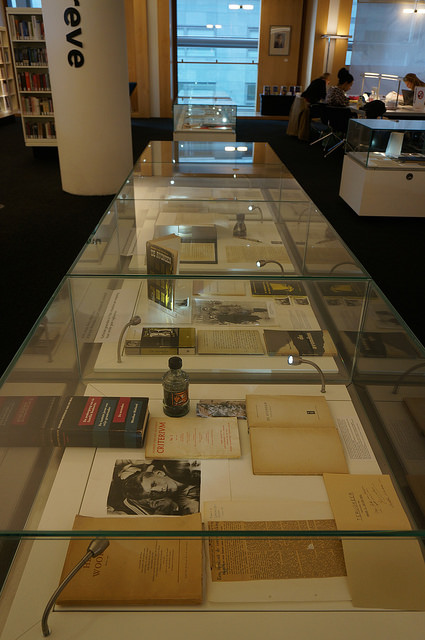 Shakespeare & Company in Paris. Definitely the bookish place I was most excited to FINALLY visit. My first morning in Paris I set out in the rain to visit the bookstore I'd been waiting for years to visit.
It did not disappoint. I knew it would be pretty crowded, but I happily explored every corner and stayed there for hours. The second floor is the best – it's where you can see the famous beds for nomads, the reading library, listen to people play the community piano, and read notes left by book lovers from around the world.I selected a few books to buy and got them stamped with the shop's seal. It was a wonderful experience.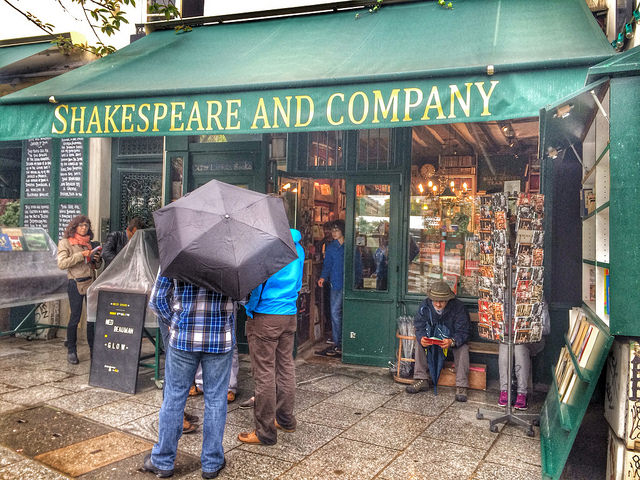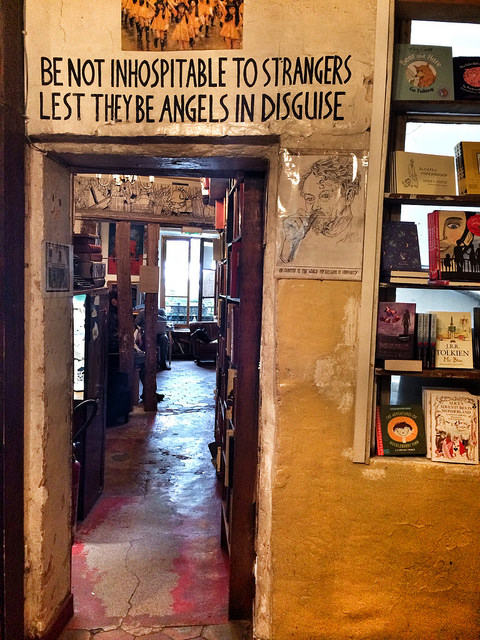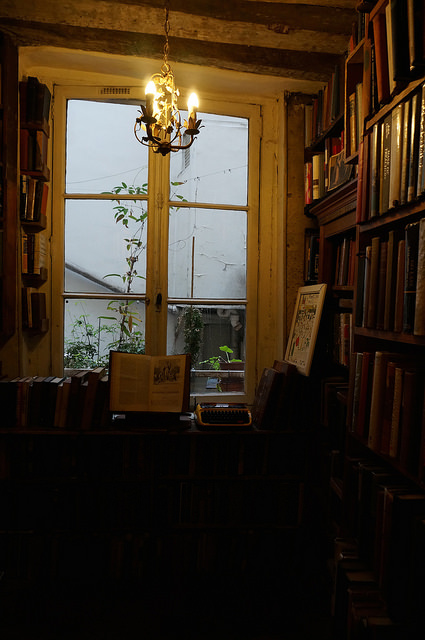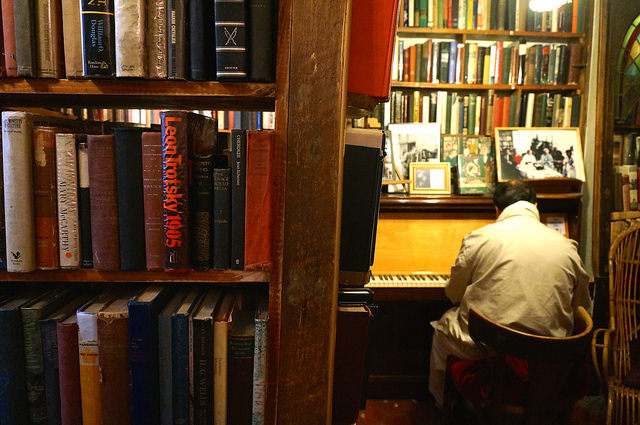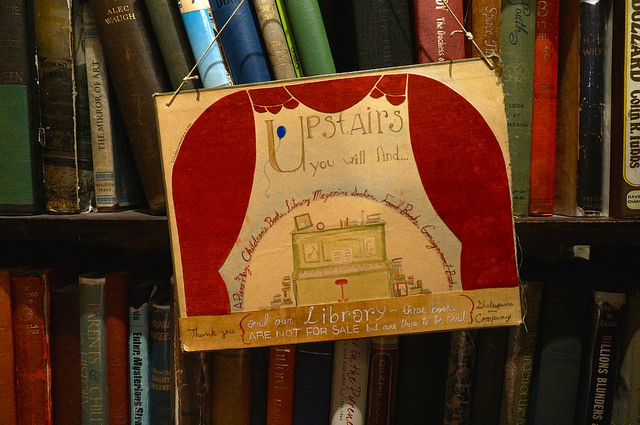 So this isn't a bookstore or library, but I'm slipping it in anyway: I also visited the Montaigne statue while in Paris. Montaigne is one of my favorite philosophers, and I rubbed his shoe in thanks for the advice he left us on how to live.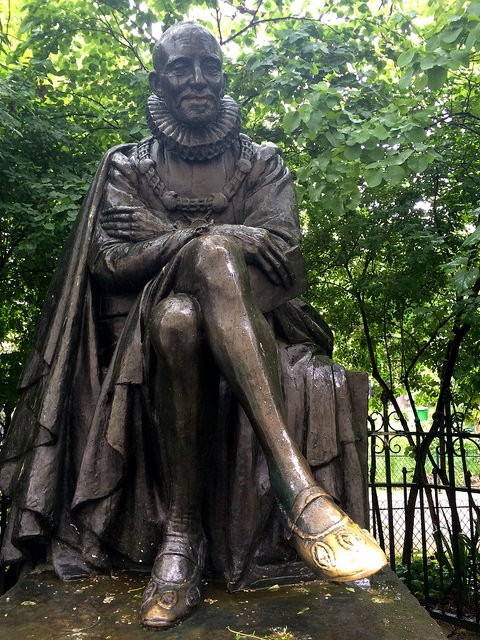 As I mentioned above, the Bibliothèque Sainte-Geneviève in Paris apparently can only be accessed by private tour, if you're not a student. They said the tour is typically for librarians or architects, but I somehow managed to talk my way into a private tour anyway. The librarian who showed me around was extremely kind, and explained the architectural significance of the building's design. When you enter the library on the main floor you walk into darkness, with very few windows. This represents innocence or ignorance. You then walk up a grand staircase into the well lit reading room, which represents the movement from darkness into light that education and study provide. What a lovely representation, and now that it has been pointed out to me I've noticed it in many other historic libraries. Here are photos of the gorgeous main reading room: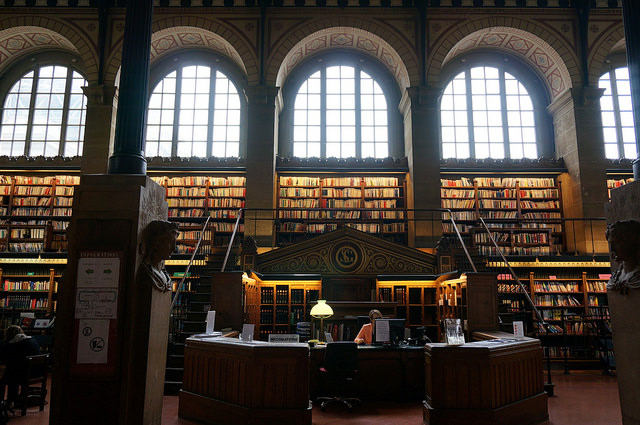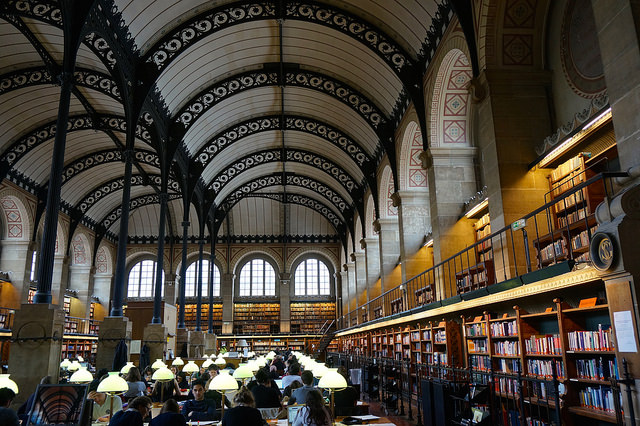 I went to a LOT of bookstores on my first trip to England in 2013. So many that I had to buy a second suitcase to bring all the books I purchased home. One that I missed visiting in London though was Daunt Bookshop for Travelers, so I made a point to go there while I passed through London this year. And it was so very lovely that I may have gone a second time several weeks later when I found myself in London again. I love books arranged by country, with travel guides sitting next to the fiction of that country, as well as non-fiction travel writing and essays. It's curated so well, and the sunlight filled gallery makes spending time there even more lovely.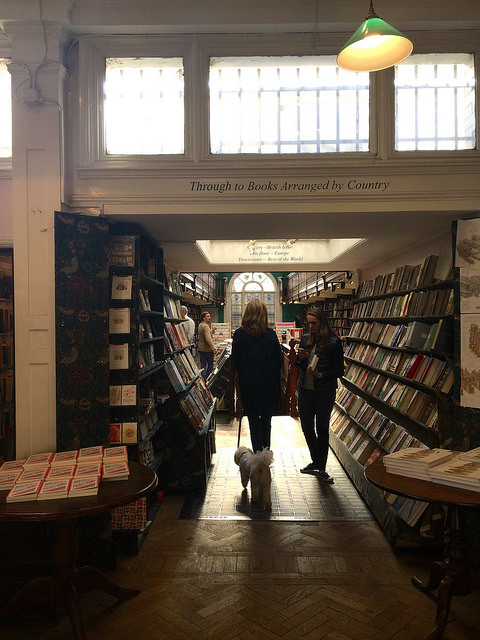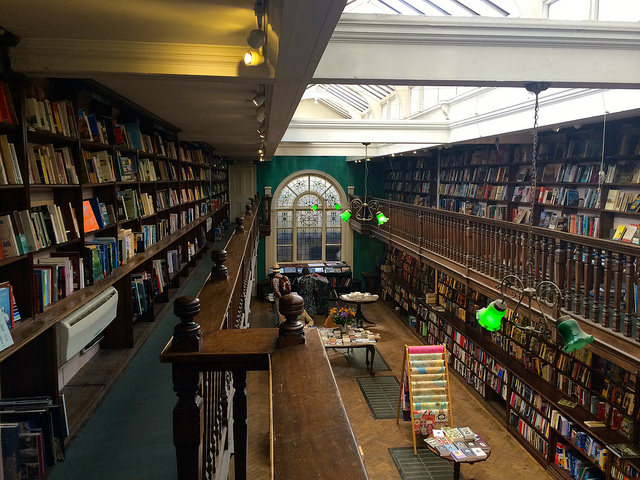 What a complete delight to find out that The English Bookshop in Stockholm was about 100 feet from my Airbnb rental: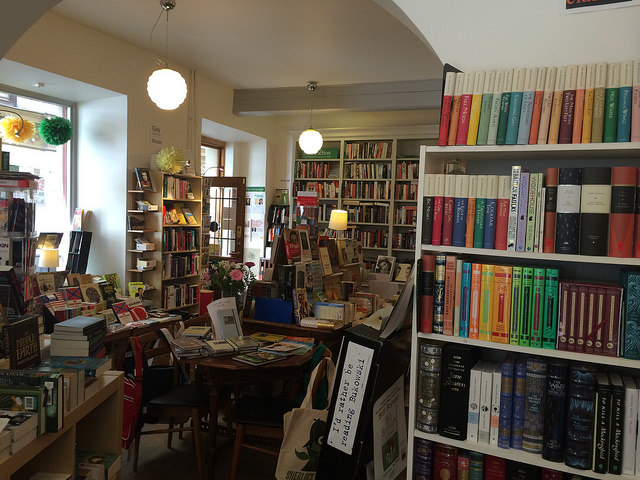 I also went to Rönnells Antikvariat secondhand bookshop in Stockholm. Their English language section isn't incredibly large, but it was fun to browse anyway, and the store is extremely cool: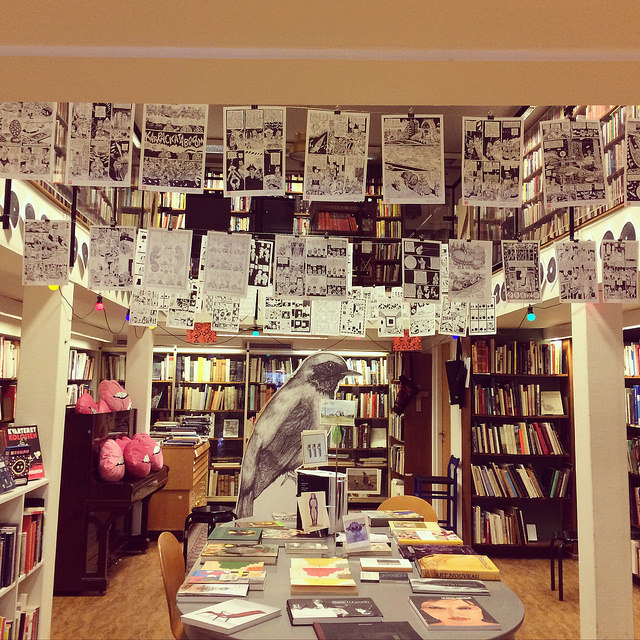 Around the corner from Rönnells is the National Library of Sweden – a huge, beautiful building full of people making use of the library's great resources, and a wonderful main reading room: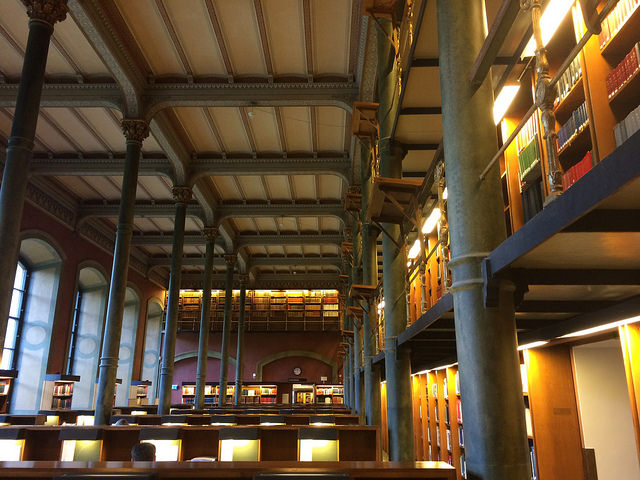 Besides Shakespeare and Company in Paris, the bookshop I was most longing to visit was Barter Books in Alnwick, England. I first heard of it a few years ago when it became famous for discovering the Keep Calm and Carry on poster, but the poster was not why I wanted to visit. I wanted to visit because it looked like one of the most amazing bookstores on the planet. It's housed in a former train station, and toy trains speed along on tracks on the tops of bookcases. The signage pays homage to its location by invoking the spirit of travel with big section labels and lines of poetry displayed like train track signs. The Station Buffet cafe and restaurant makes you feel like you've stepped back in time to a train station in the 1950s or 60s. It's incredible. I didn't think I'd make it there on my trip around the world – it's in northern England, and I wasn't planning on going anywhere in England besides a brief stop in London on my way to Scotland. But I rearranged the end of my trip to be able to spend a week driving around with Graham in his home country, and was so very happy to be able to visit this incredible place. It is now one of my favorite bookshops of all time.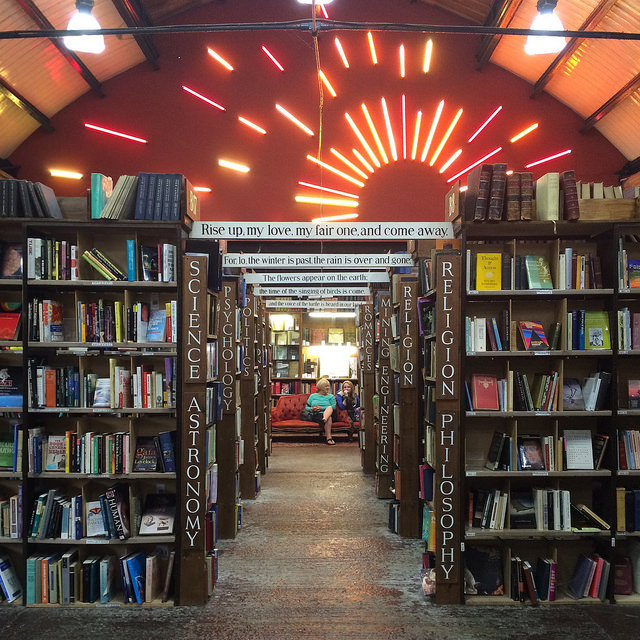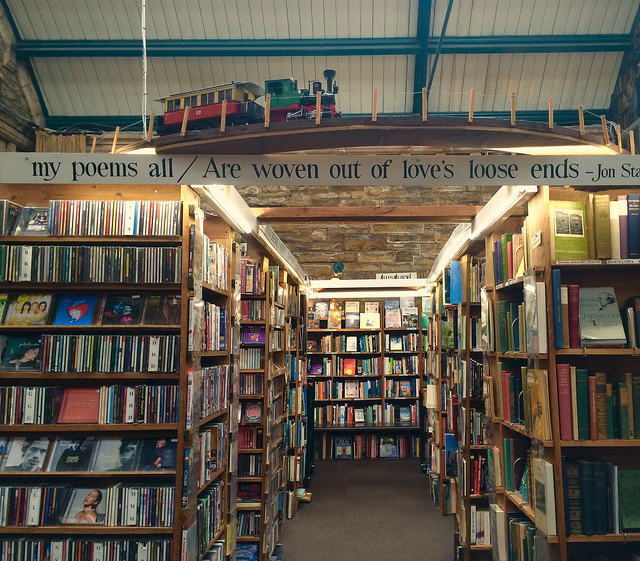 Once back in the US and on a roadtrip with Graham across the country, I got to visit a lot of amazing independent bookstores I'd been hearing about for years. One of those was Elliott Bay Book Company in Seattle, WA. Elliott Bay feels like the kind of bookstore every community should have. It's spacious and filled with light, with a lot of tables piled high with well chosen books to discover, lots of places to sit and read, and many shelves to browse upstairs and downstairs.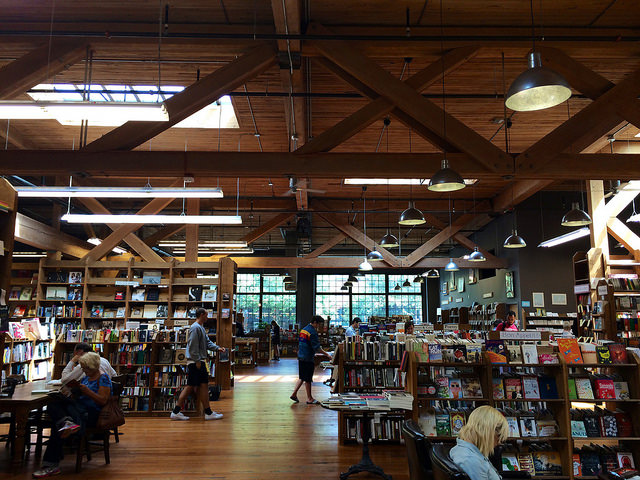 Powell's Books in Portland, Oregon was another bookshop icon that I have been longing to visit for years. My afternoon browsing their huge and lovely store was such a treat. I left with an armful of books, a new totebag, and the confidence that indie bookstores aren't going anywhere – they are too fabulous.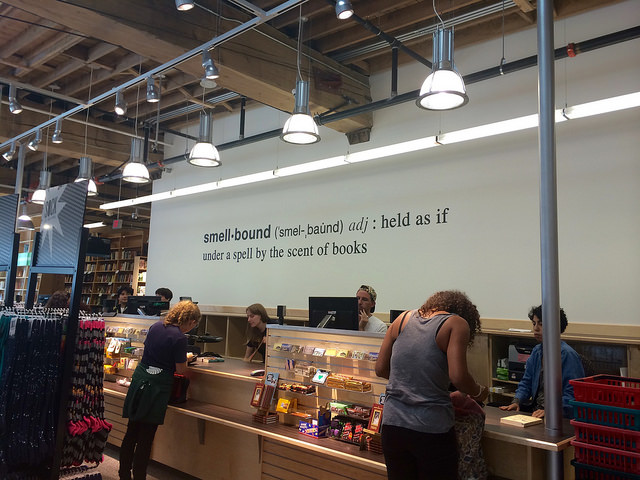 Before arriving in LA I had never even heard of The Last Bookstore, which seems insane now. Luckily my friend Michael, our incredible host for our short visit to LA, knows me well and took me here immediately. It's so much fun – a fantastic collection of new and used books combined with art displayed and for sale throughout the upper balcony of the store. A perfect combination, and a perfect store.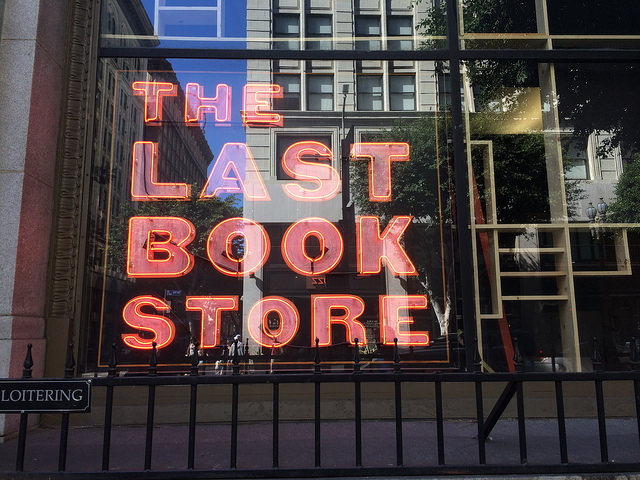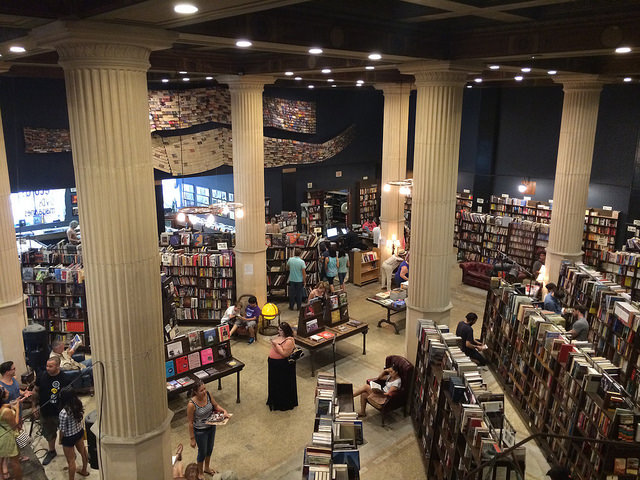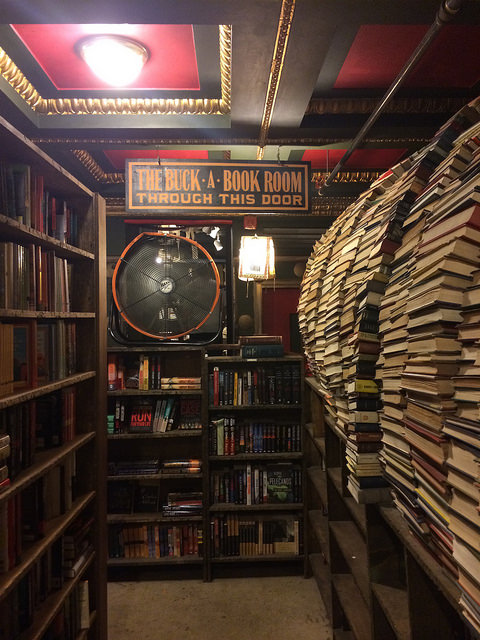 We had a relaxing and beautiful few days in Telluride, Colorado – going there offseason is very inexpensive and low-key. The perfect opportunity to browse the cute little Between the Covers bookshop. It's small, but packed with great books and a cozy little cafe in the back. Books and coffee are pretty much all I need.
Unexpected bookshops are one of my favorite things about road trips. You can pop into a cute little town for lunch, and find a cozy little independent bookshop you never knew existed. One of my favorites that we found this summer was Little Switzerland Books & Beans in a town just off the Blue Ridge Parkway in North Carolina. I found so many great used books here, most notably a few vintage editions of Chiang Yee's Silent Traveler books.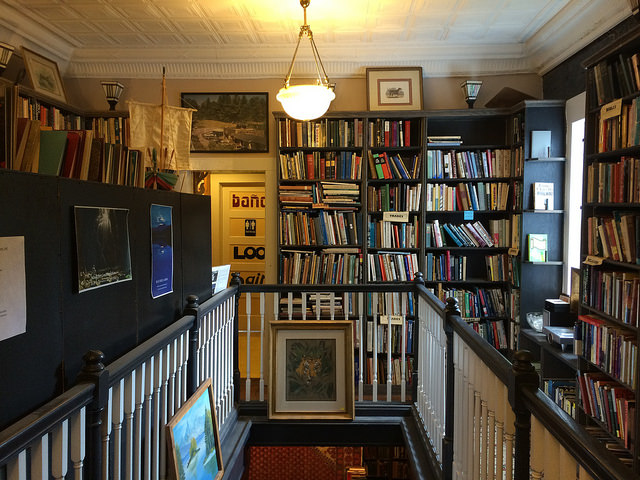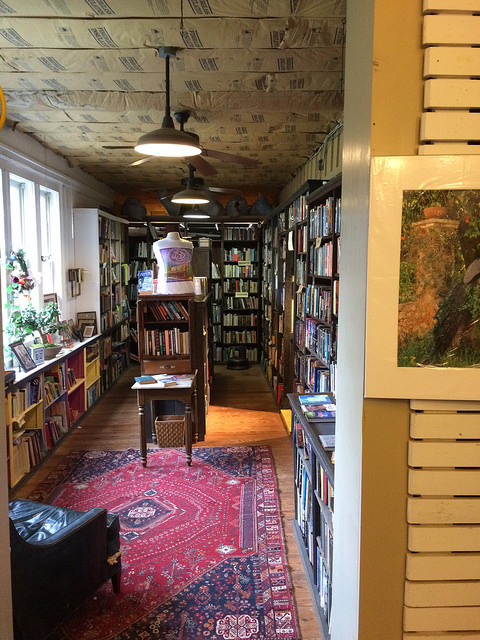 It seemed very fitting that the last library I visited on my trip around the world & the US was our very own Library of Congress in Washington DC. I've been to DC three times before, and somehow never made it to the Library of Congress. It's so very wonderful – an absolutely breathtaking building combined with fantastic exhibitions. I'm so glad I made it here, and during future trips to DC I will not leave without another visit.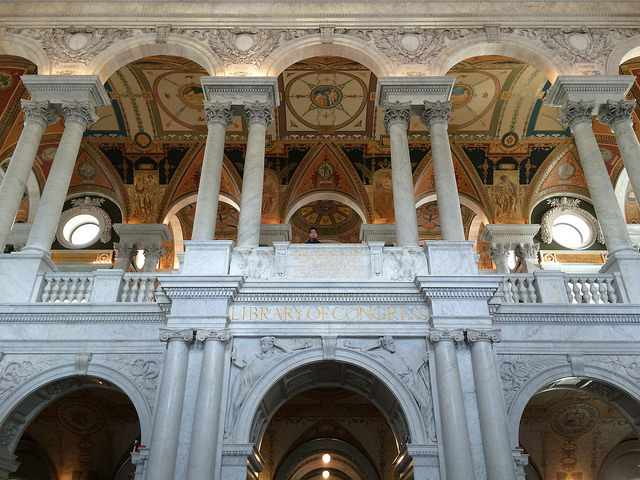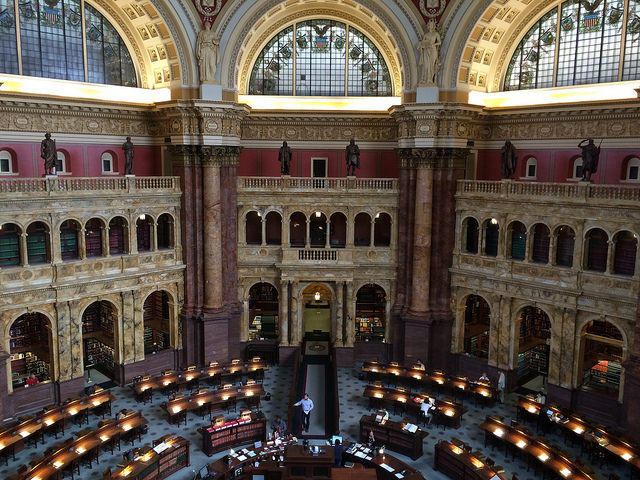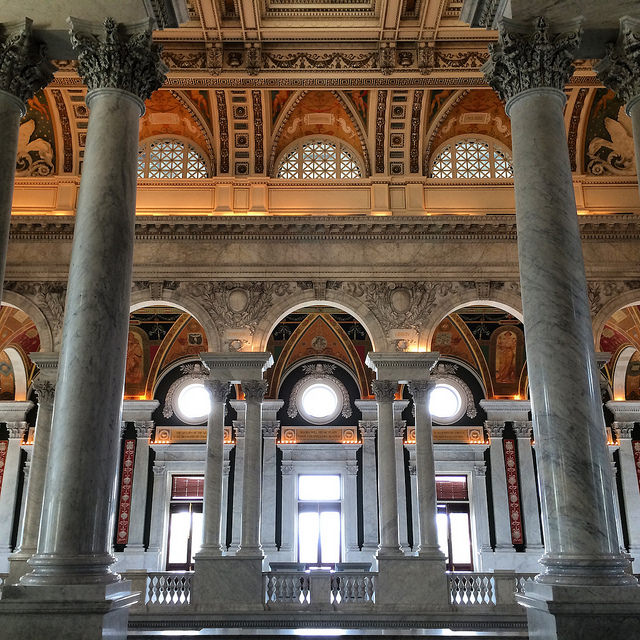 //
So there you have it – our world is filled with delightful places for book lovers to visit, and I've just scratched the surface. So many of them never make it on any list of incredible bookstores and libraries – there are just too many to compile. I can't wait to keep exploring.