There are many noble reasons to shop at independent bookstores. Supporting local businesses, good for the economy, etc. etc. etc. But the main reason I buy all of my books at indie bookstores is a very selfish reason: I love being in bookstores. Indie bookstores are some of my favorite places on the planet. I love walking into a bookstore and wondering what new interest or author I'll discover. I love being able to pop into BookCourt on my walk home from work and quickly grab a book from a favorite author the very day it's released. I love browsing the 4 floors of Strand for hours on a Saturday afternoon, emerging with a giant stack of books. I love visiting local bookstores in the places I travel. I love being surrounded by people who love books and reading as much as I do. If I don't help support them, how can I expect them to stay open for me to come in and wander around?
I wrote this post as a celebration of the many things I love about independent bookstores and to salute some of my favorites. So, here's a list of 17 things I love about independent bookstores. There are many more than 17 things to appreciate, but these are the things that matter most to me.
1. TALL, LONG AISLES OF BOOKS
I love tall aisles that tower above you and seem to represent infinite curiosity and discovery. (Strand, NYC)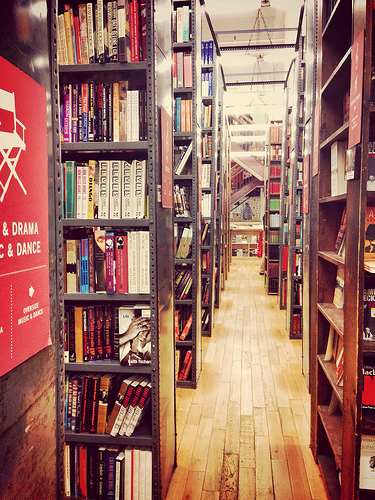 2. CAFES
Nothing complements a good book like a hot beverage. And I wouldn't turn down a delicious pastry either, come to think of it. (McNally Jackson, NYC)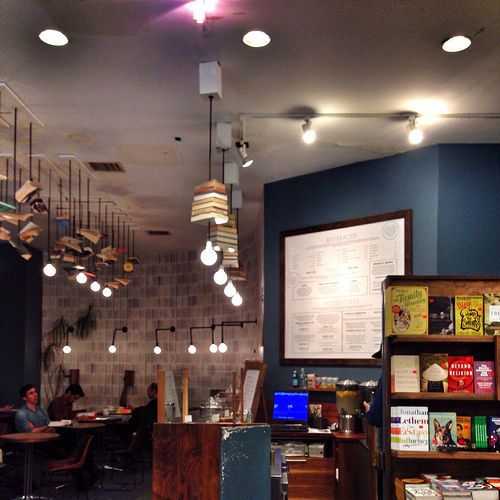 3. COMFY PLACES TO SIT
Bookstores love it when you hang out for a awhile. They don't mind if you want to relax and look at books. (Schuler Books & Music, Grand Rapids, Michigan)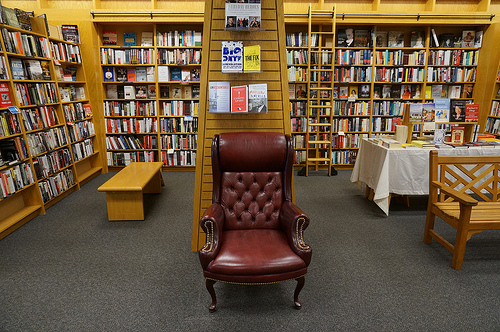 4. GREAT STAFF RECOMMENDATIONS
Don't know what book to choose? Ask an indie bookstore employee. Or, if you're a hermit and don't like talking to strangers, you can just browse the lovely staff picks sections that most indie stores provide. (BookCourt, Brooklyn, NY)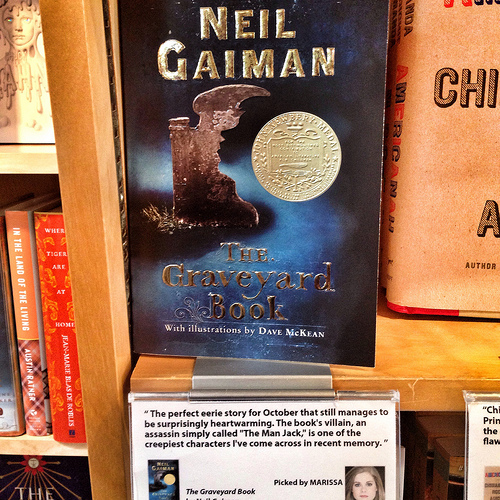 5. CURATED TABLES
I don't know what it is about stacks of books on tables at bookstores, but I love them. There's something lovely about browsing books face-up and in giant stacks. Most indie bookstores curate these tables really well – they feature a wide selection of great books to discover. (Greenlight Bookstore, Brooklyn, NY)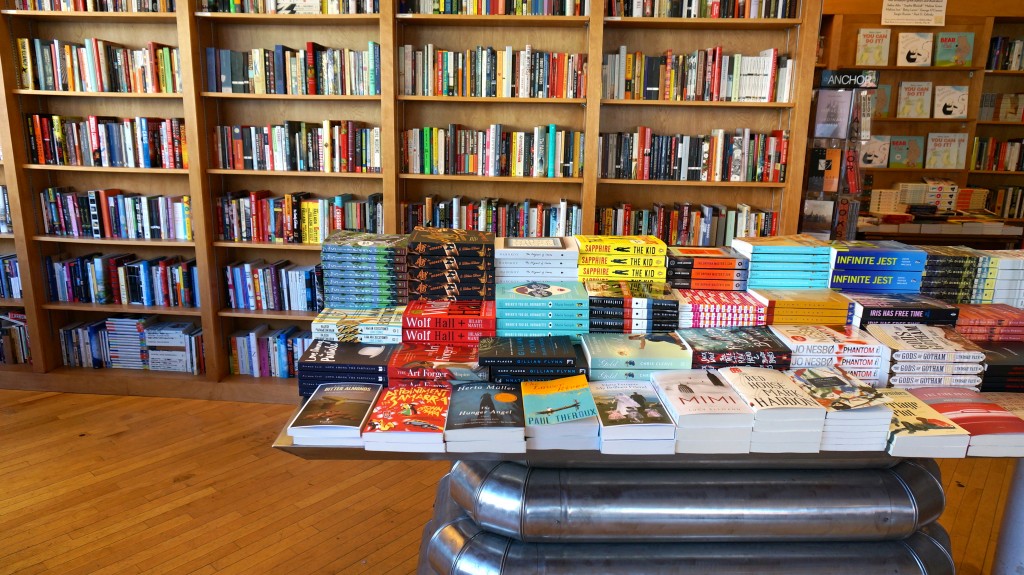 6. PROGRAMS AND EVENTS
Indie bookstores host author events, children's story hours, book clubs, midnight release parties, and many other community events. This photo is from an incredible George Saunders event at Greenlight Bookstore in Brooklyn.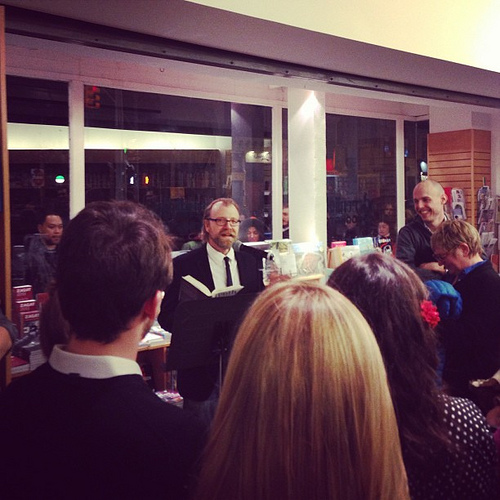 7. QUIRKY DECOR
Indie bookstores often have extremely fun decor. The basement of Harvard Bookstore in Cambridge has incredibly cool old bookmarks, comics, photos,  and other ephemera taped to the bookcases, doors, and walls.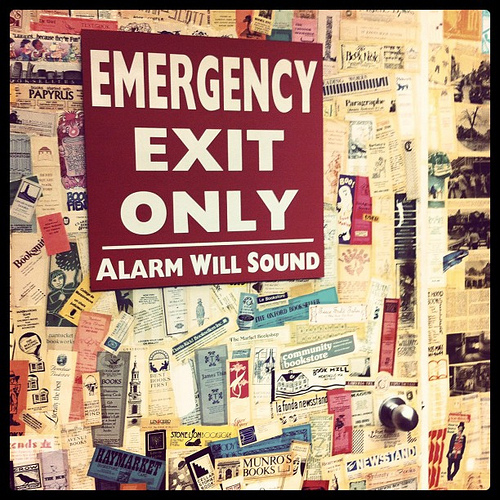 Sometimes bookstores even put one of your favorite quotes right out in front. (Community Bookstore, Brooklyn)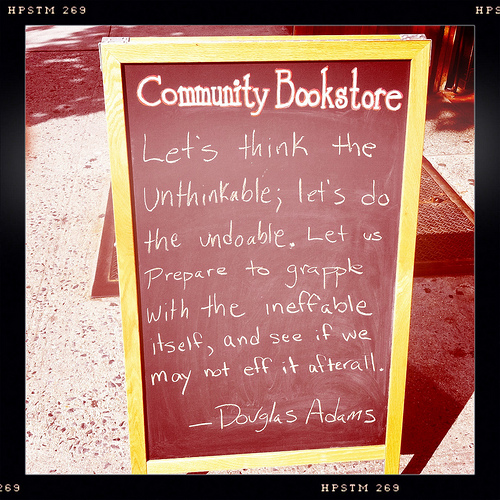 Sometimes there are puns. (Strand, NYC)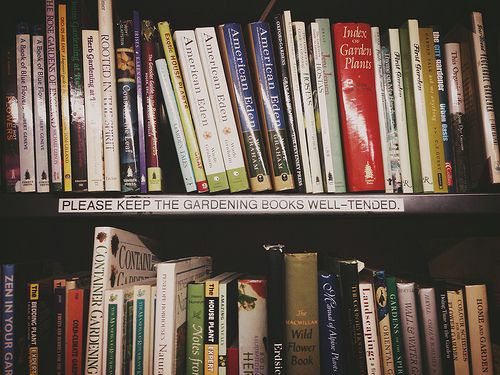 8. FEELING IN AWE OF HISTORY
I'm not sure any kind of book shopping gets much better than visiting legendary independent bookstores, like City Lights Bookstore in San Francisco, or Shakespeare & Co in Paris, and wandering around in awe of the history that has taken place inside those walls and the literary legends who have visited. Even better, the literary legends who got their start because of the devoted help, encouragement or promotion (and sometimes publishing) by these independent bookstores. It gives me goosebumps.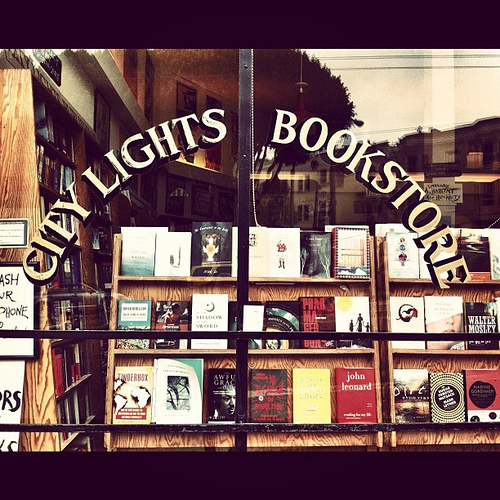 9. PAPER SUPPLIES
The first bookstore to figure out that book nerds also love stationary and paper goods was a genius. (McNally Jackson, NYC)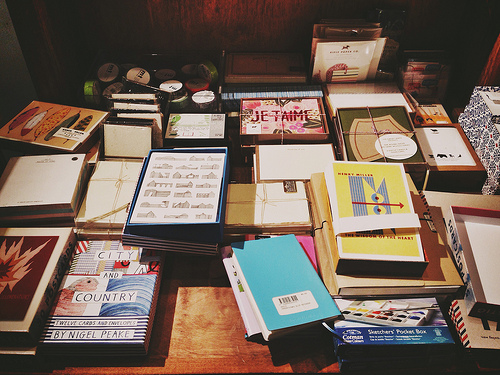 10. BOOKSTORE PETS
Animals greatly enhance the coziness of book browsing. (Photo of @TinytheUsurper in Community Bookstore, Brooklyn)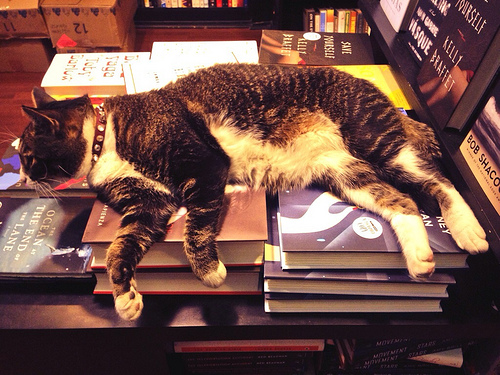 11. SIGNED BOOKS
Many times I have run into a indie bookstore to grab a new release that I want, and found that I can buy a signed copy. Pretty awesome. (Photo below is a signed copy of The Lowland by Jhumpa Lahiri from BookCourt, Brooklyn, NY)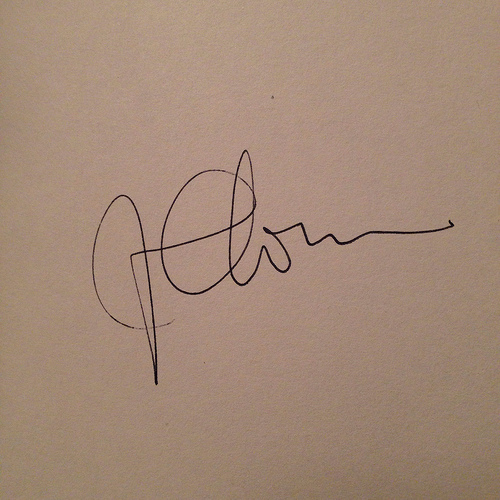 Wander around Books of Wonder in NYC and you'll find a ton of signed books by talented new children's book authors, as well as many legendary and award winning authors.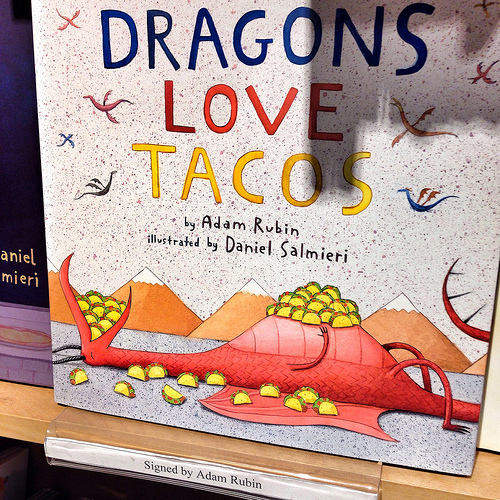 12. COZY AND INVITING STOREFRONTS
The best bookstores have a storefront that is impossible to walk by without wanting to go in. It should be welcoming and friendly. It should look like one of the happiest places you could walk into, because it usually is. The photo below is of the lovely Hickory Stick Bookshop in Washington Depot, CT. (Washington Depot, CT also happens to be the town that inspired the fictional setting of Stars Hallow in Gilmore Girls, so it's extremely appropriate that this town should have such an inviting bookstore.)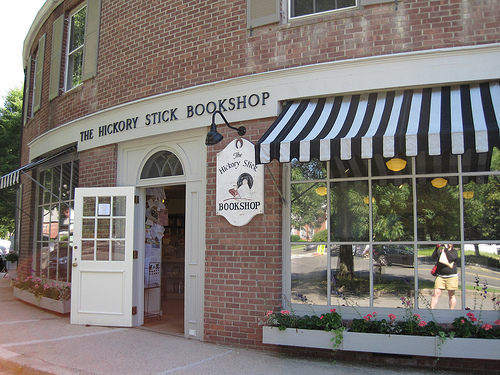 13. BARGAIN BOOKS
Shopping at indie stores is not always more expensive than buying books online. BookCourt in Brooklyn offers all bestsellers for 30% off. Strand has whole tables of bargain books that are priced lower than Kindle books.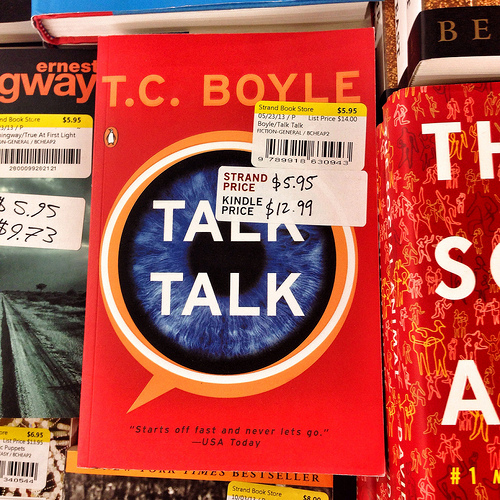 14. NEW BOOKS IN YOUR FACE
I like to browse the very latest releases, and I like to pick them up and inspect them. For the good ones, sometimes I decide to wait for the paperback and sometimes I can't wait and buy it right then. (Strand, NYC)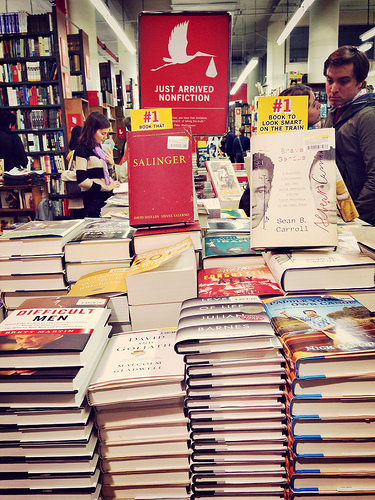 15. BOOK SMELL
One can smell books to one's content in bookstores. Here I am smelling a book in McNally Jackson bookstore.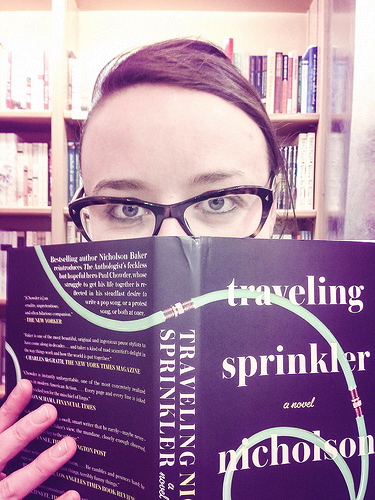 16. USED BOOKS
You can buy used books online. What you can't do online is fully inspect used books before purchasing for obsessive underlining, structural damage or questionable odors. (Photo is of a pristine vintage boxed set of Ramona Quimby books found and purchased from Kazoo Books in Kalamazoo, Michigan)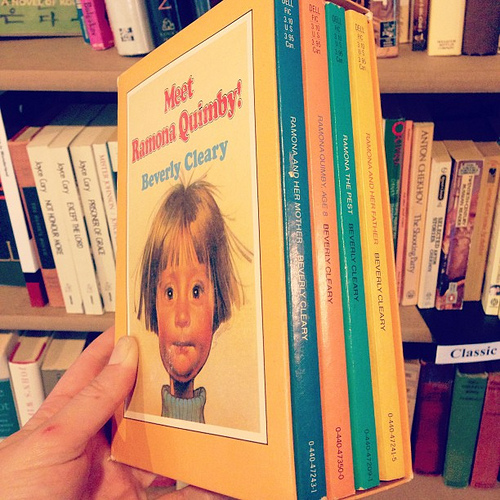 17. LOCAL INTEREST SECTIONS
I love to visit independent bookstores while I'm traveling. They often have fantastic local interest sections that help give you a taste of the culture and history of wherever you're visiting. Visitors to Schuler Books & Music in my home state of Michigan will encounter a huge variety of Michigan related books and local authors.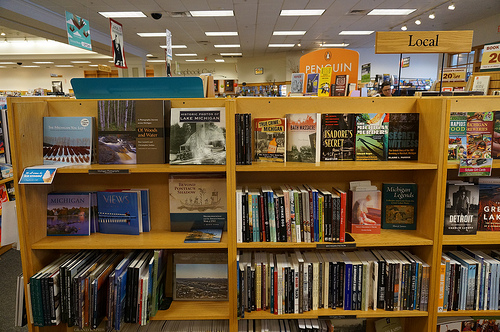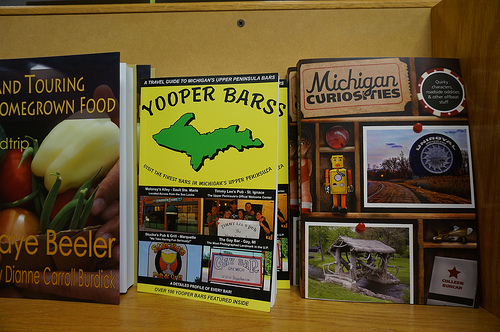 So there you have it, my 17 favorite things about indie bookstores. I loved writing this post and featuring some of my favorite shops. My only regret is that I couldn't feature all the independent bookstores I love or have been to. The stores I featured are definitely NYC-area centric, because that's where I could easily take the rest of the photos that I needed (and because that's where I live and I adore all of these bookstores, as well as many more NYC indies that aren't featured), but I've been to amazing indie bookstores all over the country and abroad, and have enjoyed all of the time I've spent browsing their shelves.
What are your favorite indie bookstores? Please share in the comments and I'll add to my travel lists!
(A note on the photos in this post: all photos were taken by me, over many years and on a variety of cameras.  You can view all my bookstore photos in this Flickr set.)