NYC hit 90 degrees this week, which aligned with the start of a very full summer social calendar for the next several weeks and months. Graham and I went camping this weekend with our friends Dara, Chris and Craig at Harriman State Park. We had a fantastic weekend camping, campfire cooking, hiking, swimming, and taking some rowboats out for a (slow and awkward) spin.
This week my dear friend Emma arrives and we're heading out on a road trip / literary pilgrimage to Prince Edward Island: home of our beloved Anne Shirley and L. M. Montgomery. We'll also be swinging through Boston on the way there and back to see our dear friend Emily (together the 3 of us make up the Red Shoe Cult, established 2002 at Michigan State University). Graham will be holding down the fort in Brooklyn, and once Emma and I are back we'll be doing a bit of low-key summer traveling in the States.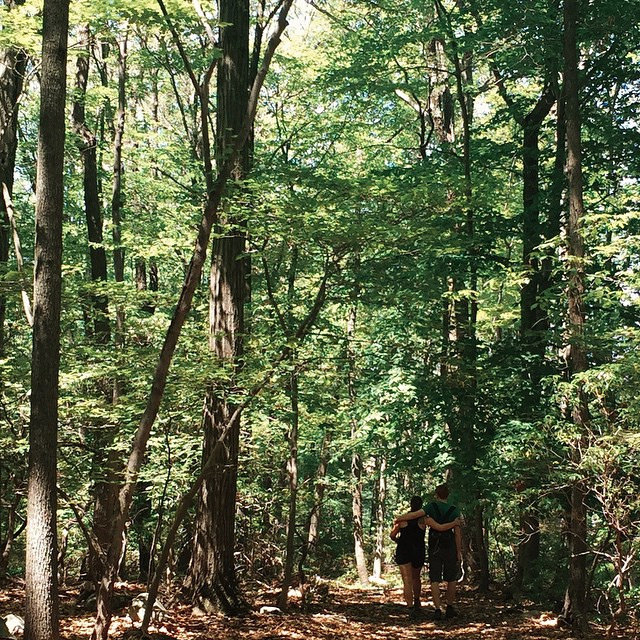 //
This week I shared a recipe for one of my favorite desserts: lemon poppy seed cake. (Top it with strawberries for a perfect summer dessert.) I also wrote about my favorite audiobooks of classic novels, and posted a travelogue about the day I spent in Mindo, Ecuador.
READING
I've just finished The Truth According to Us by Annie Barrows, and will be posting a review of it this coming week. Now I'm starting Anna Karenina – my friend Emma and I are tackling this one together over the summer and I need to read part one before she arrives in New York for our trip. (Speaking of classic novels on audio – I really wish that the Richard Pevear and Larissa Volokhonsky translation of Anna Karenina was available on audiobook – it would make starting this giant novel a bit less intimidating.)
WATCHING
Graham and I have been re-watching favorite movies this week: O Brother, Where Art Thou?, The Hitchhiker's Guide to the Galaxy, and Back to the Future.
LISTENING
I've just started listening to The Art of Communicating by Thích Nhất Hạnh. I've been on a Buddhism / Mindfulness / Meditation kick, and I've been wanting to read more by the prolific and awesome Thích Nhất Hạnh.
LINKING (Book Blogger Edition)
And that's the week! How was your week? What's new?