Most desserts are delicious year round, but some are extra friendly in certain seasons, such as fruit desserts in the summertime. Is there any more joyful food?
This Lemon Poppy Seed Cake is one of my favorite dessert recipes: it's delicious, easy to make, and easy to bring along somewhere to share. The sour cream brings a level of moisture that most bundt or pound cakes lack. It's wonderful.
I made it this weekend to take to my friends BBQ, and he happened to have a pound of freshly picked ripe strawberries, so we chopped them up & added sugar to make a divine topping for the cake that took the entire dessert to the next level. I will never again make strawberry shortcake with plain cake – the lemon flavor goes so well with the strawberries!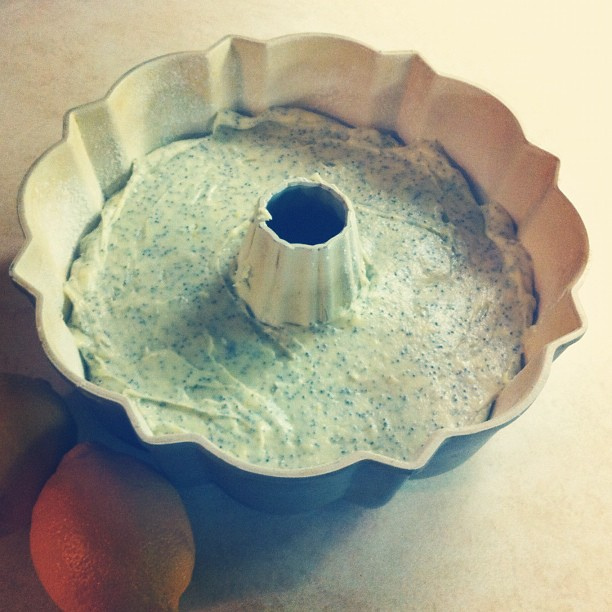 Adapted from Heirloom Baking with the Brass Sisters
Ingredients:
2 cups all purpose flour
1 teaspoon baking powder
1⁄2 teaspoon kosher salt
1 cup butter, softened (plus extra for lining the pan)
2 cups granulated sugar
2 eggs
1 cup sour cream
1⁄4 cup poppy seeds
3 tablespoons lemon juice
2 teaspoons grated lemon zest
Optional lemon glaze:
1 cup confectioner's sugar, 2 tablespoons lemon juice, pinch of salt
Optional strawberry topping:
1 pound strawberries, chopped into small pieces, add sugar to taste and water to desired consistency
To prepare: 
Preheat oven to 350. Prepare the bundt pan by rubbing the inside of the pan with softened butter and dusting with flour. (Alternatively, use nonstick spray and dust with flour.)
Sift together flour, baking powder, and salt in a medium sized bowl.
Cream butter and sugar in a large bowl or stand mixer.
Then add eggs one at a time to the butter/sugar mixture, and then the sour cream and poppy seeds.
Fold in dry ingredients. Add lemon juice and lemon zest. Mix until just combined.
Pour batter into bowl and bake for 50 to 60 minutes, until a cake tester comes out clean. Cool in pan for 20 minutes, then turn out on a plate and cool completely.
To add lemon glaze – use a fork to drizzle over cake. And/or serve with strawberry topping.