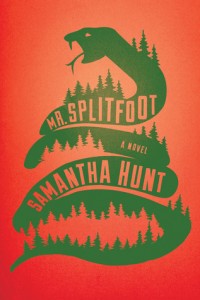 Sometimes reading diversely can simply be about reading books outside your normal reading comfort zone. Mr. Splitfoot by Samantha Hunt met that criteria for me. It lies somewhere within the mystery / supernatural / gothic ghost story spectrum, and those who've gotten to know my taste in books over the years here will probably know those genres are not often in my wheelhouse. Plus there's a big snake on the cover, and it looks mad.
So: why did I decide to read it? Well, I've heard great things about Samantha Hunt's previous books, but hadn't yet had a chance to read her. And the back of the book informed me that the plot involved orphans, religious sects, and talking to dead people. If I'm going to read a ghost story, it's going to be a gothic one, and this seemed to fit the bill.
So, what did I think of my journey outside my comfort zone? It was wonderful. Samantha Hunt writes very well, and I loved the way she wove the two storylines: the past and the present, together in intersecting chapters. It's creepy enough to be exhilarating, but not so much that I had to fling it across the room for fear of horrible nightmares. It's the perfect book for when you're craving a well written, gripping story – something you don't want to put down. You follow the characters along a creepy, haunting adventure into the woods, and it might make you feel a little braver.
To celebrate and encourage reading outside of your comfort zone, I'm giving away a new hardcover copy of Mr. Splitfoot. To enter, leave a comment below and share what genre (or genres) are outside of your comfort zone. It could be books with scary snakes on the cover like me, or maybe for you it's romance novels, science fiction, or classics. You can earn additional entries by tweeting about this giveaway and/or following me on Twitter. (Unfortunately – I'm only able to offer this to readers in the US or Canada, due to high shipping costs.)
//
Add Mr. Splitfoot on GoodReads.
Author photo by Marion Ettlinger.
FTC disclosure: I received a galley copy of this book from the publisher.