It's the time of year when giant box stores try to get us to leave our cozy, family filled homes and stand in line to buy things sold to us by the employees they've made leave their families to go work so that we can shop on a national holiday. It's heartening to see some stores opt out, and I hope we can start to tame the madness. Saturday is small business Saturday – these are the business who are owned and run locally by members of your community, and they are happy to let you sleep off your mashed potato hangover in peace on Friday.
To celebrate supporting independent bookstores during the holidays, I've made some bookmarks you can tuck into books you buy as gifts at indie stores, to let the recipient know they're getting a gift that helped support local bookstores. (If you don't have an independent bookstore near you, you can shop online at many indies, such as Strand and Powell's, as well as on IndieBound.org.)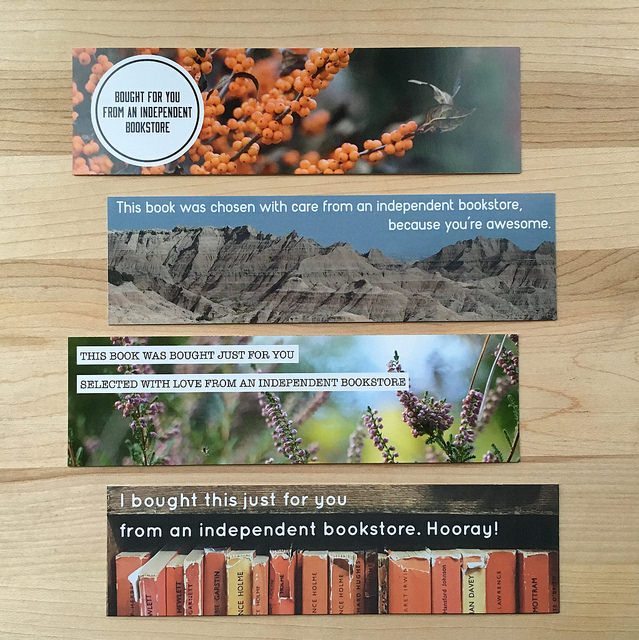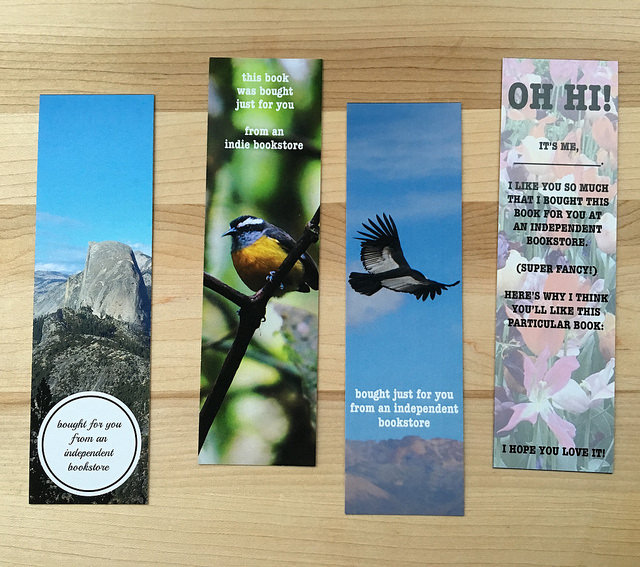 You can download and print the bookmarks – they are free to use and enjoy. I recommend printing them on cardstock, so that the bookmarks are a little more durable. A pdf of the horizontal bookmarks is hosted here, and the vertical bookmarks are here.
Last but not least: I'm giving away 3 full printed sets of all 8 bookmarks! Enter via the widget below. I'll choose 3 winners on December 3rd. (Unfortunately, I'm only able to offer this giveaway to people in the US and Canada, since I am not confident the bookmarks will arrive in time for the holidays elsewhere around the world. Apologies!)
I hope you enjoy!
Main blog photograph background is by MorBCN on flickr. (CC BY-NC-SA 2.0)