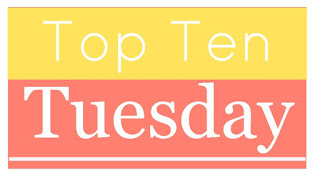 This week's Top Ten Tuesday, hosted by The Broke and the Bookish, asks for "Top Ten Quotes I Loved From Books I Read In The Past Year Or So." I've assembled a somewhat random smattering of quotes that I loved from books I've read so far in 2015. I jot down quotes and passages in a variety of places, or sometimes I don't transcribed at all – they are just starred in the book waiting for me to open the pages again someday. So this is a small subsection of the wonderful words I've read this year, but it's a good representation. (Where available, I've linked to my full review of the book.) 
Here they are, in no order:
"Try to choose carefully, Arren, when the great choices must be made. When I was young, I had to choose between the life of being and the life of doing. I leapt at the latter like a trout to a fly. But each deed you do, each act, binds you to itself and to its consequences, and makes you act again and yet again. Then very seldom do you come upon a space, a time like this, between act and act, when you may stop and simply be. Or wonder who, after all, you are." – The Farthest Shore by Ursula K. Le Guin
"I've always believed that people who strive for an easy life become dull and lazy." ― Girl Waits With Gun by Amy Stewart
"I want saints for everything. Saint of Free Spirits. Saint of Dancing Fools. Saint of the Ocean. Saint of the Sky. Saint of the Moon. Saint of the Lovers. I want to feel watched over and safe, but from afar. I like to think about all the saints looking over me. They're above and I'm below." ― Saint Mazie by Jami Attenberg
"Independence is a heady draft, and if you drink it in your youth, it can have the same effect on the brain as young wine does. It does not matter that its taste is not always appealing. It is addictive and with each drink you want more." ― Mom & Me & Mom by Maya Angelou
"I tried to look innocent but not idiotic, which is uphill work." ― The Truth According to Us by Annie Barrows
"He knew she was there by the joy and fear that overwhelmed his heart."― Anna Karenina by Leo Tolstoy.
"If you don't understand, ask questions. If you're uncomfortable about asking questions, say you are uncomfortable about asking questions and then ask anyway. It's easy to tell when a question is coming from a good place. Then listen some more. Sometimes people just want to feel heard. Here's to possibilities of friendship and connection and understanding."― Americanah by Chimamanda Ngozi Adichie
"We will not know our own injustice if we cannot imagine justice. We will not be free if we do not imagine freedom. We cannot demand that anyone try to attain justice and freedom who has not had a chance to imagine them as attainable."― The Wave in the Mind by Ursula K. Le Guin
"To believe you are the creator of your own world is to dishonor the divine. When you believe that you are in charge, that you are not in a collaboration every time you sit alone at your desk, it's no wonder what comes from your pen is so earthbound and weighty. No wonder the muses turn up their noses."  ― The Dead Ladies Project by Jessa Crispin
"And I'd see the hawk crouch and fly. I'd see her drop from the perch, speed towards me, and my heart would be in my mouth. Though she was still on the creance, I feared the faltering. I feared the veering off, the sudden fright, the hawk flying away. But the beating wings brought her straight to me, and the thump of her gripping talons on the glove was a miracle. It was always a miracle. I choose to be here, it meant. I eschew the air, the woods, the fields. There was nothing that was such as salve to my grieving heart as the hawk returning."― H is for Hawk by Helen Macdonald
//
What are your favorite quotes from books you've read so far in 2015?