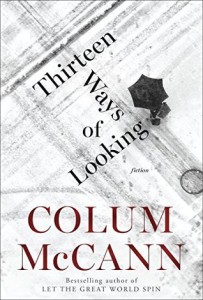 Thirteen Ways of Looking is a collection of four pieces of short fiction by the wonderful Irish author, Colum McCann. They don't have interconnecting characters or plot lines, but they do share a theme: investigating events from different angles and determining if it's ever possible to know the full story, or if we are forever trapped in our own perspective.
The four pieces are quite different from each other in structure and length. My favorite piece was the title story, Thirteen Ways of Looking, where a murder unfolds from two different perspectives: the victim and the detectives investigating the crime. It flips forward and back again in time, telling the two stories somewhat consecutively, back and forth, as if you're flipping forward and backwards in books by two narrators describing the same story.
If you're not familiar with Colum McCann, you're in for a treat. His writing is glorious. Here's one of my favorite lines:
"The roof over our love has been torn off and is open now to the endless sky."
I'm also very fond of the rhythm in this passage:
"He can hear Sally, already up and at it in the kitchen. The rattle of the spoons. The slide of the saucer. The touch of the teacup. The ping of the orange glass. The juicer being yanked from the cupboard. The soft sigh of the fridge's rubber tubing. The creak of the bottom drawer. The carrots coming out, the strawberries, the pineapple, the oranges, and then a serious clank of ice. The juice. Sally says he should call it a smoothie, but he doesn't like the word, simple as that, nothing smooth about it."
I love how he takes sounds we are all familiar with and turns it into music – we know these noises, and we can hear the morning song in our head.
If you've never read anything by Colum McCann, one of his novels (especially Let the Great World Spin) might be a better introduction to his work, but then again – this is a short, beautiful collection of stories, so you really can't go wrong.
//
Add Thirteen Ways of Looking on GoodReads.
Affiliate links to buy: IndieBound | Amazon
FTC disclosure: I received a review copy of this book from the publisher.