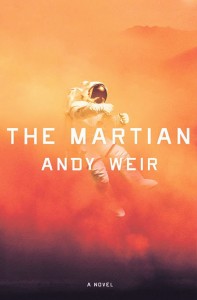 When I was a kid, I alternated between wanting to be a teacher when I grew up, and wanting to be an astronaut. I was never very serious about the astronaut dream – it was just a fantasy. Deep down I knew the extreme unlikeness of realizing it, but it was so much fun to dream about. It would be the ultimate great adventure, and the feeling of looking out of the window back at earth would be incredible. I think many of us had or still have that dream, whether or not we've ever professed a desire to be an astronaut.
The Martian by Andy Weir is excellent for so many reasons. It's a grand fantasy that's firmly grounded in reality. Everything that happens could theoretically happen, and all the math and science are all accurate. It's fascinating to read about all the problems that arise and the ingenious ways they are solved or worked around. The novel works so well because Mark Watney is an incredible character. You can't leave just anyone in Mars and believe that they can survive. But we believe he can, and we root for him intensely.
I'm glad I listened to this one on audiobook. The narrator, R. C. Bray, does an excellent job of performing Mark Watney's narration. He's not as great at female voices — most of them came out a little robotic, but I could overlook that for the pleasure of hearing Mark Watney's story come to life.
Speaking of the story coming to life — it's not often that I love a book and feel good about the prospect of a movie adaptation. But I knew The Martian would make a great film, and I think Matt Damon was well cast. Graham and I saw the movie on Tuesday for his birthday, and we both really enjoyed it. The book is excellent because of the insight into the problem solving and human ingenuity that is the backbone of space travel. The movie is an excellent adventure story that's fun to watch – and it's awesome to see all of the NASA equipment and Mars scenery come to life on screen. They left out a bunch of stuff (you don't get even a tenth of the interesting details, and they leave out several of the most challenging problems he had to solve), and changed the ending quite a bit to make it more dramatic, but in general it's a good adaptation. The book shines brighter though, and I highly recommend reading it before you see the movie. Or after, but before is always better.
//
Affiliate links to buy The Martian: IndieBound | Amazon
Mars photo by NASA's Marshall Space Flight Center on flickr (CC BY-NC 2.0)