I have very mixed feelings about Gumption: Relighting the Torch of Freedom with America's Gutsiest Troublemakers by Nick Offerman. I'll start out by saying that I don't think I would have gotten through it if I hadn't been listening to the audiobook. His writing style is a little odd – he mixes humor and a very casual style with thesaurus-worthy big words that I think would feel disorienting in print. It continually struggles with the combination of self-depreciating humor about his intelligence/writing skills and very flowery, overly manipulated descriptions. But I think it works ok when he's narrating it – because he's Nick Offerman.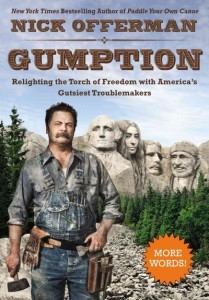 So then: the subject matter. He selects 21 Americans from the full range of our country's history: George Washington through Conan O'Brien, and describes why he thinks they represent the American spirit in a positive way. He combines most of these biographic portraits with parallels to issues we're struggling with in the present day. I think this is a pretty neat idea, but most of the portraits weren't long enough to really satisfy my craving for a deeper, "meatier" look into the lives of those he's featuring. There were a few exceptions: his section about George Saunders was pretty wonderful.
I also felt "talked down to" when he was describing some pieces of US history, in particular the internment of Japanese U.S. citizens during WWII, as if the reader had never heard about it before. (Granted – some readers probably haven't.)
It left me thinking that maybe I'm not the right target for this one – I think it would make an excellent book for younger people – probably college age, who are starting to go through their own "giving-a-shit" (borrowing a phrase from Shaina) renaissance. I think if I had encountered it when I was 18 or 19 and just starting to think more deeply about politics and history, I would have gobbled it up and asked for more.
I've been pretty critical about this one thus far, so I'd like to add this: I have a huge amount of respect and admiration for Nick Offerman. I think he's a hardworking, curious, intelligent, top-notch dude, with a lot of gumption to boot. I love that he wanted to write a book like this, and that he did. I think we need more humans like him, especially ones using their celebrity / influence for such good. This one fell a little flat for me, but I still enjoyed listening to it. I hope he keeps writing more books, and keeps on being awesome.
//
Affiliate links to buy this book: IndieBound | Amazon