If there's one type of non-fiction book I can't resist, it's a book written by a comedian that I adore. I love Aziz – from his portrayal of Tom Haverford on Parks & Recreation to his stand up specials to his obsession with good food. I picked up Modern Romance as soon as I could, and I read most of it during my road trip to Canada.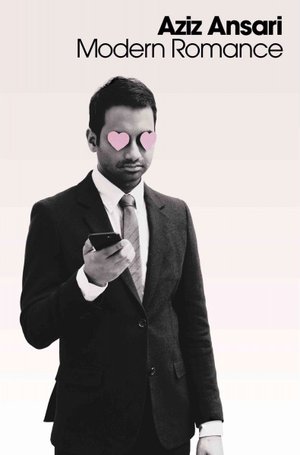 5 things you should know about Modern Romance:
1. It's not "another celebrity/comedian memoir" – it's non-fiction written with a sense of humor, but it's a well researched look at the state of modern dating & relationships, co-written with a professor of sociology, Eric Klinenberg.
2. It's not just for single people looking for romance. It's also not really a "how-to" book. Regardless of whether you're single or not, or young or not, it's a pretty interesting look into how our approach to relationships and marriage have changed over the past century. If you're interested in sociology and how technology is making major changes to love and relationships, this book is a good introduction.
3. Single people will find bit of helpful information about online dating. It's not the only focus of the book, but a good chunk is spent digging into what behaviors make online dating successful or not. One of the biggest takeaways: most people are serial "one-daters" – they go out on a date with a new person and will not go on a second date unless they rank that person as an 8, 9, or 10 on a potential partner scale. Research has found that people who spend more time (aka more dates) with people they've rated as "ok" will change their rating of the person either higher or lower. The only way to truly get to know someone is to go on more than one date. Online dating has created a "this one's not my soul mate, on to the next one" mentality that prevents us from really getting to know potential partners, and often times making people feel that it doesn't work well.
4. People in a committed relationship will also find interesting information in here. I'm in a committed relationship, but found the entire evaluation of modern romance interesting. It also covers topics of some interest to people in relationships: how online/device "snooping" impacts modern relationships, what breaking up is like in the age of social media, and what dates / activities provide the deepest level of connection & intimacy.
5. It's hard to choose between the audiobook and the print edition. I initially pre-ordered the audiobook, thinking that it'd be a perfect non-fiction book to listen to and I generally prefer memoirs on audio. But then I saw the print copy and all the awesome charts and graphs, and decided to return my audiobook and buy it in print. I'm sure it would have been great to listen to Aziz read it, but I think the graphs were helpful and interesting.
All in all – it's an interesting book. It's nice that it's a quick read, but it also doesn't dive in very deep on most of the concepts. There's a lot of room for further research and writing in this area, which will make this book dated pretty quickly. But if you're interested in the topic, it's worth picking up. If you're on the fence, I'd recommend getting it from the library or waiting for the paperback.
Has anyone else read this or listened to it yet? What are your thoughts?
//
Affiliate links to purchase: IndieBound | Amazon