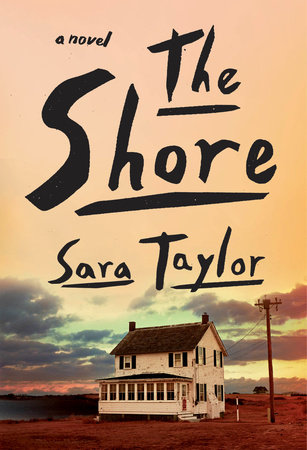 People in the book blogging community are likely already familiar with The Shore by Sara Taylor. In my little corner of the blogging community it seems to be the most talked about, tweeted about, and reviewed book that came out this spring.
Here are the blogger reviews of The Shore from my network (if I missed yours, please comment with the link and I'll update the list!):
These awesome bloggers have shared great reviews & thoughts about The Shore, and that makes it a bit intimidating to try to add to the conversation at this point, but I decided to throw my 2 cents in anyway.
For those not familiar with The Shore already, it's a novel told through a series of interconnected stories spanning multiple generations of two families living on a group of rural islands off the coast of Virginia. Also – and I guess this is ever so slightly spoiler-y – there's a very controversial last chapter. Some people liked it or didn't mind it, some people hated it. I'll talk a tiny bit about my thoughts on it below, while trying to tiptoe around any spoilers.
What I loved about The Shore:
It's southern fiction at its best. The setting is as much a character as any of the humans. It's gothic. It features incredible strong female characters. It dabbles in magical realism. It's sultry and rich and full of humanity – at its best and worst. While I was reading it I felt like the great southern women writers of the past had been summoned and were nodding their approval.
What The Shore left me thinking about:
First of all – it left me wanting more. I would have happily read twice the length. As I reflect on it more though, I realize that it probably works better at the length it's at. The last chapter surprised me, I wasn't expecting the novel to go in that direction. It felt like it was decidedly one thing, and then suddenly it was something else. For a few days I wasn't sure how I felt about that. But the more I reflected, the more it worked for me. It challenges us as readers: it challenges our ideas of storytelling, our understanding of how characters and events relate to each other, and how far we're willing to follow the author away from what we thought the novel was. It's good to be challenged as a reader, and as I've thought more about it I've realized I haven't encountered a novel that has challenged me in those ways in quite a while. It felt extremely refreshing.
What you should know before reading The Shore:
It has moments of darkness, violence and descriptions of domestic violence against women. It features strong women who overcome oppression and the hardest of circumstances – some more successfully than others, but it also shows them at their lowest moments. It's honest and real about human behavior.
Once you read The Shore, be sure to check out the discussion breakdown (including spoilers) on the Socratic Salon – there are so many awesome insights shared as readers reflect on this one.
Affiliate links to buy this book: IndieBound | Amazon
The main image of this post features the UK cover, which I think is beautiful. But the US cover, displayed within the post, more appropriately captures the mood of the book.