The Death Penalty is an issue that doesn't seem to have received much national attention in recent elections or debates in the US. (However I've only lived in states without the Death Penalty – there is likely more local debate in states still practicing Capital Punishment.) It also sometimes seems that many Americans look at the issue at a strictly moral level: is it right or wrong to punish "an eye for an eye"?  That's an extremely important aspect of the debate, but looking at the issue in theory neglects the other significant issues with the practice of Capital Punishment in the United States, such as racial and social class discrimination, legal representation challenges faced by defendants, and the treatment of prisoners on Death Row.
Reading Just Mercy by Bryan Stevenson really opened my eyes to the serious problems within our justice system, and with Capital Punishment in particular. It was one of the best books I read last year; if you missed my review you can read it here.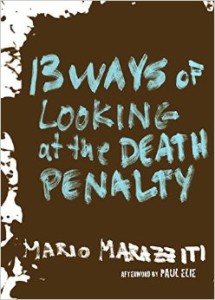 When I heard about 13 Ways of Looking at the Death Penalty by Mario Marazziti, I eagerly checked out a copy from the library. It seems like the Capital Punishment debate is finally starting to gain significant national attention in America, and I was hungry for more background about the movement worldwide and within the United States.
The title of this book is a bit misleading. If you read this book expecting a spirited "pro/con" look at the issue, you're going to be disappointed. This book is strictly anti-Capital Punishment. (That wasn't an issue for me, but it should be noted.) Instead, you'll find a variety of arguments in favor of abolishing Capital Punishment. The perspectives include: families of murder victims, a Death Row Chaplain, current Death Row inmates, wrongfully convicted & released Death Row inmates, and religious leaders from the world's major religions. These perspectives are powerful, and incredibly interesting to read. You'll learn about what life is like for people on Death Row. You'll read about two men, both wrongfully convicted and placed on Death Row, who were later proved innocent and released, but who spent the majority of their youth incarcerated for a crime they didn't commit. You'll read incredibly moving stories of forgiveness and acceptance by families of victims.
Here are some of my favorite quotes from the book:
"What is your dream? I dream always of justice and fairness. We have enough in the world now: we have enough knowledge; we have enough resources that we could be fair and generous to everybody. We have enough to share with the poor, with the unfortunate, with the disabled. They don't have to live their life the way they do. We have enough to share with them. I dream about "equal justice under the law." Most of the people who end up in court are guilty; they did it. But you don't have to crush them to teach them a lesson. You don't have to lie to the court of to the jury. Treat them honestly. Show them compassion. Show them that revenge is no virtue." 
"The loved ones who have been wrenched from our lives by violent crimes deserve more beautiful, noble, and honorable memorials than premeditated, barbaric, state-sanctioned killings, which create more victims and more grieving families, and which make us become that which we deplore – people who kill people – a horrendous insult to the memory of all our beloved victims." 
"There were a number of men who had done terrible things, things that made even me angry for what they had done. Serial killers, who killed and killed and killed. Our government said that those men, especially, needed to die. And I learned that even the serial killers had value to society. One of the men, who was a serial killer – the FBI came and visited him regularly. They examined him. He agreed to cooperate and they got inside his head, trying to figure out who he was and why he had done what he did so that they could see those signs in other kids and set them on a different path." 
"The death penalty fulfills a preventive function, but it is also very clearly a form of revenge. It is an especially severe form of punishment because it is so final. The human life is ended and the executed person is deprived of the opportunity to change, to restore the harm done or compensate for it. Before advocating execution we should consider whether criminals are intrinsically negative and harmful people … The answer, I believe, is definitely not. However horrible the act they have committed, I believe that everyone has the potential to improve and correct themselves."
While reading 13 Ways of Looking at the Death Penalty, I learned that despite the seeming lack of debate or change within the United States, the movement to abolish Capital Punishment worldwide has made incredible strides over the past few decades. The book includes a few chapters that cover the history of the anti-Capital Punishment in the rest of the world, a movement that started in Rome by an NGO that the author has been deeply involved in since 1968: the Community of Sant'Egidio, and has expanded to include organizations from dozens of countries around the globe. Unfortunately the few chapters that detail the movement's important history and progress working with the United Nations and European Union were written in a rushed whirlwind of dates and places, and aren't the most compelling read.
But I think it's important for Americans to realize how big this movement is worldwide. It's viewed as an important human rights issue that many countries have taken a stand against:
"One hundred and five of the 192 countries represented at the United Nations have abolished the death penalty by law, and another forty-three have abolished it in practice — either through public moratoria or by the de facto moratorium that can be counted when a country declines to practice capital punishment for a decade or longer."
"The countries that still employ the death penalty — among them Saudi Arabia, Iran, Iraq, Egypt, Somalia, China, Japan, and the United States — are seen as outliers and strange bedfellows." 
How to find out more: