When I first heard about That's Not English: Britishisms, Americanisms, and What Our English Says About Us by Erin Moore, I knew I had to read it immediately.  My boyfriend is English, and over the year+ that we've been dating we've had a lot of spirited fun debating our language and cultural differences, confusing each other with the words we use for particular things, and arguing about how certain words should be pronounced. Graham is from Northern England as well, so he has expressions and words that are even more unique than what most Americans are accustomed to hearing from British entertainment and media.
There are a lot of culturally specific words and phrases that we've learned from each other over the past year, and we've started speaking more alike – picking up phrases and words from the other. I've also learned how to make a proper cup of tea. But the following words still haven't stuck: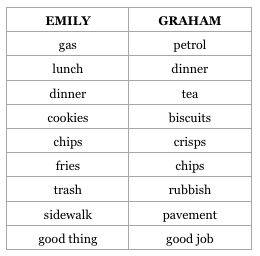 We also disagree on the pronunciation of the following words/letter: Vitamin, Aluminum, Z.
With all this background, reading That's Not English was a lot of fun. I still learned a lot about English culture, despite the England 101 lessons I've had over the past year. I had no idea "Middle Class" was such a complex concept in England! In the United States, it's defined pretty simply, and embraced as purely good: the heart of America.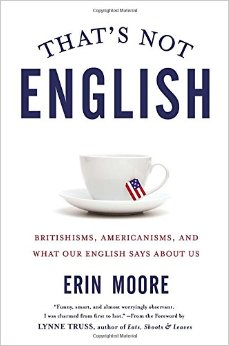 I really liked the structure of the book – each of the 30 chapters features a key language difference between our countries, and evolves into a conversation about how the differences in our language reflect our different cultures and personalities. A book solely about the language differences would be a bit dull, it's the cultural insights that make this book a delightful read. Erin Moore is an American who married into an English family and has lived in London for the better part of the past decade. She writes about both cultures lovingly and critically – the book wouldn't work without the balanced perspective she offers.
My favorite chapter was about the word "Moreish" – a word that Graham taught me early on in our relationship. It's a word that means a food is so delicious that it's very easy to keep having more of it, i.e. "This popcorn is very moreish."
In short, if you're an Anglophile, dating someone across the pond, or an English person obsessed with America (do those exist?), this book is a treat. You'll learn a lot about both cultures (the roots of many Americanisms are surprising), and likely pick up some new words or phrases along the way.
//
For fun, I asked Graham to contribute a mini-interview for this post. He kindly agreed.
What from England do you miss the most?
"I miss sandwiches, specifically English bread. It's larger, which makes for better sandwiches, and tastes better. Also: the variety of flavors of crisps. A full aisle of BBQ and cheese flavored crisps does not constitute choice! I miss 'Roast Chicken' and 'Smokey Bacon' the most."
What American foods are most Moreish?
"Garden of Eatin's Red Hot Blues chips, Buffalo Wild Wings boneless wings, campfire hot dogs, Swedish Fish, Trader Joe's mini-chicken tacos, Shake Shack cheeseburgers, Blue Point Toasted Lager."
What Americanisms will you never willingly pick up?
"Saying 'trash' instead of 'rubbish.' Over-exaggerating, in general – I like when you do it, but it would sound like I was being sarcastic or passive aggressive if I did it."
What are your favorite and least favorite things about American culture?
Least favorite: "Car horns honking, constantly, for no reason, at all times. Also, police sirens."
Favorite: "Community spirit – we're more insular than you guys. I don't know any of my neighbors – we might nod at people politely, but Americans seem more genuinely social."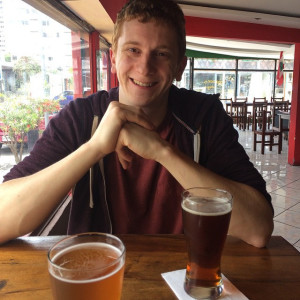 //
You can read more of Erin Moore's cultural observations on her blog.
Other reviews of That's Not English: (if you've also reviewed the book, please post a link in the comments and I'll add to the list!)