While I was traveling solo last year, I added so many places to my travel bucket list. It's inevitable when you're spending time with fellow travelers – most travel friendships start off with a lot of conversations about favorite travel destinations (however, the best travel friendships venture beyond this). You end up with more proof that you've only seen a tiny fraction of the world and there are so many wonderful places to see. One place that got placed very high on my list was The Galapagos Islands. I had no idea then that I'd end up getting the chance to go there so soon, but I feel extremely fortunate that I did. It's one of the most spectacular places I've ever been.
If you love wildlife, The Galapagos Islands should definitely be on your bucket list. I've never been anyplace else where it's possible to observe animals in the wild at so close a distance. Animals in the Galapagos are simply not fussed by human presence. They'll continue to go about their business despite the fact that you're gaping at their bright blue feet or snapping photos of the biggest Iguana you've ever seen. It's truly something incredibly special.
In this post I'll start by talking about the ship/tour we took, the islands we visited, and daily life on board. Then I'll share photos of the scenery and wildlife. I'll end with some recommended reading for those interested in learning more about the Galapagos. It will be a long post (so many animal photos!), but I promise it's worth it. There will be baby sea lions!
(I'm a wildlife enthusiast but in absolutely no way even remotely close to knowledgeable or an expert. I will share some of the information I learned while I was there, but my hope is to share my experience and give you a sense of what a visit to the Galapagos is like, and then leave you to make your own discoveries.)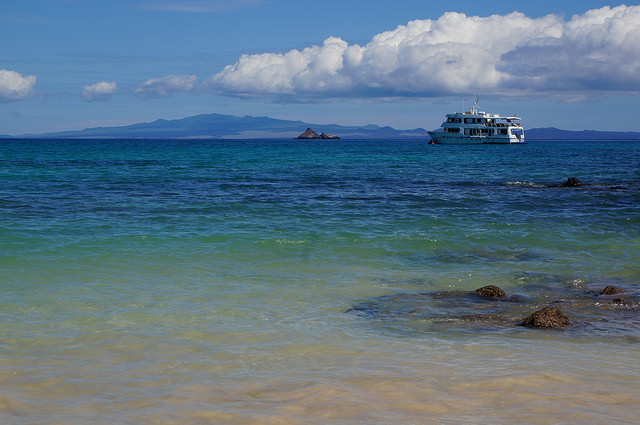 When you go to the Galapagos, you can choose to stay on land or to take a small cruise ship. Taking a cruise is much more common, and it's the most practical option for seeing as much of the archipelago as possible. The Galapagos Islands are an incredibly fragile ecosystem, so it's important to travel with a responsible ecotourism company. All tours are required to have a Galapagos National Park certified guide, so you're guaranteed to have a knowledgable tour leader who will not only provide information on the plants and animals, but also help you interact with them in a way that will not harm them or their environment. (Or yourself!)
We did zero research on what islands to visit or what to see – we just booked a gAdventures tour that aligned with the dates we could travel and that was discounted (Galapagos tours can be a bit expensive, but there are frequently sales if you can be flexible about when you go). David Nicholls, author of The Galapagos: A Natural History, says that unless you have a very specific rare animal you want to see or experience you want to have in the Galapagos, you don't need to create a list in order to structure your trip to the Galapagos. Just go: you will not be disappointed. We embraced that philosophy, and were not disappointed.
We ended up on the Xavier III on a 7 day tour that visited the Central and East islands. This was my second gAdventures boat expedition (and 5th gAdventures tour overall) and both have been fantastic. The ship is a 16 passenger yacht, with a guide and 7 to 8 crew members. The cabins were surprisingly spacious, and there was an indoor lounge, dining room, and outdoor sundeck. It starts and ends in Quito, and includes your airfare to and from islands.
Here is the very relaxing upper sundeck (well, a small part of it – it's large and also has lounge chairs):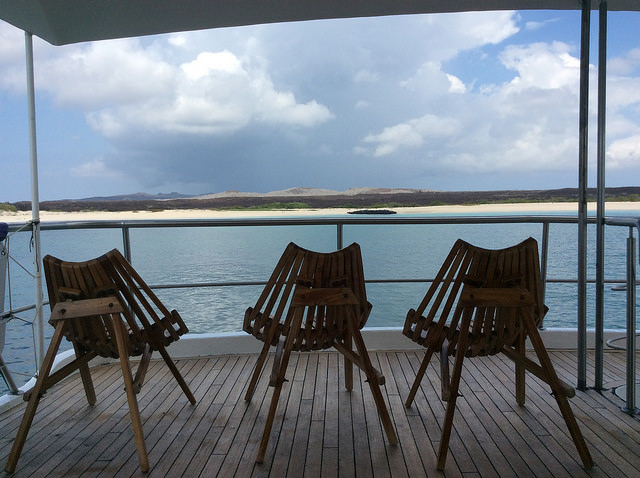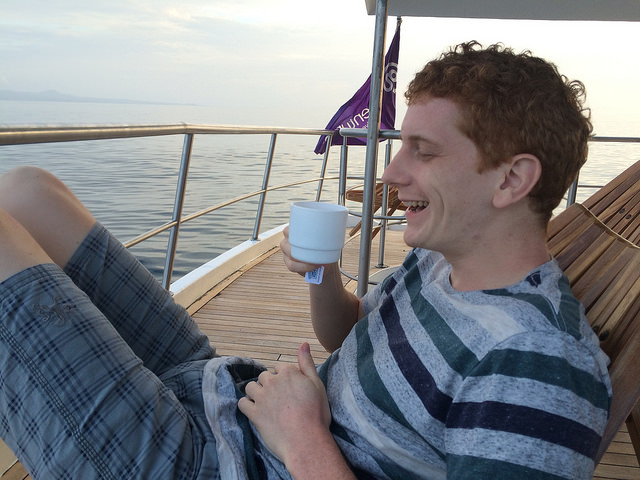 Of course I forgot to take a photo of our cabin when it was all fresh and clean, so here's a shot of it messy, with clothes and snorkel gear and cameras everywhere. (Traveling is not always glamorous!)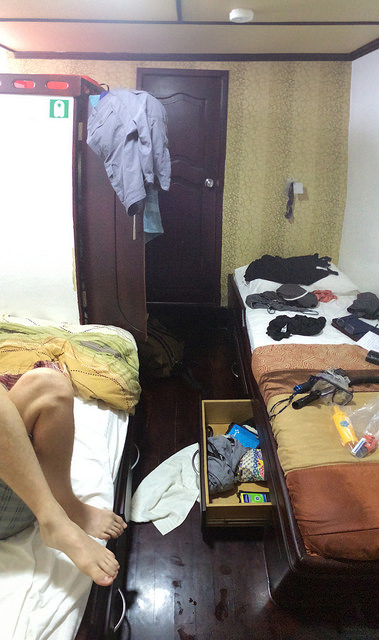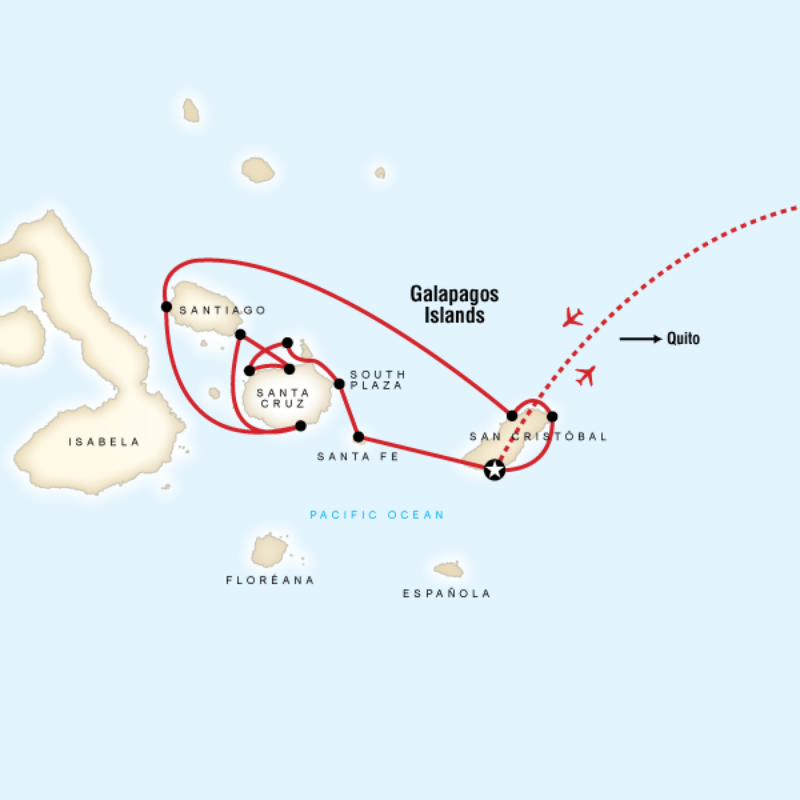 Our tour started on San Cristobal, and then over the course of 7 days sailed to Santiago and Santa Cruz (also stopping at very small islands around them), and then returned to San Cristobal. As I mentioned before, we had no idea what to expect from each island before we booked, but ended up seeing every major species of animal that resides in the archipelago, at amazingly close range.

Our days started early – 7am breakfast, and were packed full of incredible activities. We usually started with a hike, before it got too hot (March is one of the hottest times of year there). We usually did a total of three activities per day, about 1 to 2 hours each, with plenty of time for meals and relaxing as the ship changed location. We usually snorkeled once a day, and the other activity was usually another walk or a dinghy ride. Most of the hikes were in uninhabited areas or islands, but we did a few visits to research centers, such as the Charles Darwin Research Station on Santa Cruz. All meals were included and served on board, and the food was plentiful and delicious.

Charles Darwin, describing Chatham Island in the Galapagos:
"Nothing could be less inviting than the first appearance. A broken field of black basaltic lava, thrown into the most rugged waves, and crossed by great fissures, is everywhere covered by stunted, sun-burnt brushwood, which shows little signs of life. The dry and parched surface, being heated by the noon-day sun, gave to the air a close and sultry feeling, like that from a stove: we fancied even that the bushes smelt unpleasantly." 
I knew the wildlife in the Galapagos was fantastic, but had very little background knowledge about what the landscape looked like. The passage above made me expect the worst, but I'm happy to report that most of the landscapes I encountered were much more pleasant than that passage of Darwin would lead you to believe.
The landscape IS incredibly diverse. It can vary by island, or even by regions on the same small island. Some are lush and green and tropical. Some are dry and hot and volcanic. All are impressive. We learned quite a bit about some of the incredible plants that thrive in the Galapagos, but I wouldn't do any of them justice trying to regurgitate the information here. But I will share a few photos that illustrate the diversity: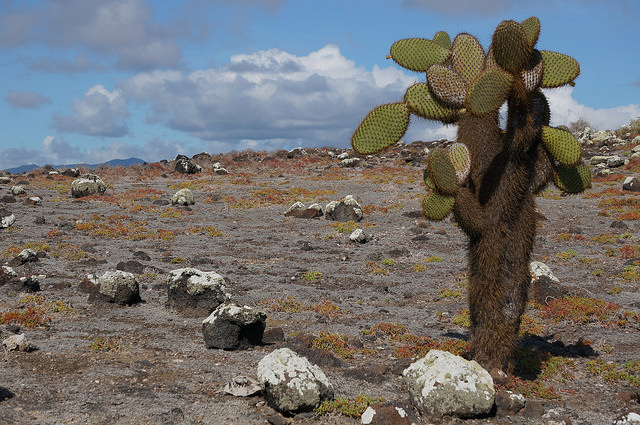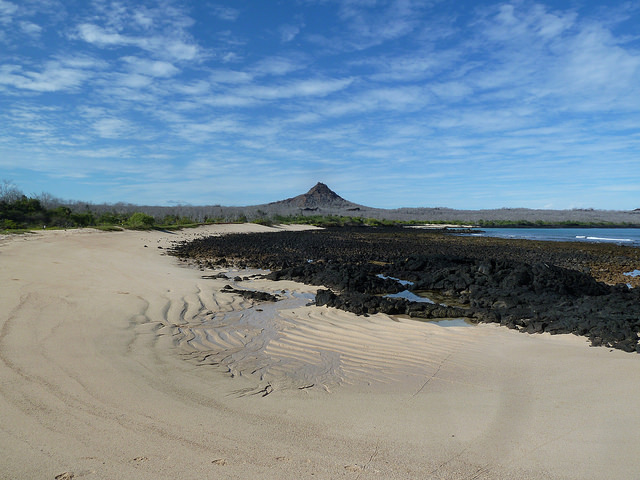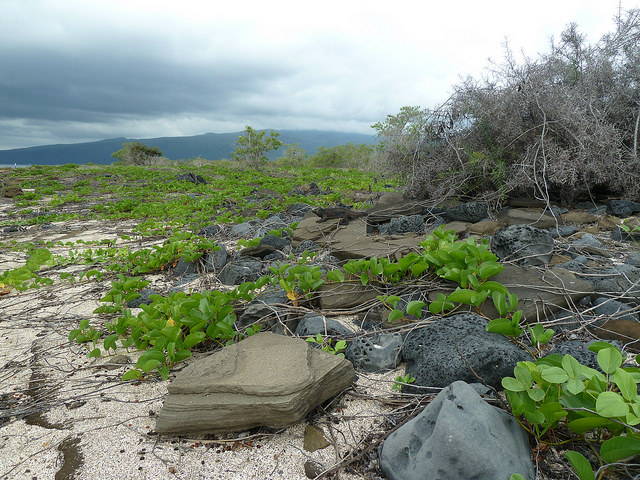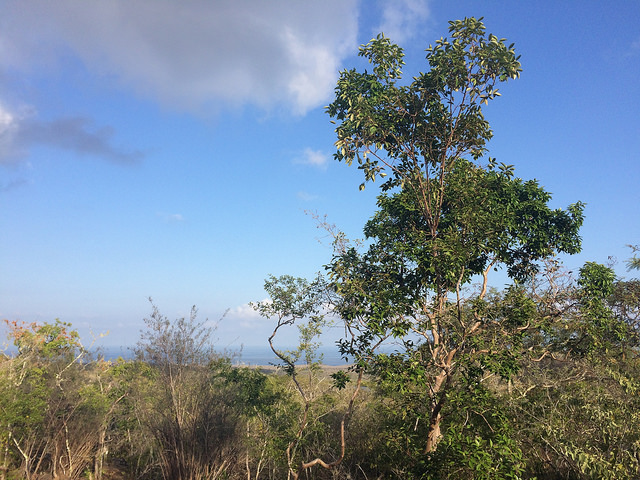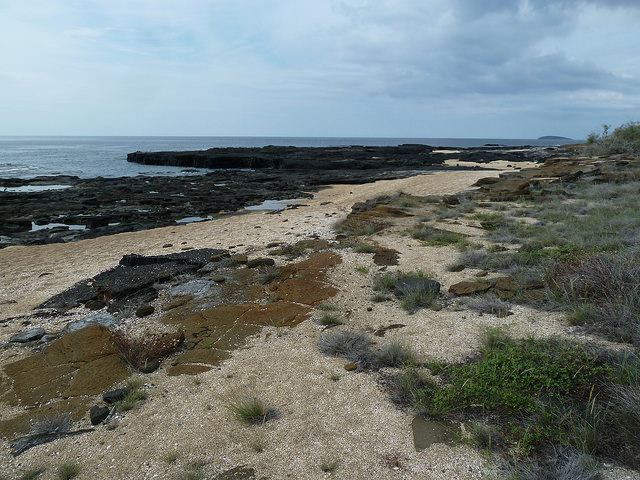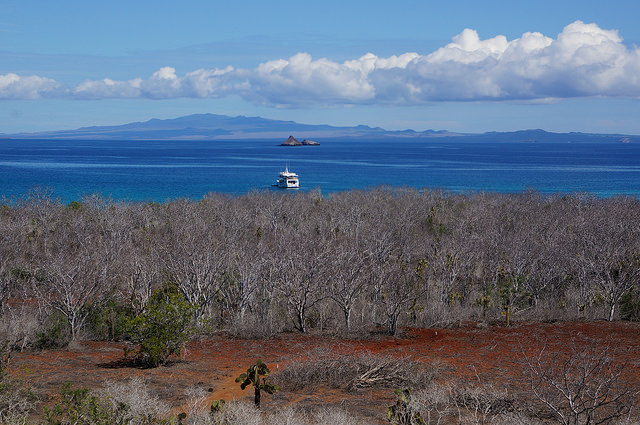 It's hard to know where to start. I am so fond of the animals in the Galapagos. Spending time with them was incredible. I suppose a good place to start is with the most iconic animal of the islands, and the one that the archipelago is named for: the giant Tortoise. (Galápago is Tortoise in Spanish.)
Most of the major islands had their own species of Tortoise, but a few species have gone extinct. Most of the populations are endangered or vulnerable, and the research & breeding centers are working to restore populations. Before explorers and whalers came to the islands, the Tortoise population was in the hundreds of thousands. (Now it is under 20,000.) I cannot even fathom how amazing the islands must have been with that many giant Tortoises roaming around. I like to close my eyes and imagine it. Their decline is pretty tragic: whalers would capture dozens at a time and flip them over on their backs on the ship. They could survive at least a year with no food or water, so they were kept alive for fresh meat during long voyages. Its estimated that over 200,000 were captured in this manner. (Sources vary widely on that figure – it's hard to estimate, but it was definitely a huge amount.)
We got to observe them both in captivity at the rescue centers and in the wild on Santa Cruz island. It's hard to appreciate their size in a photograph, but they are spectacularly big. They can weigh over 550 pounds/250 kilograms. The are beautiful, and they are majestic.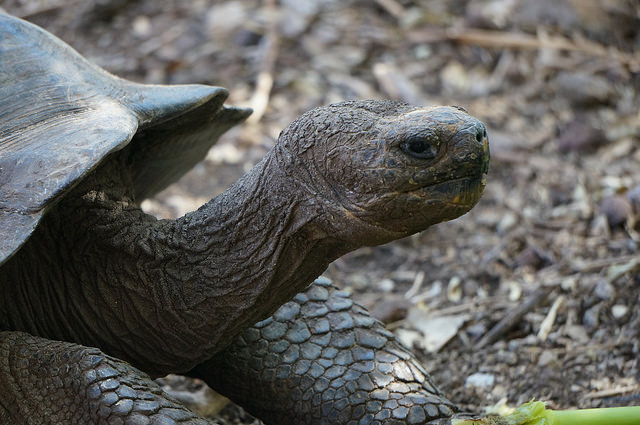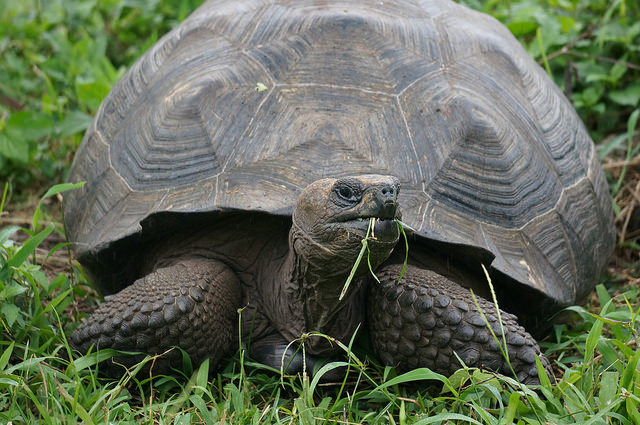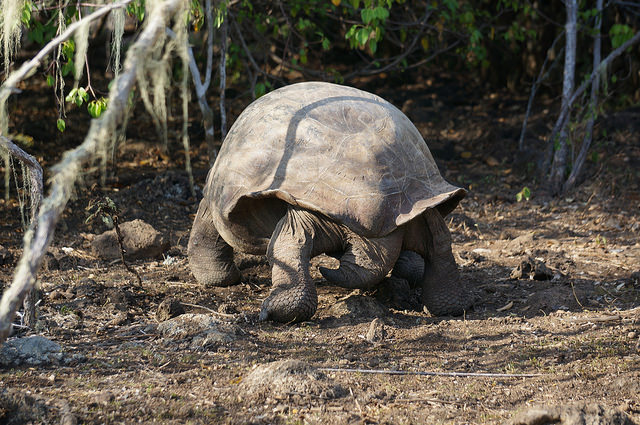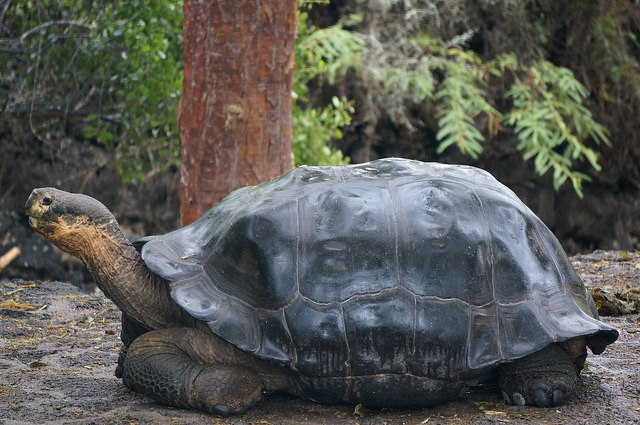 (For a bit of size perspective – that's a pretty large tree in the background of the above photo.)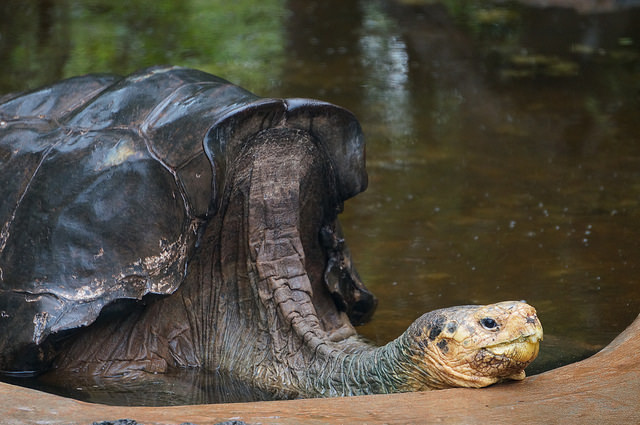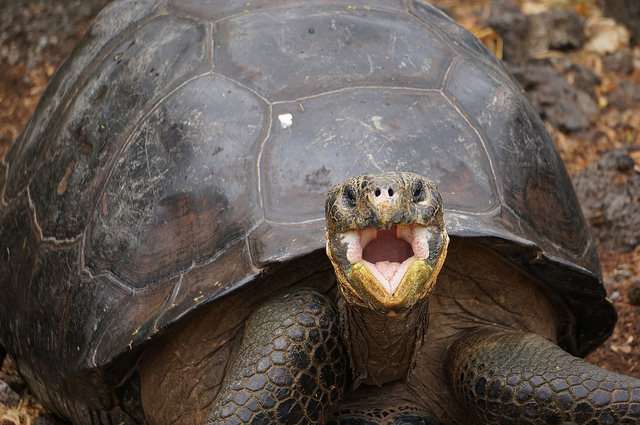 //
Next we should talk about Boobies. (Pausing a moment for the mandatory giggling.) The Blue Footed Boobies are the most well known, and they are completely delightful. The coloring on their beaks near their face almost looks like they are smiling at you, like they are in on the joke and know how fantastic their feet are. (If you've never seen a video of their mating dance, it's worth an immediate watch.)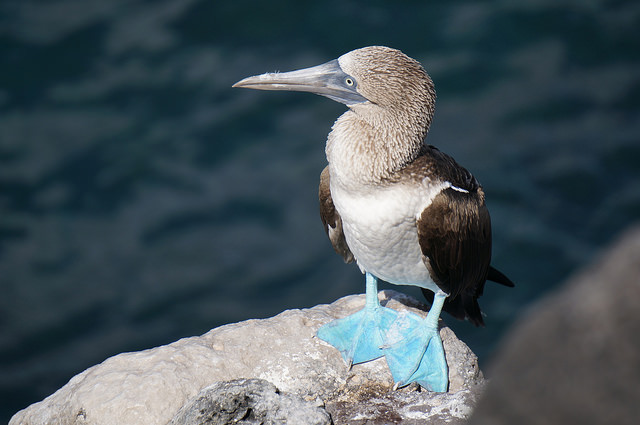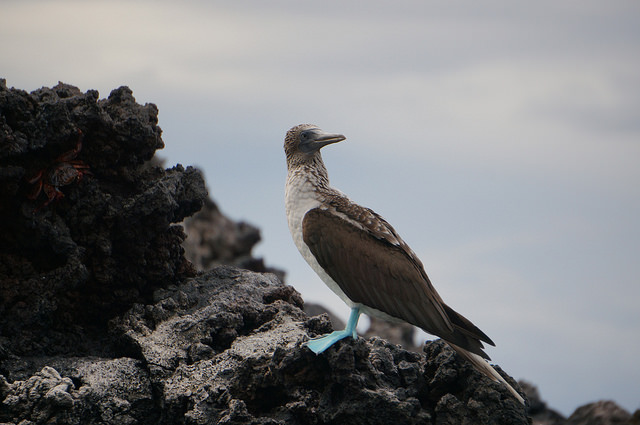 We also saw Red Footed Boobies (including the white morph) and Nazca Boobies. Many of them were nesting, and we saw a lot of their young in the nests.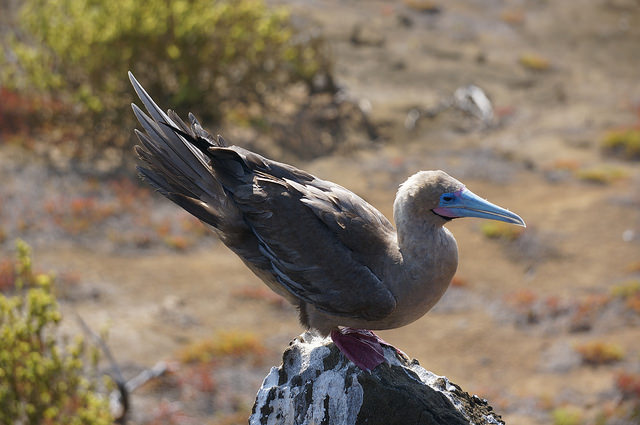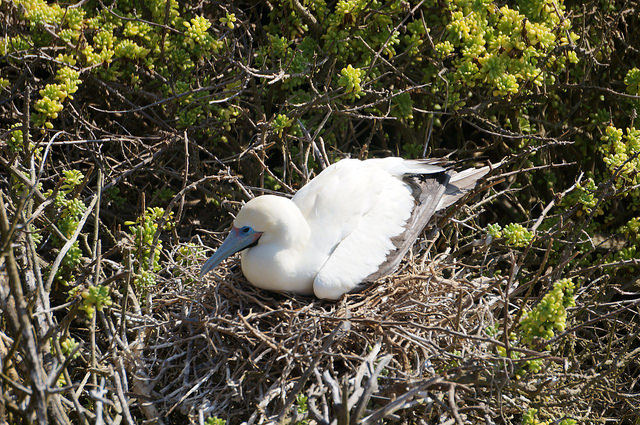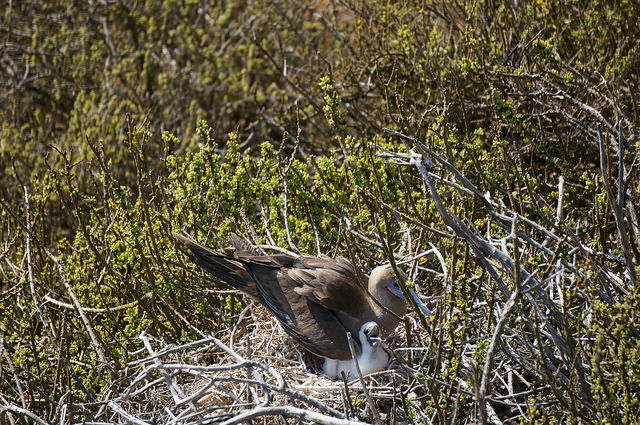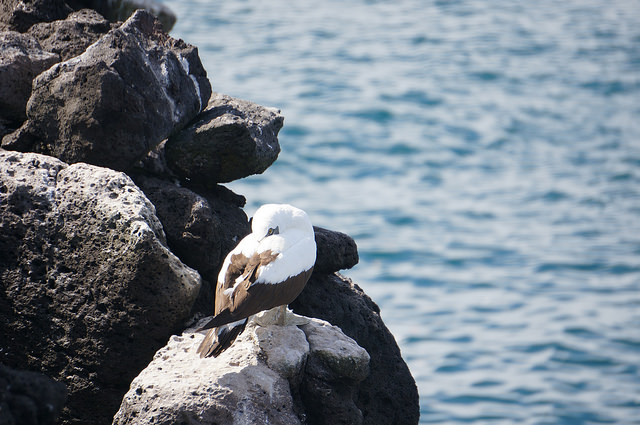 //
I was so happy that we got to see Galapagos Penguins. They are the only species of Penguins in the world that live north of the equator. They are very charming, and very small – the second smallest Penguin species.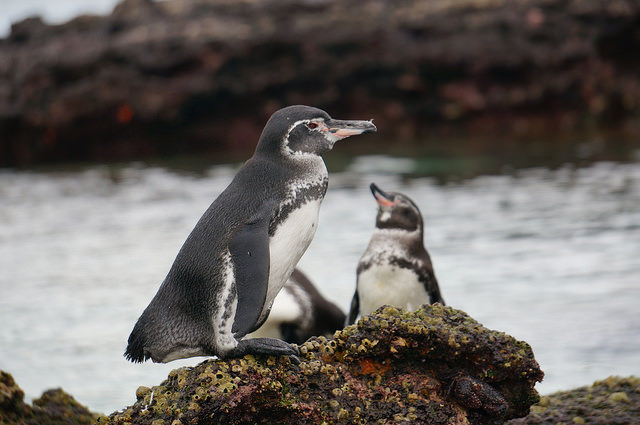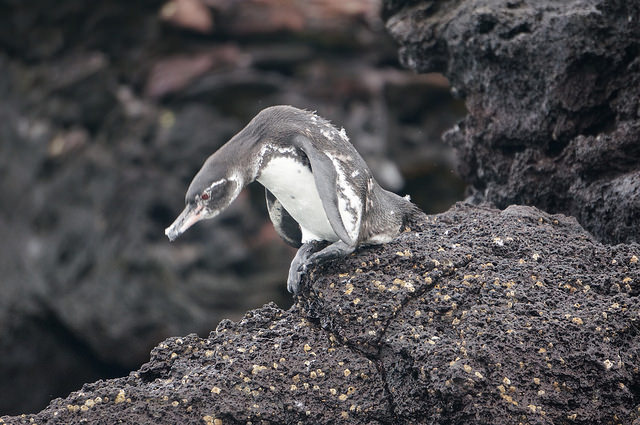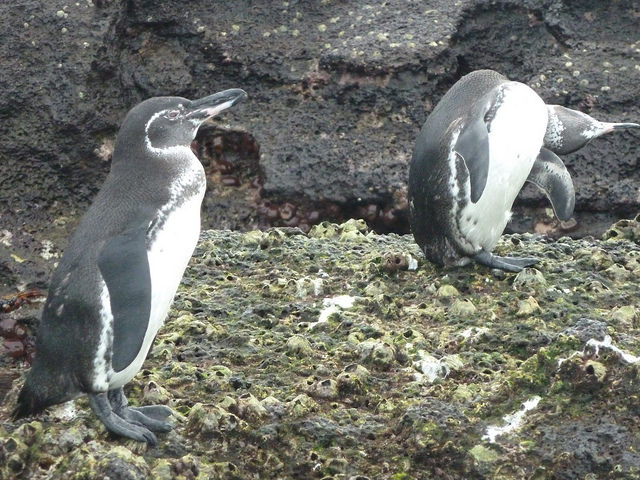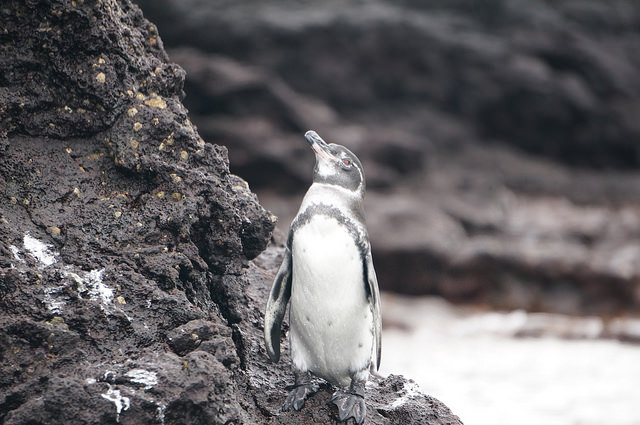 //
For the sake of not having this post take weeks to finish, I'm not going to say a lot about the other bird species on the islands. However, the endemic bird species of the islands, in particular the finches and mockingbirds, were relevant to Darwin as he started to develop his theory of evolution. There's a lot of great information available about the different species variations across the islands – its fascinating to learn about. The birds of the Galapagos (both endemic and non-endemic) are very special, and here are some of my favorite photos of the Finches, Mockingbirds, Wrens, Pelicans, Warblers, Frigates, Blue Herons, Oyster Catchers, Flamingos, and Common Noddies that we saw: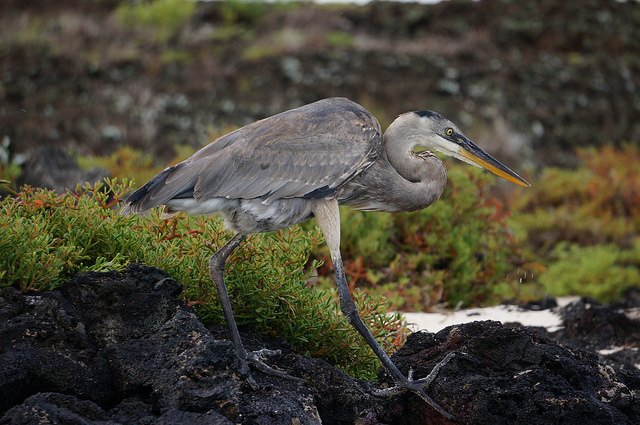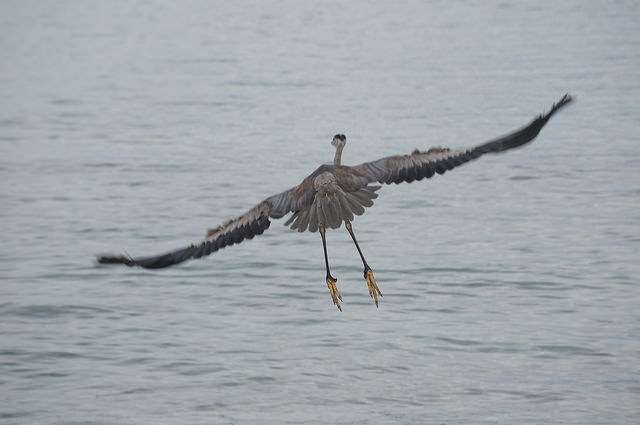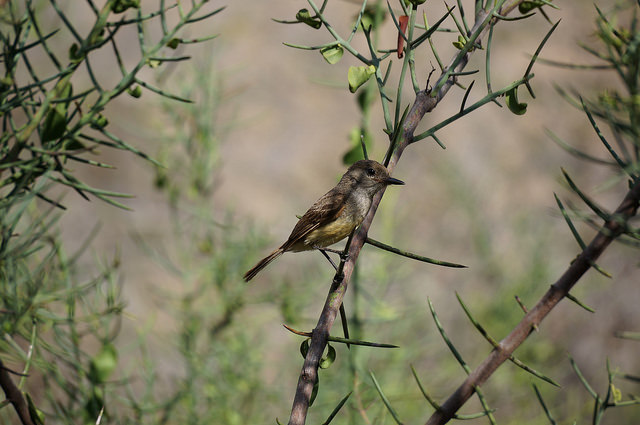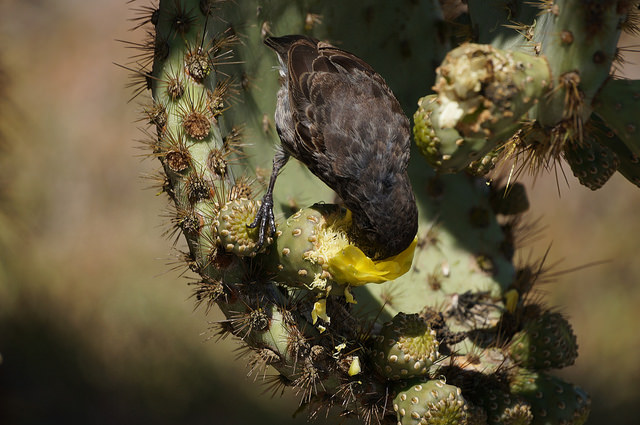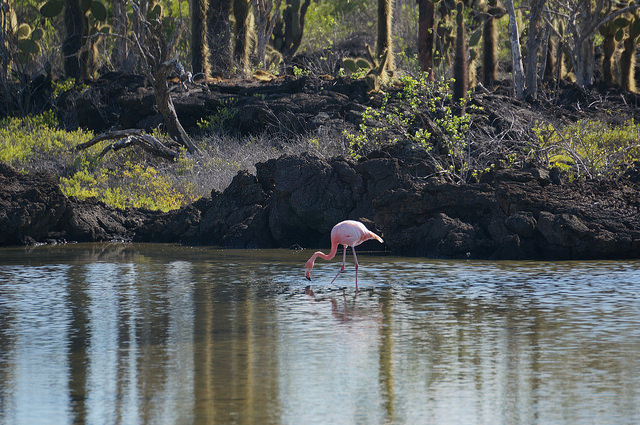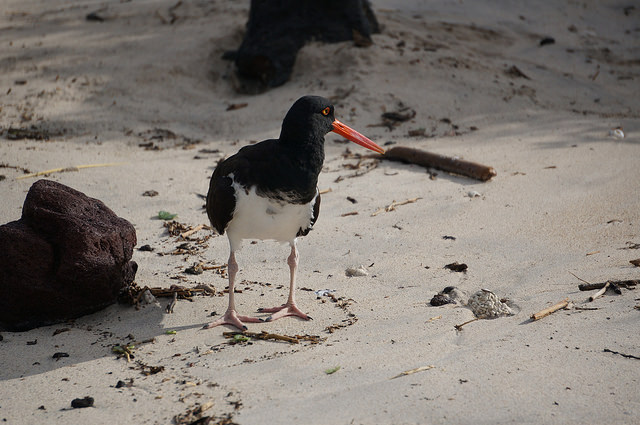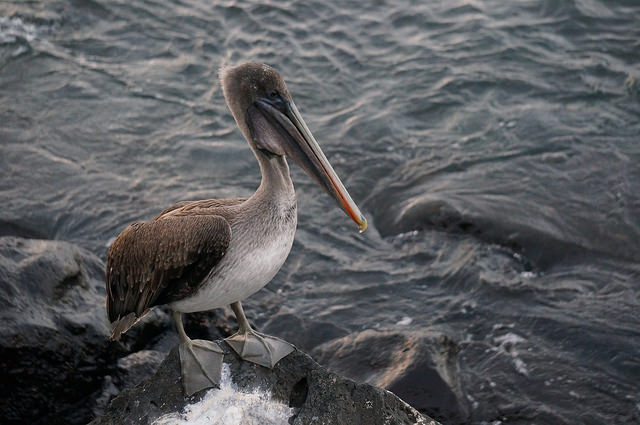 Have you ever seen a sterner looking bird than this Common Noddy? I thought we were going to get scolded for passing by in our boat: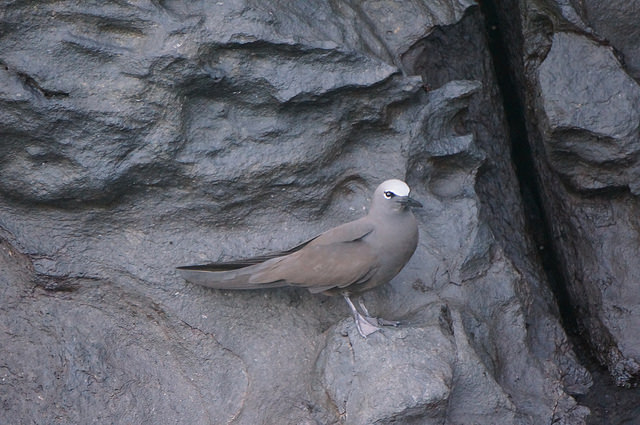 When we cruised at high speed between islands we were often followed by two or more enormous Frigate-birds, catching a ride on our airstream, or sometimes just catching a ride full stop: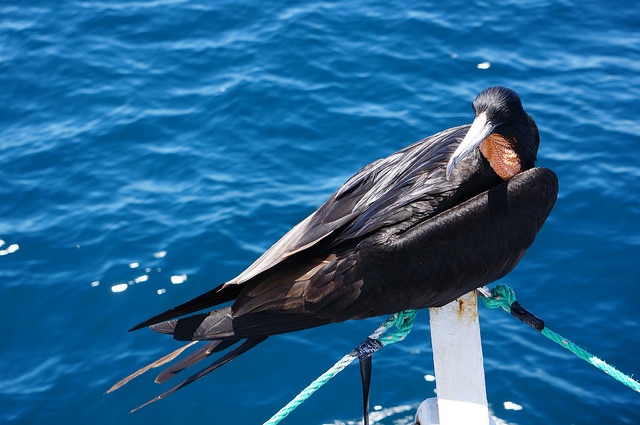 //
You'll have to indulge me a minute while I share several photos of an adorable young Mockingbird who was practicing how to fly. I'm rather obsessed with him. (I'm actually not sure it's a him, but I'll use "him" because "it" feels too impersonal.) I watched him for about 5 minutes, as he hopped around on some low tree branches. Then, he had to gather his courage to fly to another branch about 4 feet away. Here he is mustering up the courage. Flying is scary!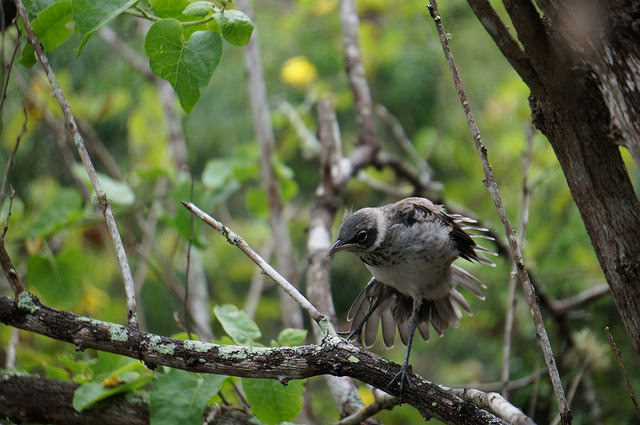 Now that he's got some courage he is almost ready to fly … any moment now he'll do it.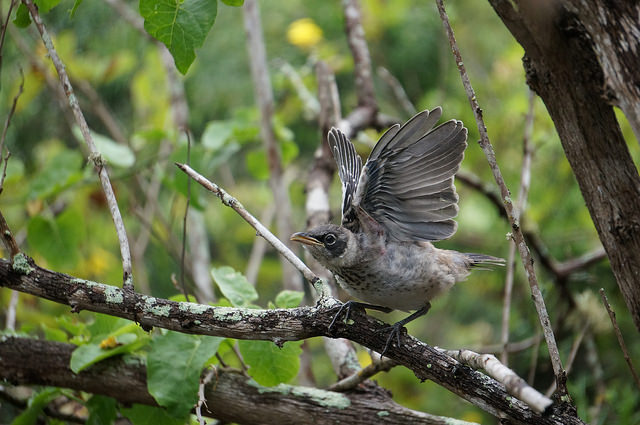 He made it! He knew he would. He's so proud of himself, and very noble.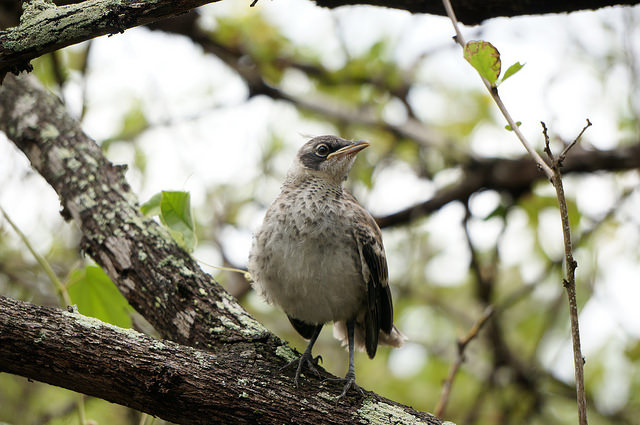 Then his Mom came over to feed and check on him and he squawked and stomped a bit to let her know he liked the food but would like some more thank you.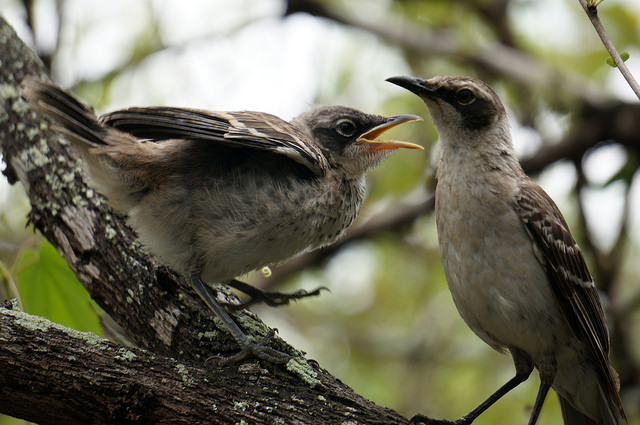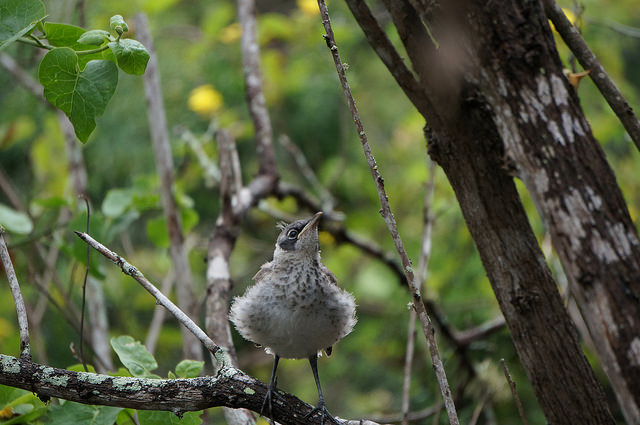 There's only one possible reaction to that belly: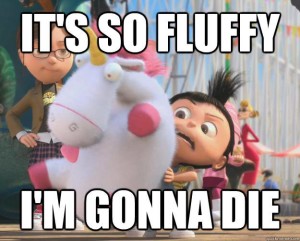 //
If you like Iguanas and Lizards (and who doesn't?), the Galapagos is the place for you. It was mating season for the Lava Lizards while we were there, so everywhere you looked there were small male Lizards perching on rocks, looking around for the ladies. They bend their front legs repeatedly, so it looks quite like they are doing push-ups to impress the females – it's a really delightful sight.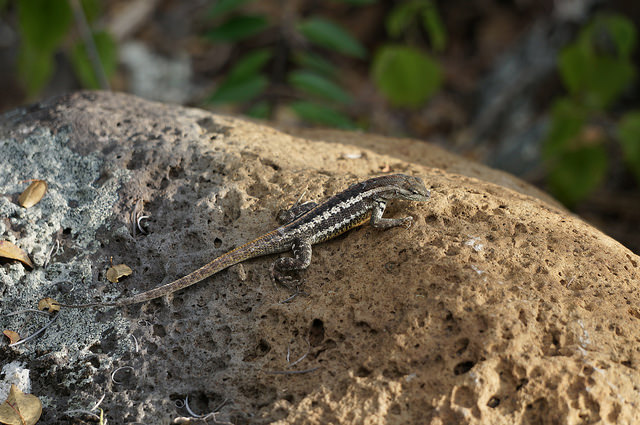 The lady Lava Lizards have red throats, and I'm not sure how they feel about the "push-ups" but they appeared quite interested: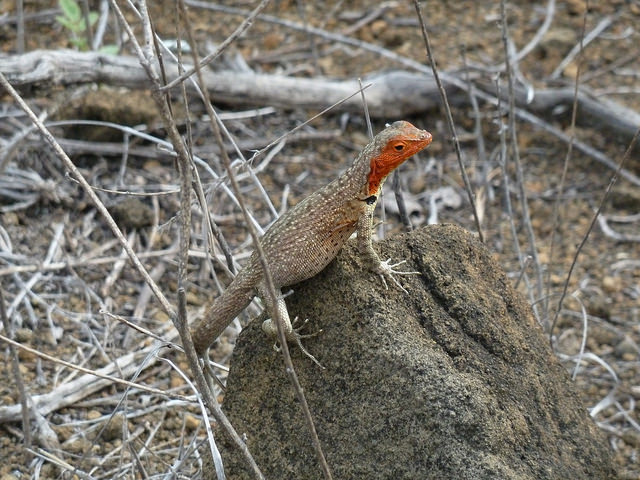 The Lava Lizards were seemingly everywhere, I quickly became worried I would step on one by accident. They are quite quick though, and are very good at getting out of the way of feet on trails. If you keep your eyes open, you can spot them everywhere on the landscapes. I love this one, peeking over a rock: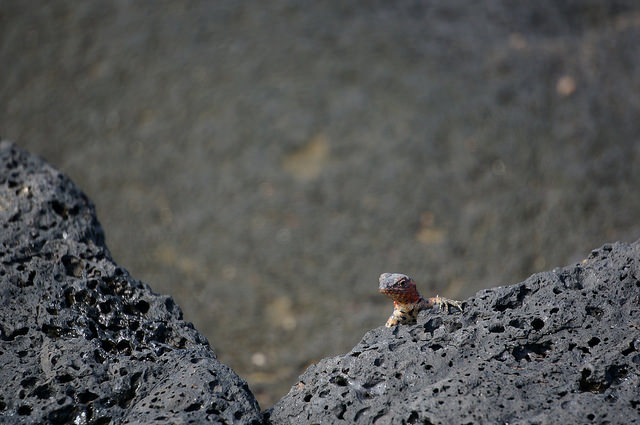 The majority of the Land Iguanas we saw were yellow, though there are a few other species in the Galapagos. They are extremely large – full size they can be 3 to 5 feet long.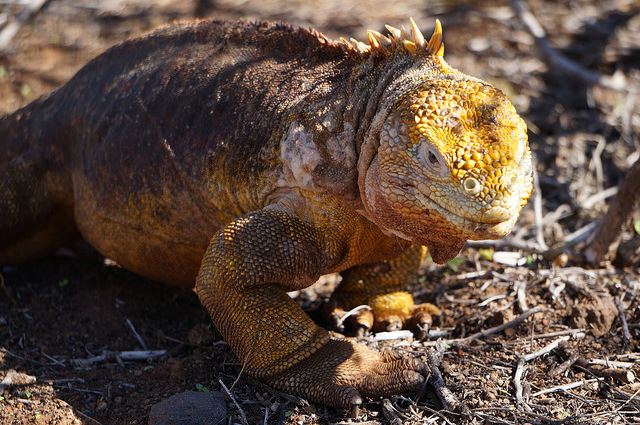 The Land Iguanas are dependent on Cactus leaves for water. The males are territorial and protect their Cactus, as they wait for the leaves to fall to the ground to provide water. There might be several females with them, but usually just one male per Cactus.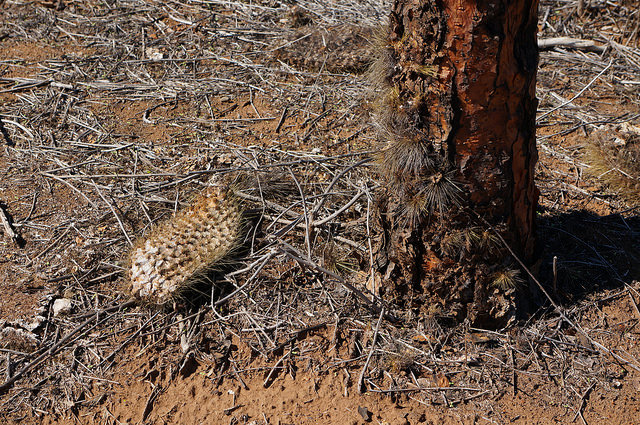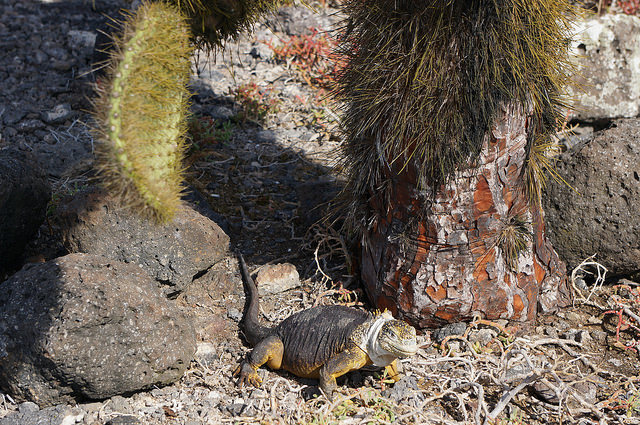 They also will burrow into holes in the ground to escape the heat: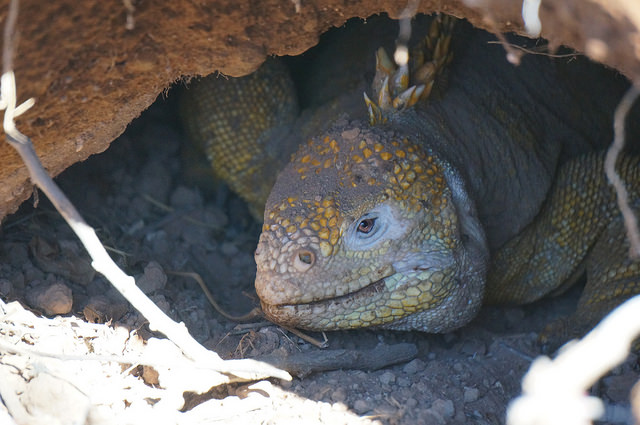 Here's an unusual sight: four males around one cactus: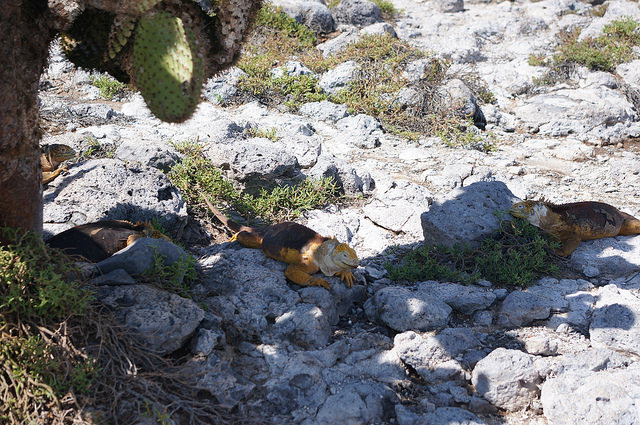 The Land Iguanas are wonderful animals, and they were not bothered by our presence. They appear to be the pure essence of relaxation and Zen.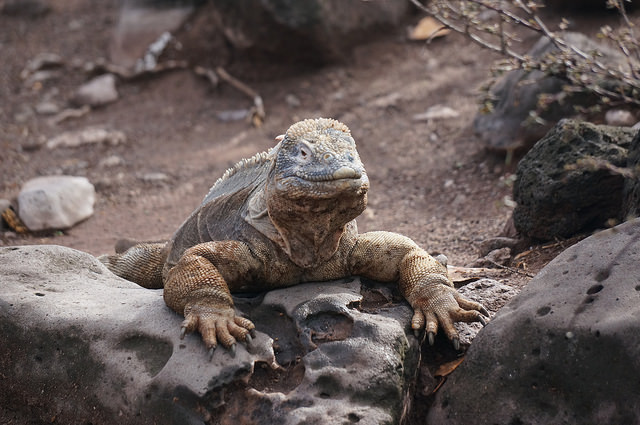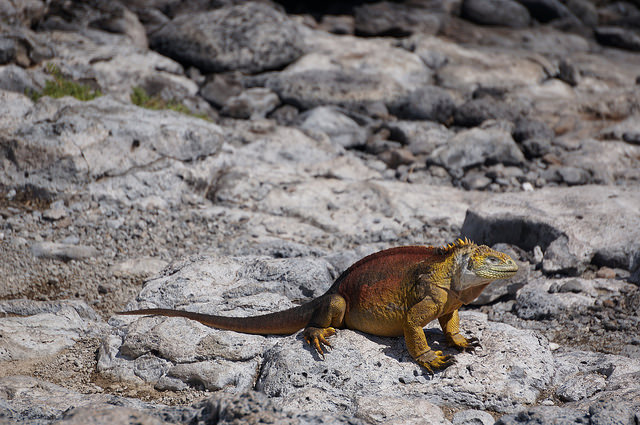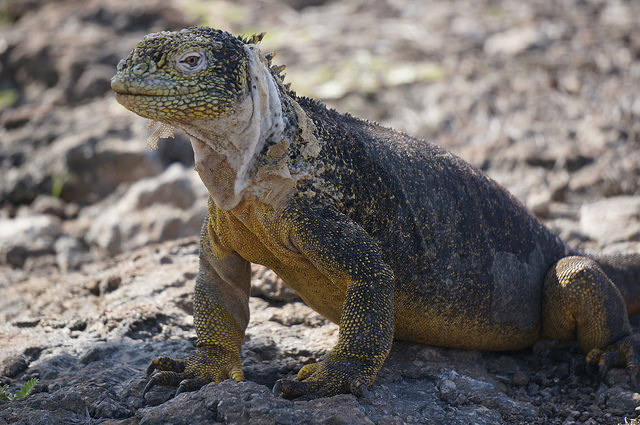 The Marine Iguanas are equally awesome. On one of our hikes on Santiago we saw hundreds of them along the beach – everywhere we turned there were more. It was the heat of the day, so they were just resting on the beach, moving very little. Some of them were gathered together in giant groups under the rocks trying to get some shade – in one area we counted 23 of them under one rock ledge.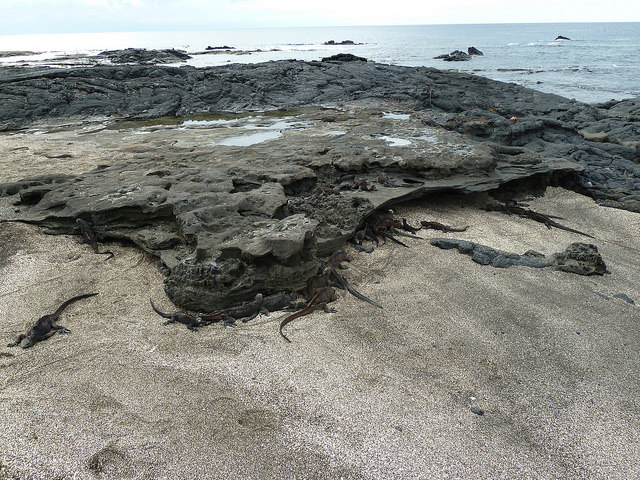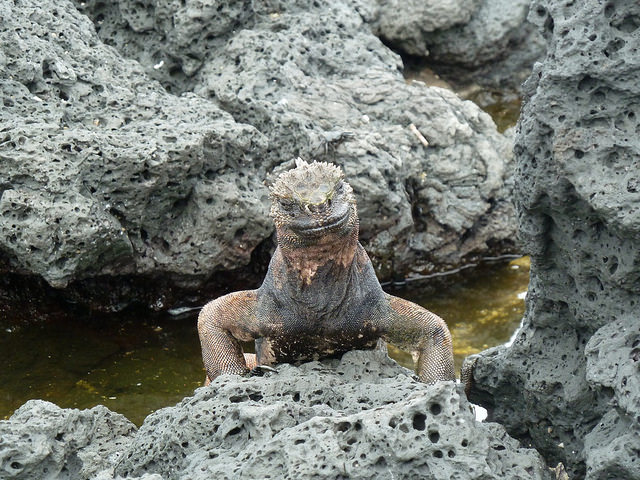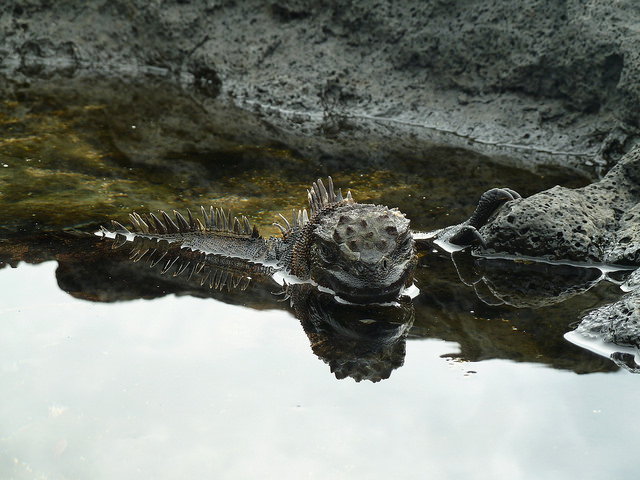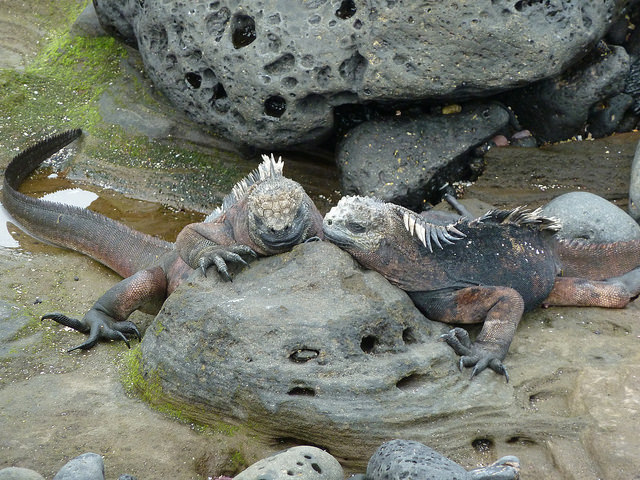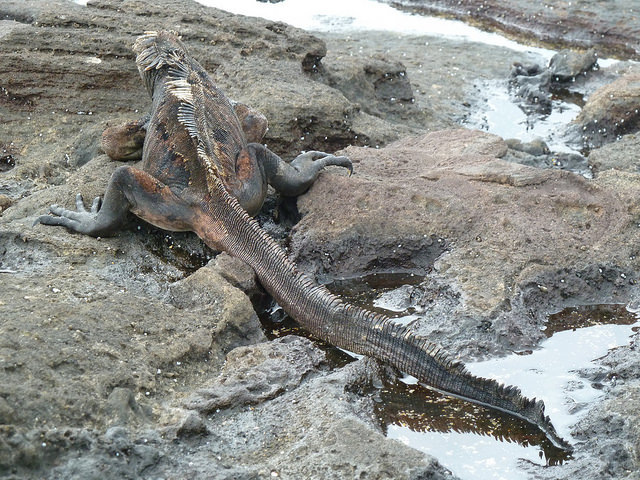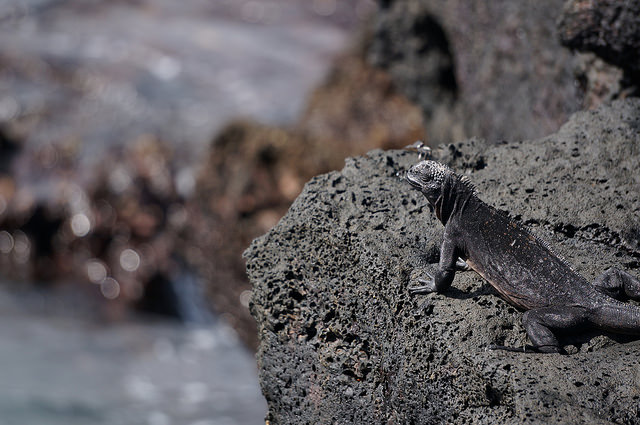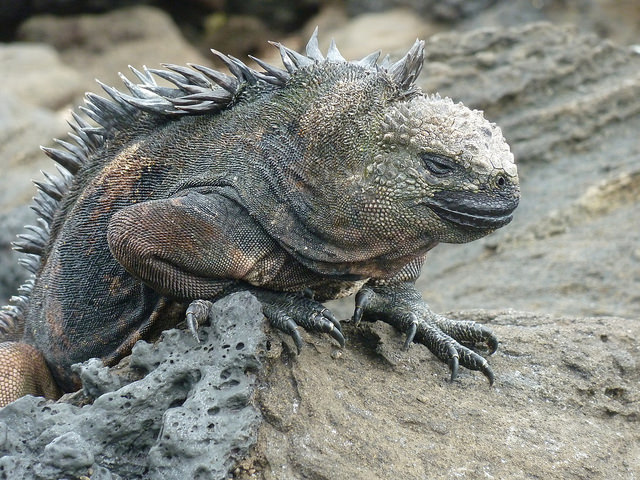 In the mornings you can see trails in the sand they've made as they move from land to sea: a long line made by their tail with their footprints on either side: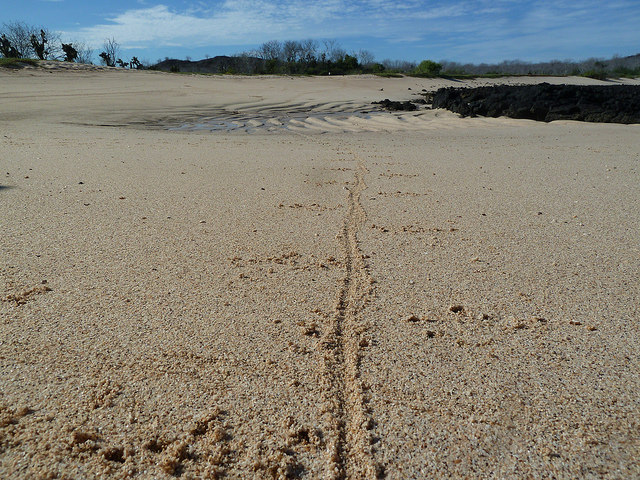 //
Before I visited the Galapagos, I had a normal appreciation of Sea Lions. I enjoyed seeing them at Pier 39 in San Francisco and other ports along the coast of California. I thought they were very cute, and sort of a spirit animal for those of us who like to sleep in the sunshine.
While visiting the Galapagos, I fell completely head over heels for Sea Lions. You get to observe them and interact with them on a much deeper level than just seeing them lay around on docks (although to be fair, they still do quite a bit of laying around in the Galapagos as well). We got to snorkel right by them and watch them swim around in the water – turning flips and seeming to dance underwater. The best part of all was how many baby Sea Lions we got to see. They wait on the beaches while their moms go out fishing (sometimes for days at a time). They play on the beach with other babies. They bask in the sunlight and seem to pose for pictures. On curious one waddled right over to where a member of our tour was sitting and sniffed her leg to say hello. They were spectacularly adorable, and I never got tired of seeing them. Here are some of my favorite photos: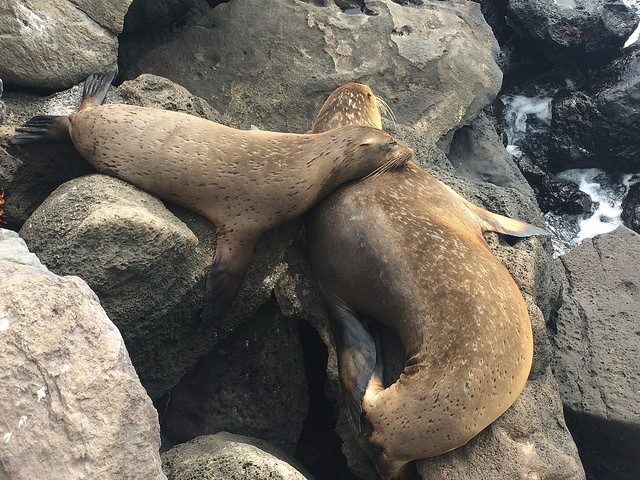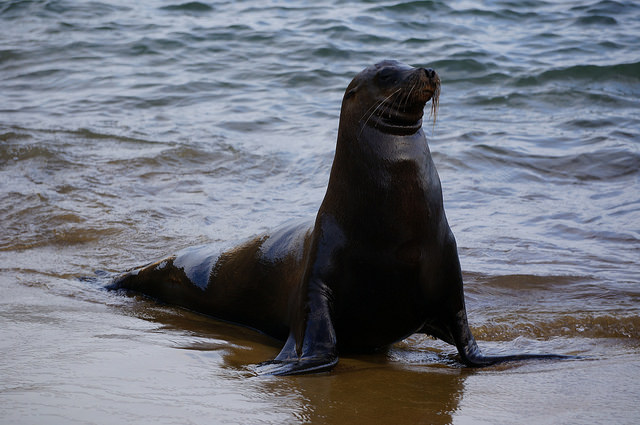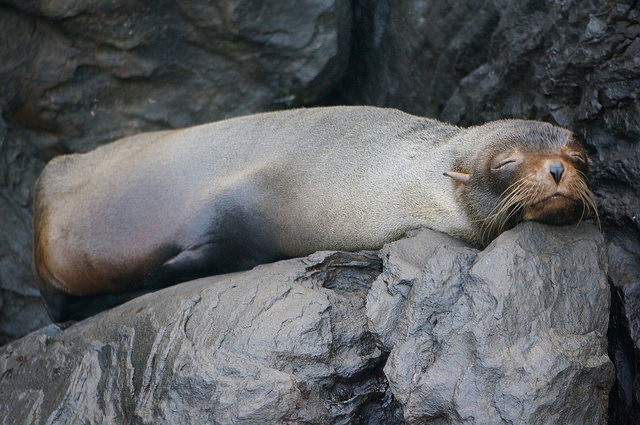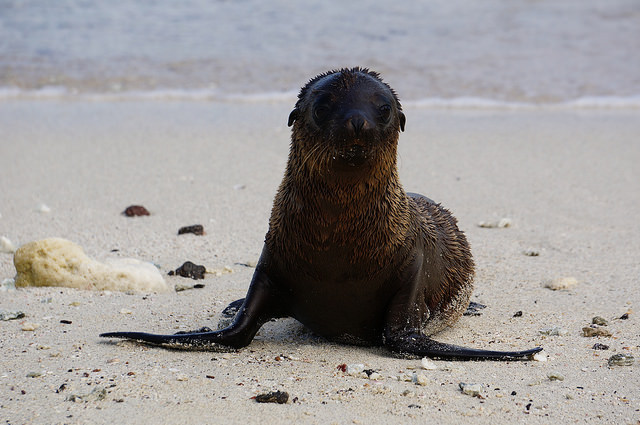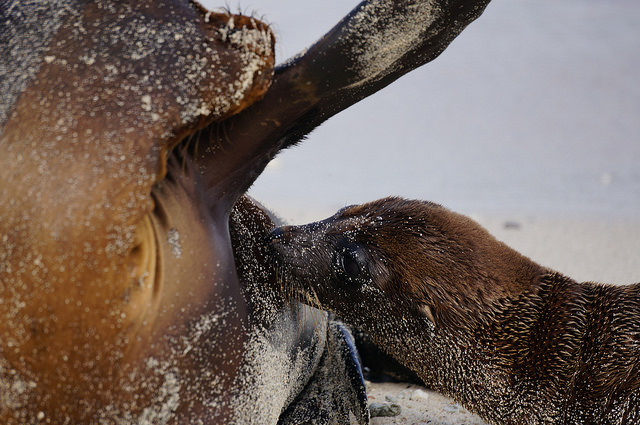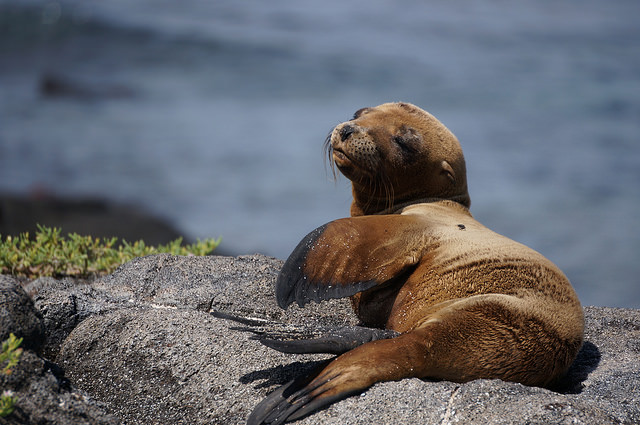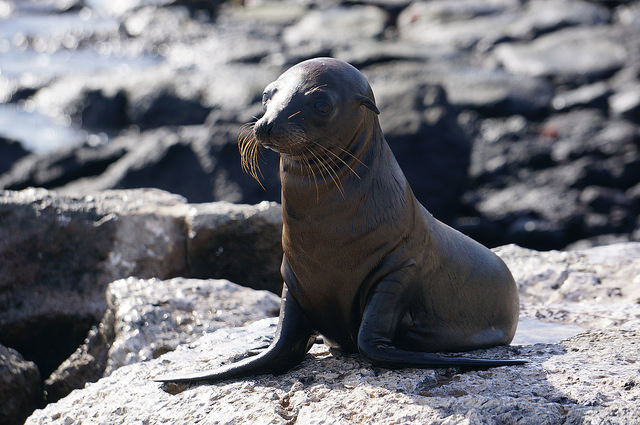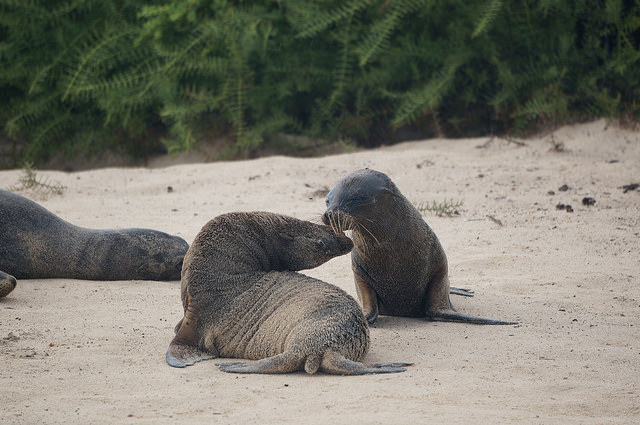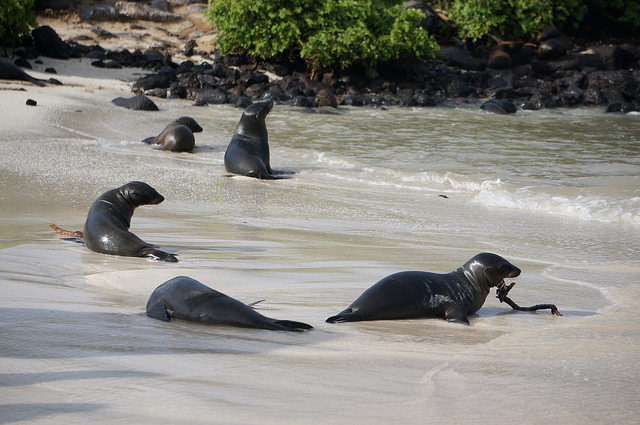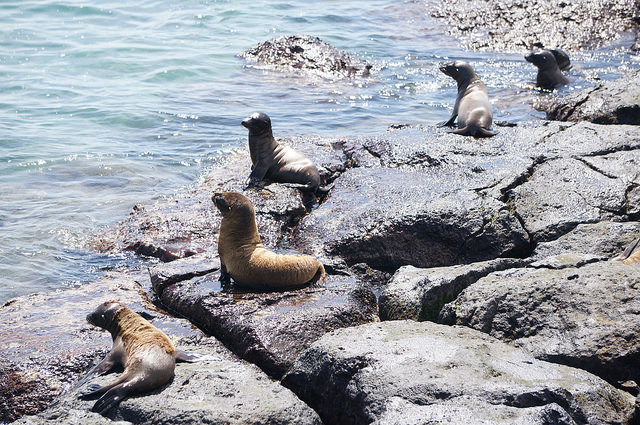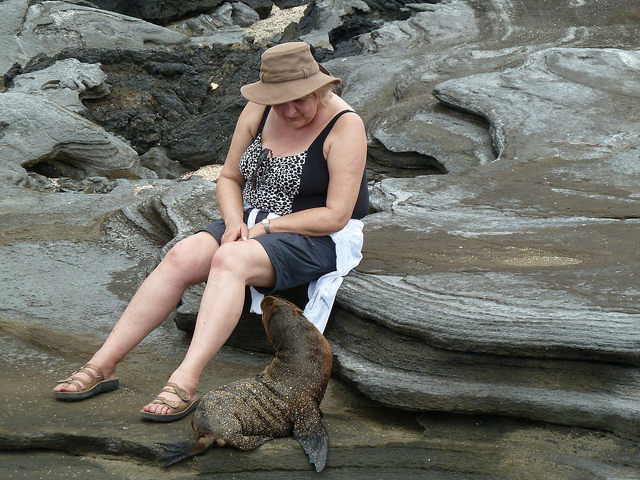 When you're in a busy port, you see a lot of cheeky Sea Lions who have jumped up on anchored boats to rest and take a nap. One spent an afternoon relaxing on the back of our ship: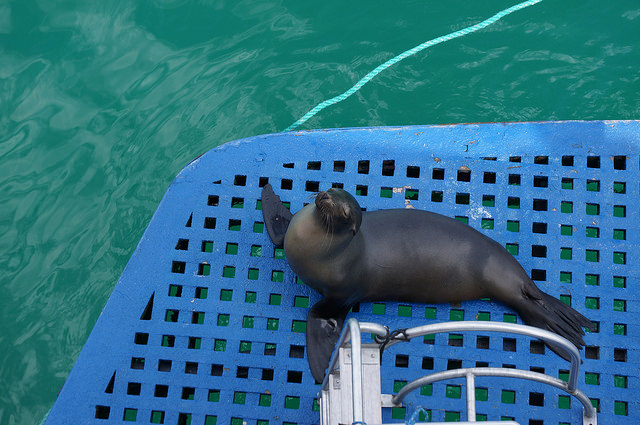 //
When you visit the Galapagos, you'll definitely be impressed by the Crabs along the beaches. They are the most vibrant and lovely colors, and they stand out against the black volcanic rocks and the sand.
There are so many bright red Crabs in the background of this Heron photo!: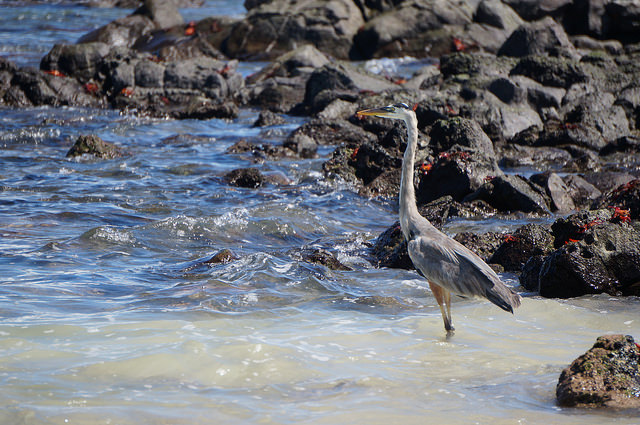 Also, if you keep a sharp eye out, you can spot Hermit Crabs along the trails: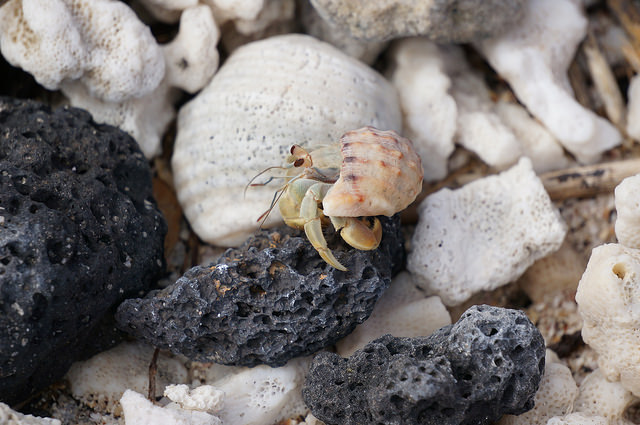 //
We saw a lot of sea life from the boat as well: Dolphins, Whales, Sharks, Eagle Rays, Sea Lions, Sea Turtles, leaping Tunas. Here are two Eagle Rays: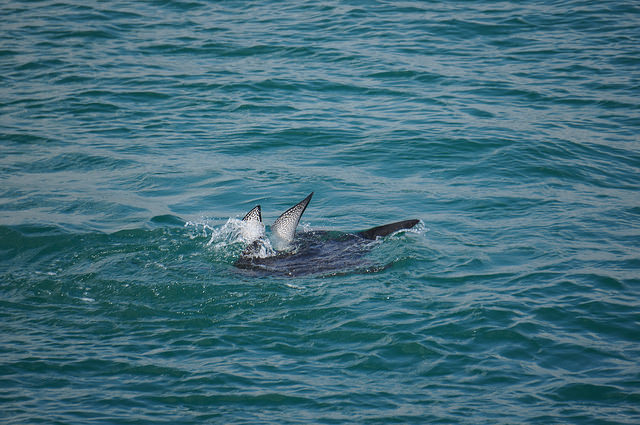 //
Next, we need to talk about the snorkeling. There's one sentiment that sums it up:
The snorkeling the Galapagos was incredible. Different snorkel locations had different animals, but we swam within feet (and sometimes inches) of Sea Lions, Sea Turtles, Eagle Rays, Stingrays, Penguins, Slipper Lobsters, Marine Iguanas, Reef Sharks, Starfish, Sea Cucumbers and dozens of species of colorful, lovely fish.
We took a lot of GoPro footage underwater, and edited the highlights into this video:

I tried to get through all of Darwin's The Voyage of the Beagle and simply could not do it. It's a good read, but it's incredibly long. Since it's his diary of what he saw during his long journey, there's a ton of description and not a lot of plot. It's hard to read a lot of it in one sitting without getting antsy. I hope to finish it someday, but for the trip I skipped ahead to his chapter on the Galapagos when it became apparent that there was no way I'd get that far in before we arrived. I definitely recommend reading the Galapagos chapter (chapter 17) as background to a visit.
The Galapagos: A Natural History by Henry Nicholls is fantastic, high level background information for a trip to the islands, or for deciding if you'd like to visit. I listened to the audiobook edition, which is wonderfully narrated. It provides a good introduction to the plants and animals of the islands, and why they are so unique and important.
Galapagos by Kurt Vonnegut is a novel set mostly in the Galapagos Islands. There's some background on the actual nature and wildlife of the islands, but mostly it's just fun to read such an entertaining story set in the place you're visiting. Highly recommended to bring along and read on the deck while sailing.