Today let's leave behind the below freezing weather in NYC and take a little armchair journey to southeastern Asia.
It is late April, we are in Laos, and it's one of the hottest times of the year. It's humid. The water fights during Songkran helped keep us cool, but by the time we get to Vientiane we are a bit overwhelmed by the humidity. We have a free afternoon, so we decide to take a car out to the Buddha Park (Xieng Khuan), which is about 25km outside of the city center. It feels really good to get out of the city and into the fresh air along the Mekong River.
We don't know much about the Buddha Park, and it's hard to describe what it is. It's a very interesting, and very strange place. It was created in 1958, but the sculptures were designed to look much older. We see Buddhas, gods, humans, animals, and skulls. There's a 390 foot long reclining Buddha.
There is a large round sculpture meant to represent hell, earth and heaven. We enter through a demon's mouth and climb internal staircases up three levels to the top, where we can see out across the entire park. The staircases are a bit claustrophobic, but the view of the park from the top makes up for it.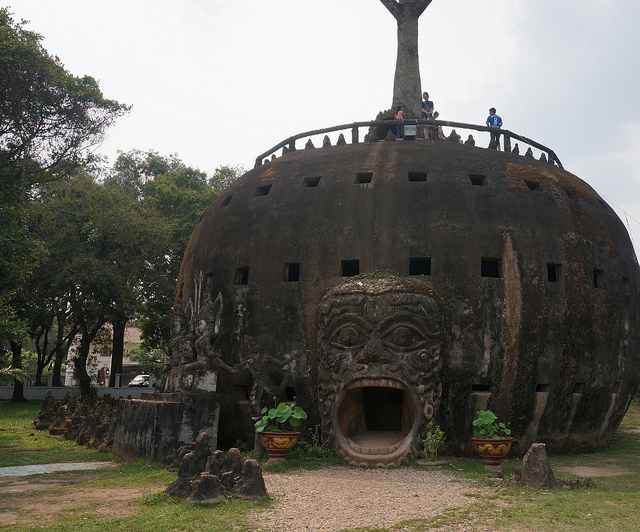 There's a lot to look at. There are a few snakes lurking about, which are probably harmless but still might make us jump. I hope you enjoy taking a little stroll around the park with me. Put on some sunscreen because the sun is blazing hot.