Until my first trip to England in 2013, I had never eaten a proper scone. I suspect many Americans haven't, until they go to the UK. There must be places in the States making proper scones, but all I ever seem to find is the large, dry, triangle shaped scones, served plain, that are underwhelming compared to English scones with jam and cream.
Here are the divine scones I had at a high tea at Selfridges: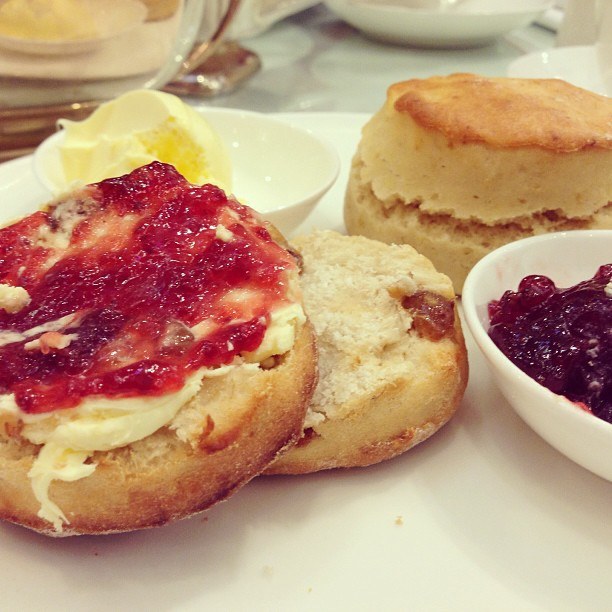 Once my friends and I tried the scones in England, we were hooked. We had them as often as possible during our ten day trip – in London, in a charming town in the Cotswolds, at the Mr. Darcy High Tea in Bath. I also caught on photo the exact moment when my friend Chris realized that the scone he was eating in Oxford was, in fact, the Greatest Scone of All Time: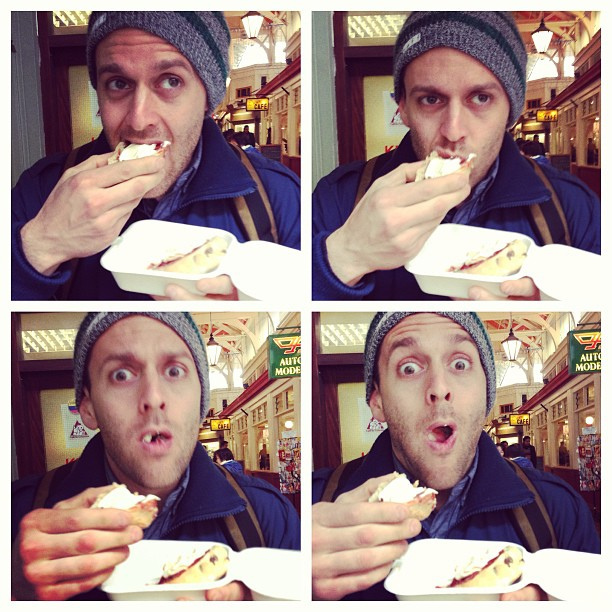 So we all were, in a word: obsessed.
While I was at home in Michigan a few weeks ago, I decided to look for a recipe I could use to attempt to recreate English scones here in the States. I decided to use the always reliable folks at America's Test Kitchen as a starting point, and they didn't let me down. I've adapted this recipe from Cook's Illustrated. The original recipe calls for a food processor, which I do not have. I find that you usually don't need a food processor for baking if you're willing to use a little elbow grease. I use an OXO pastry blender instead – much cheaper and easier to wash than a food processor, but I've also been known to just use a fork to incorporate the butter or shortening. However, if you have a food processor and would like to follow the original recipe, you can find it here.
INGREDIENTS
3 cups all-purpose flour
1/3 cup granulated sugar
2 tablespoons baking powder
1/2 teaspoon kosher salt
8 tablespoons unsalted butter, cut into tablespoons and softened
3/4 cup dried currants
1 cup whole milk
2 large eggs
INSTRUCTIONS
1. Adjust your oven rack to upper-middle position and preheat to 500 degrees. Line a baking sheet with parchment paper.
2. Whisk flour, sugar, baking powder, and salt in large bowl until combined.
3. Add butter and use a pastry blender or a fork and work the butter into the mixture until it's fully incorporated and no large visible pieces of butter remain. This will take several minutes. The mixture should look like a very fine crumb. Then, stir in the currants.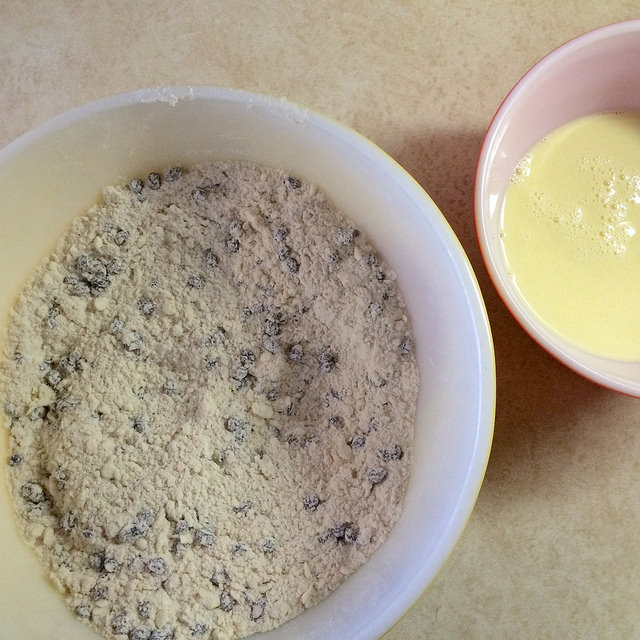 4. Whisk the milk and eggs together in a separate, medium sized bowl. Set aside 2 tablespoons of the milk/egg mixture in a small bowl or ramekin. Add the remaining milk/egg mixture to the flour mixture and, using a spatula, fold together in the bowl until almost no dry bits of flour remain.
5. Flour a clean counter, transfer the dough and gather to form a ball. Knead the dough until the surface is smooth and free of cracks, about 20 times. Flatten gently to form a disk. Using a floured rolling pin, roll disk until it is about 1 inch thick. Using a floured 2 1/2-inch or 3 inch round cutter, stamp out scones. Gather the dough scraps, form into ball, and knead again gently until surface is smooth and roll to 1 inch thickness and stamp out more scones. Repeat once more if there is enough dough. Arrange scones on the prepared baking sheet.
6. Use a pastry brush to cover tops of scones with reserved milk/egg mixture. Reduce the oven temperature to 425 degrees and bake scones until risen and golden brown, about 10 to 12 minutes. Rotate halfway through baking.
7. Serve warm, with a cup of tea. Top with butter, jam, and/or clotted cream.
//
I was incredibly happy with this recipe. They were as good as I remembered the scones in England, except that in Michigan I did not have access to clotted cream – my favorite topping. When I make these again in NYC I will be able to find cream at a speciality store, and am excited to try them again with strawberry jam and cream.