I like a low key Valentine's Day. I don't like to mess with the overcrowded NYC restaurants and hard to book reservations, it's a lot of fuss for a day when all you want is to hang out with the person that you most adore.
I think a nice card, maybe some flowers, a Seamless delivery and a movie night cuddled up on the couch is a perfect Valentine's Day. (Actually, it's pretty much the perfect any day.)
I love picking out cards for all occasions, and I've collected my favorite Valentine's Day cards for bookworms from Etsy. If none of these are just right for your Valentine, try searching the name of their favorite book or author on Etsy – there are so many great literary themed cards to discover.
//
Right off the bat, you can start with the biggest statement there is: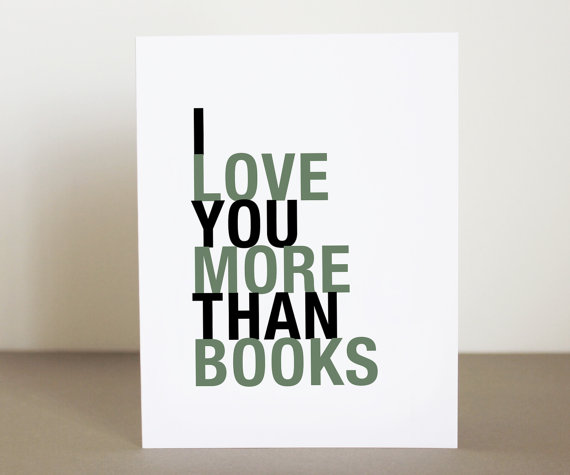 Valentine Card, I Love You More Than Books, A2 Size Greeting Card $3.75
Then, we can turn to Mr. Darcy for the ultimate in romance: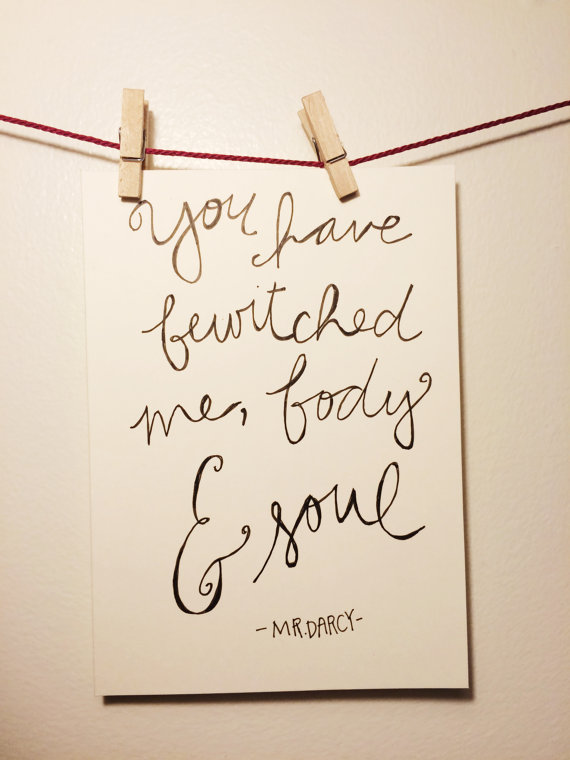 you have bewitched me, body and soul jane austen greeting card. hand lettering. $4.00
Is your significant other a Fangirl (or Fanboy) of Rainbow Rowell? Etsy has that covered too:
I Choose You Over Everyone Fangirl Rainbow Rowell quote doodle art card $3.95
There are so many good Harry Potter valentines on Etsy. Some are naughtier than others. I am a fan of this one, but search "Harry Potter Cards" on Etsy to view a whole range: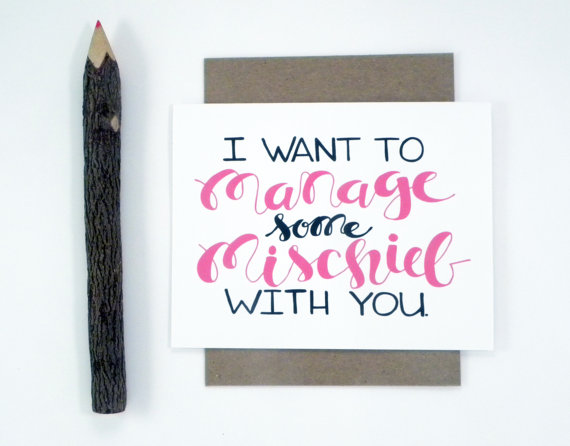 Harry Potter Valentine's Day Card – Mischief Managed $4.25
Given my love for Douglas Adams, and the name of this blog, this card is one of my favorites: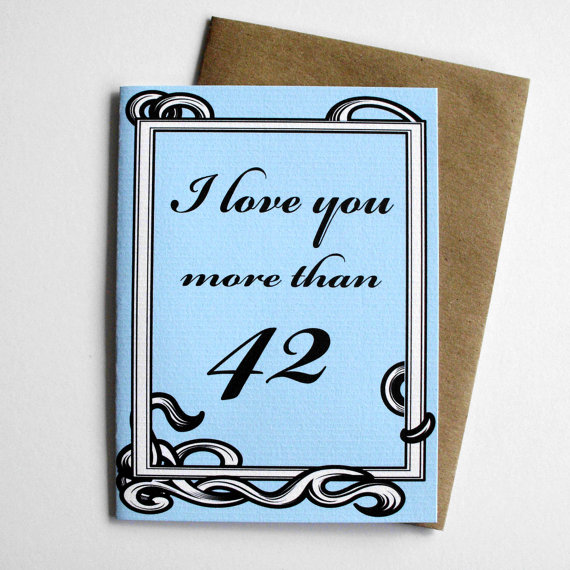 Nerd Love Card – I love you more than 42 $4.75
For a simple, poetic approach, try Walt Whitman: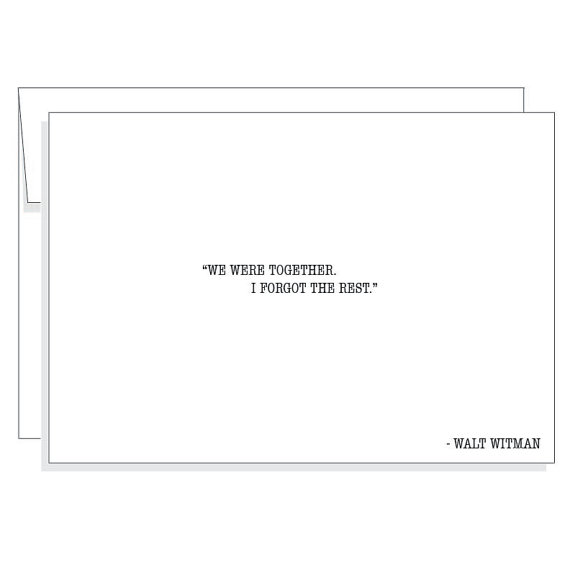 Walt Witman- greeting card – Romantic book Quotes – quote card – love card – typewriter quote – the tiny typewriter $4.00
The romance between Anne Shirley and Gilbert Blythe is one of the best in all of literature: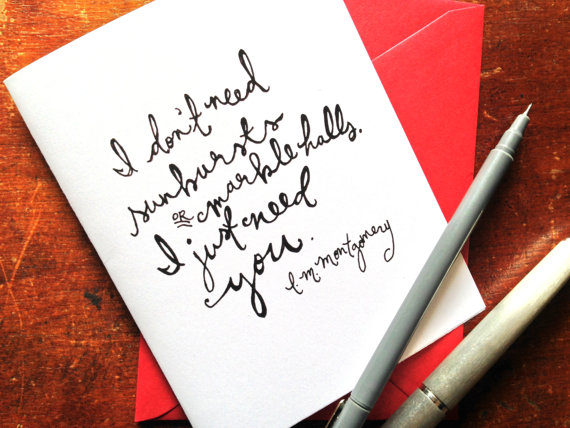 Anne Shirley Marble Halls Hand Lettered Valentine $3.50
If Gothic romance is your thing, Jane Eyre can help: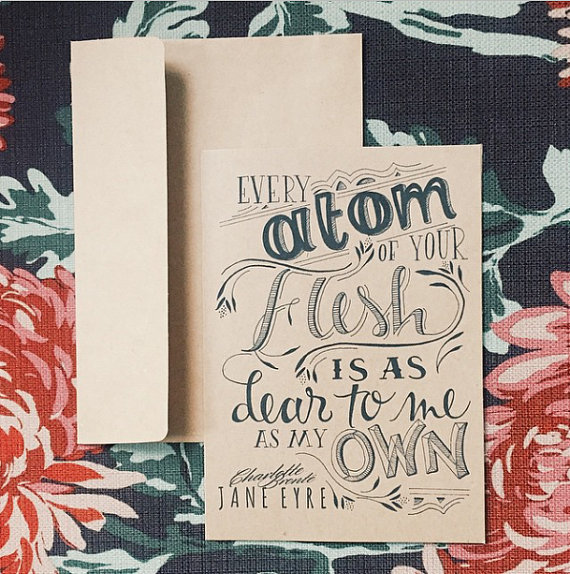 Jane Eyre Hand Lettering Quote Valentine's Day Card – FREE SHIPPING $4.50
E.E. Cummings can always be trusted to set a heart fluttering: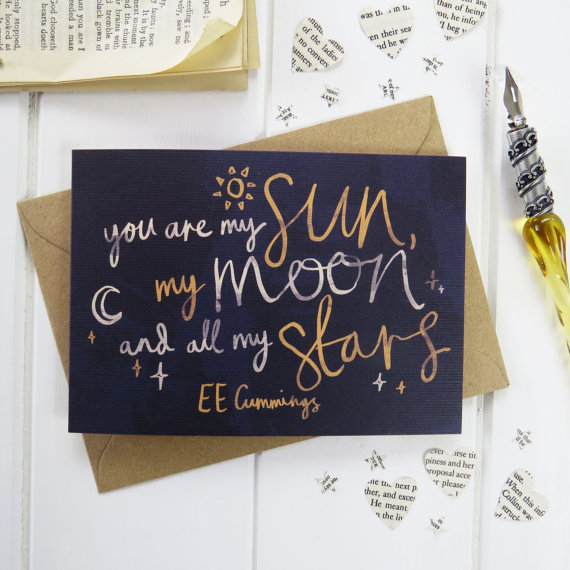 Sun, Moon And Stars Valentines Card – EE Cummings $3.91
The perfect Hemingway card: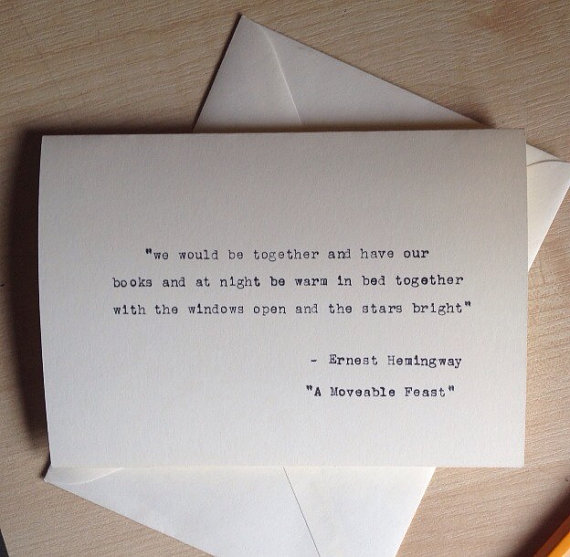 Ernest Hemingway "A Moveable Feast" literary quote card, blank $5.44
And because Valentines shouldn't just be for celebrating romantic love, here's a card to celebrate friendship – from the ultimate friend, Winnie the Pooh: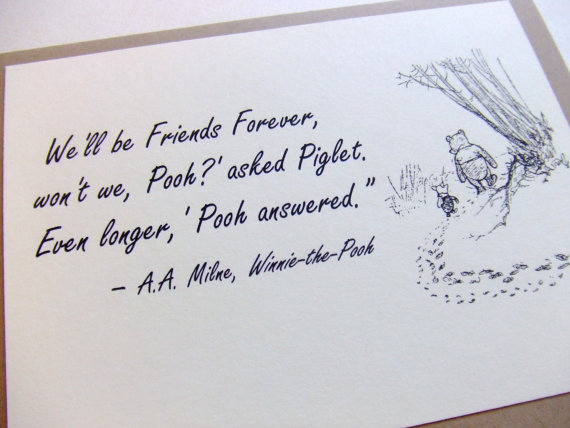 Friends Forever – Winnie the Pooh Quote – Classic Piglet and Pooh Note Card Cream On Kraft Brown $3.00