I subscribe to The Listserve, a daily email lottery. There are currently about 24,000 subscribers from all over the world, and each day one of them is selected randomly to write an email which gets sent to everyone on the list. It adds a bit of diversion into my inbox each day, and it's interesting to hear thoughts from people all over the world. Some of the emails are fantastic, some are dull. Many give you something new to think about.
One of my favorite Listserve emails of all time was on June 16, 2012 from a girl in India. In it she wrote about "untranslatable words" – or words that have no direct translation in English, and must be described in many words.  Here's the full email:
Google translate is great, and I use it extensively while learning Spanish. But there's only so much it can do. There are some words of a language which remain untranslatable. Here are some of my favourites:
Duende (Spanish)- On a translator, it'll show "elf". It is actually the spark of divine inspiration, expressing itself out of one's heart, or the involuntary feeling of awe, in reaction to an inspiring piece of art or music.
Tenalach (Gaeilge)- The relationship one has with the earth, the air, the water. A deep connection that makes you one with nature.
Gemütlich (German)- Translates as "comfortable", but it is the sort of comfortable exhibited by a warm house full of people who love you; when you are happy and relaxed.
Ya'aburnee (Arabic)- Literally translates as "You bury me."  The declaration of one's hope that they'll die before another person, because of how difficult it would be to live without them.
Koi No Yokan (Japanese)- The feeling you can get when meeting a person for the first time, that you will fall in love with them. Different from "love at first sight", as it does not say that love already exists, only the knowledge that it WILL happen later.
On that note, I'll sign off. Hopefully you will find these words as beautiful as I did.
Ishita
Kolkata, India
I loved this email so much that I printed it out and kept it in my planner. I loved these words and thinking about their meanings. It made me think about other feelings and experiences we don't have single words to express.
You can probably imagine my delight at discovering the new illustrated book Lost in Translation by Ella Frances Sanders.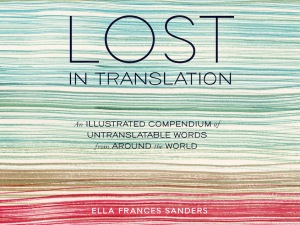 Ella Frances Sanders took dozens of such words and compiled them into a lovely illustrated collection. She defines the idea around each word and offers brief thoughts on why each word is particularly delightful. Her illustrations are incredibly cute and add a spirit to the book that completes the wonderfulness of the collection of great words.
Here are some of my favorites:
The Dutch word Gezellig: adj. Describes much more than just coziness – a positive warm emotion or feeling rather than just something physical – and connotes time spent with loved ones, togetherness.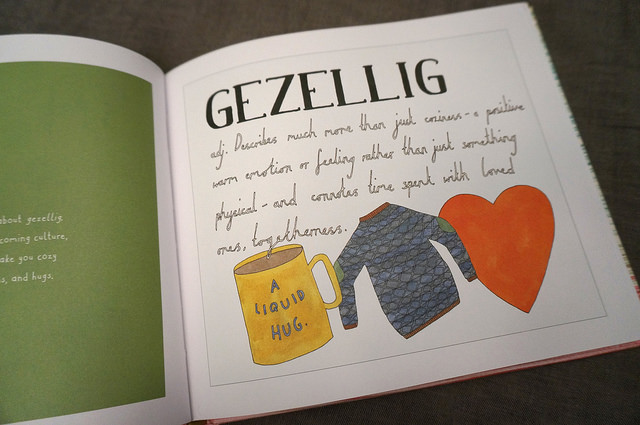 The Japanese word Komorebi: n. The sunlight that filters through the leaves of the trees.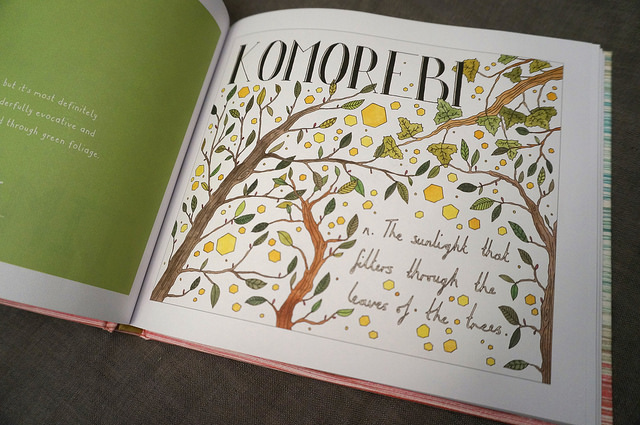 The Swedish word Resfeber: n. The restless beat of a traveler's heart before the journey begins, a mixture of anxiety and anticipation.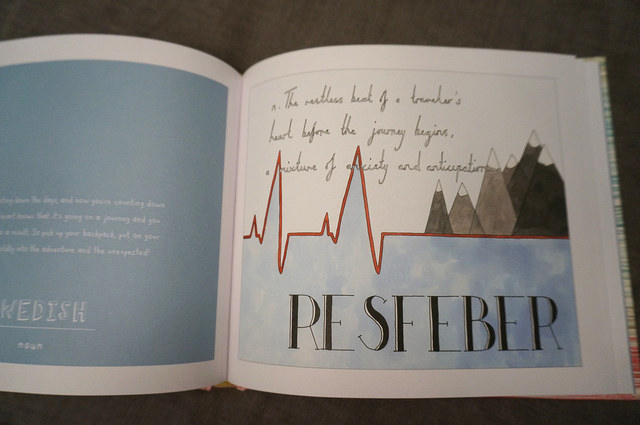 The German word Waldeinsamkeit: n. The feeling of being alone in the woods, an easy solitude and a connectedness to nature.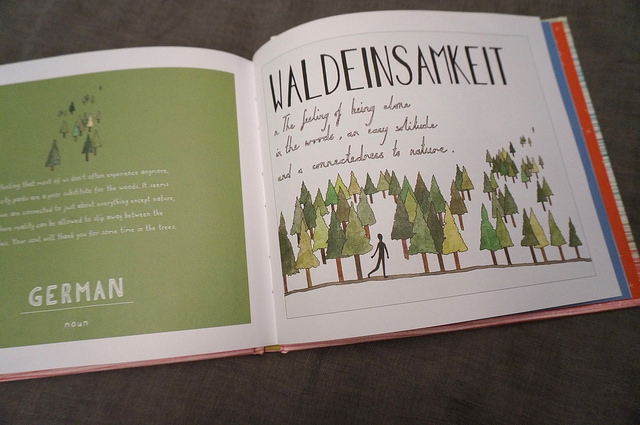 And one I can definitely relate to, the Japanese word Tsundoku: n. Leaving a book unread after buying it, typically piled up together with other unread books.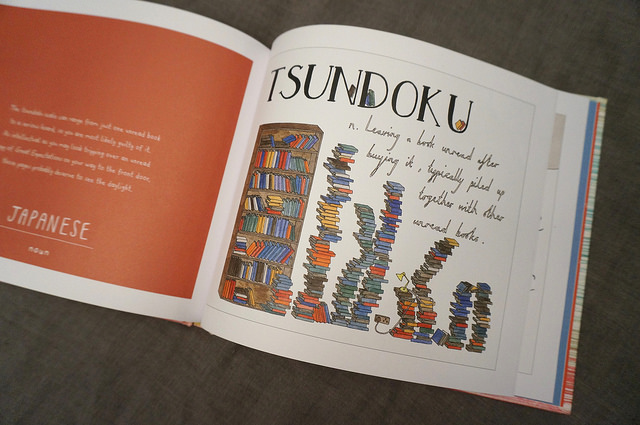 If you love words and the expression of language to communicate feelings and ideas, this book will be a treat. It would also make a great little holiday gift for kindred spirits in your life.