Forgive me, but I need to majorly nerd out about organizational tools for a post.
I've tried a lot of different methods and applications for organizing to do lists and life in general over the past few years. Wunderlist. ToDoIst. Apple Reminders. Checklists in Evernote. Pen and paper lists (which I still use frequently for short term lists when I need the satisfaction of seeing things on paper and crossing them out).
After trying out a lot of applications and methods that didn't do everything I needed them to do, I found teuxdeux.com – and it's perfect. I've been using it for over a year and it has changed my life for the better. (Yes, I'm a nerd and have just openly stated that a to do list application changed my life. I'm not ashamed.)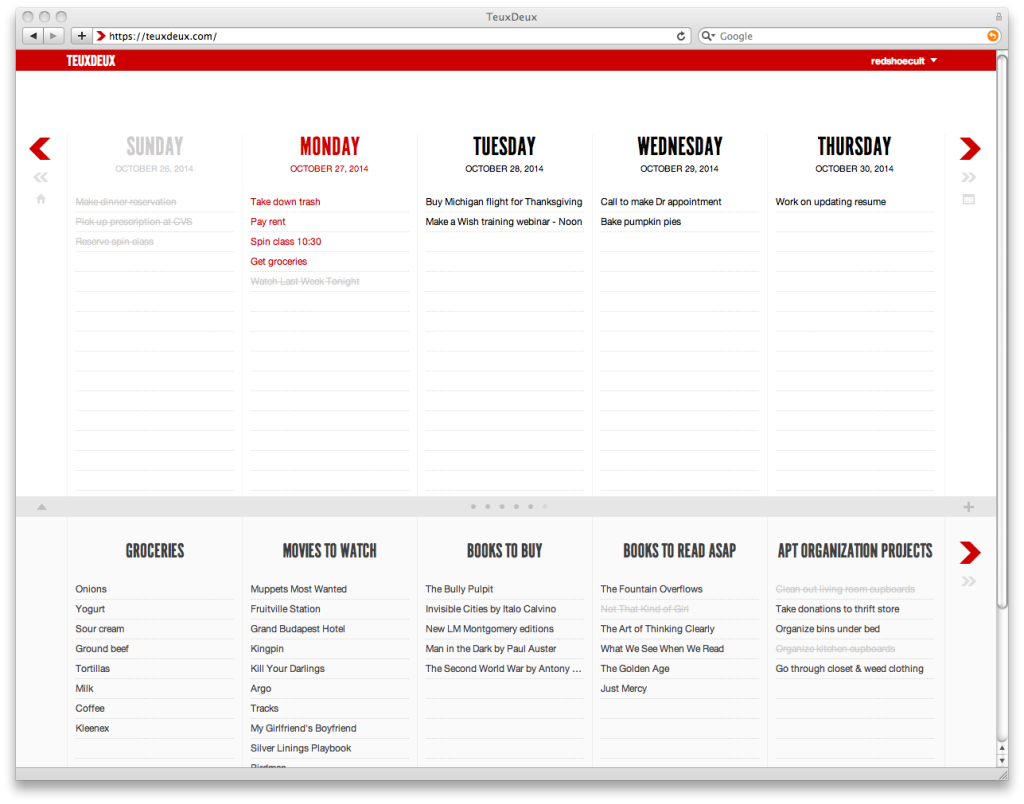 The reason Teux Deux is better than every other application is that it combines a calendar based to do list (which works like a planner or agenda book for date specific tasks and reminders) with separate ongoing customizable lists, all in the same screen. This is important because our lives work this way – we need reminders to do certain things on specific dates, and we need ongoing lists of things that aren't tied to a date to get stuff and ideas out of our brains and into a place that will help us remember it when we want or need it. So, in one view you have lists of things that you need to do or think about on certain dates, and ongoing lists of things that are important to you: movies you want to watch, books you want to buy or read, groceries you need to get, home organization or improvement projects, etc. Anything that you want because they are completely customizable and you can have unlimited lists.
It also lets you set up recurring to dos – daily, weekly, monthly, or yearly. This works great for ongoing reminders of chores – paying bills, taking trash to the curb, etc; and for things like remembering to buy and send birthday cards to friends and family members. It also works especially great for new habits you want to start doing regularly. I am trying to build a daily meditation practice into my life, and my daily reminder helps make sure I don't forget.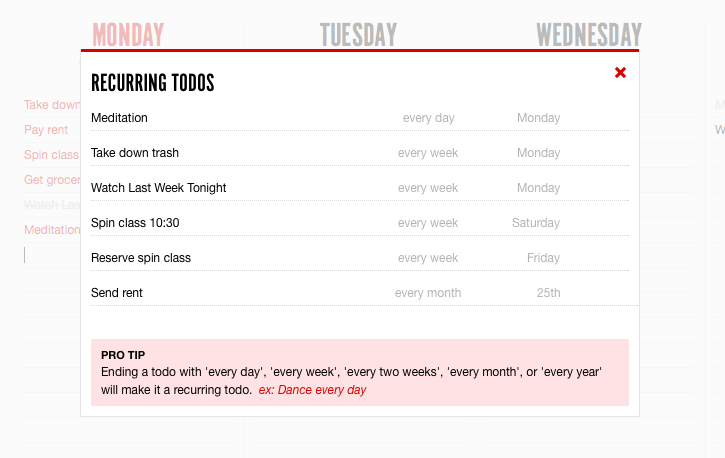 It also has a great mobile app, which is perfect for adding or checking things off on the go. The UI of both the desktop and mobile apps is clean and intuitive.
The only downside is that it's not a free application. Current pricing is $3 per month, or $24 if you prepay for a full year. They'll give new users a one month trial as well, so you can try it out before you commit. For me, it's well worth it for how perfectly it lets me get things out of my brain and then back into it when I need them.
If you're looking for a better way to keep yourself organized and motivated, I highly recommend checking out teuxdeux.com and starting a trial.
Tell me about your to do list favorite apps or methods in the comments!