I'm all signed up to participate in Dewey's 24 hour Readathon on Saturday! If you're not familiar with what a Readathon is, you might have the same reaction as my best friend when she asked me what I was doing Saturday: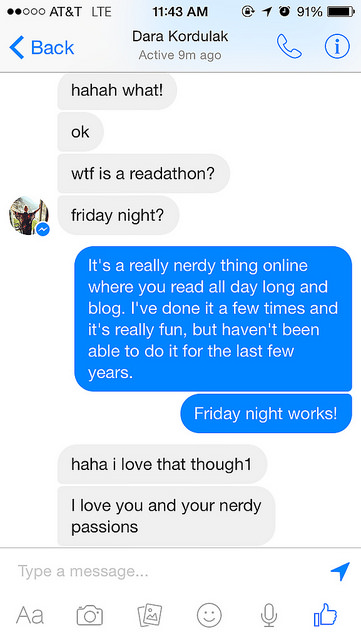 Essentially the Readathon is a wonderful event people in the book blogging community put on twice a year where you read all day at home (or anywhere really, but most of us are at home) and eat snacks. For a lot of us book bloggers, that's a normal weekend activity, but during Readathons it's extra special and more fun because all day long you check in with your fellow Readathoners on the Readathon site, their blogs, and social media to cheer each other on and talk about books. It's like the World Series for book nerds, and it's lovely. (I also want to strongly note that it's not just for book bloggers – anyone can join and participate in the conversation on the Readathon site or social media – check out the site for more information.)
I looked back at my old blog posts, and it appears that the last Readathon I participated in was in 2010. That feels crazy to me, I can't believe it's been that long. But I've bought my snacks, selected a big stack of books, and am ready for Saturday!
I haven't had the best reading year due to all my travel, so I picked out short books in the hopes that I can read 3 or 4 on Saturday. Here's my longlist of books that I'll be reading from on Saturday:
Anne of Ingleside by LM Montgomery
The last of what I consider the "real" Anne books (LM Montgomery continued writing about Anne's world in short stories that center around her children), and the only one I haven't read.
The Golden Age by Kenneth Graham
I finally read The Wind in the Willows for the first time this year, and fell head over heels for it. My Mom assures me that The Golden Age is just as lovely.
Letter to My Daughter by Maya Angelou
When Maya Angelou passed away earlier this year, I realized I hadn't read any of her full works, despite admiring her poetry and very quotable speeches/interviews. I plan to start rectifying that.
What We See When We Read by Peter Mendelsund
I first saw / heard of this book when I picked it up in Valley Bookstore in Jackson Hole, Wyoming and then promptly bought it. It's about the visual process of creating fictional characters and places in our heads from the words authors use to describe them, so I'm not sure how it would be possible for any book lover to resist this book.
Cold Comfort Farm by Stella Gibbons
A classic that's extremely high on my TBR list.
I have a small stack of graphic novels that I have not read yet, so I've added some to my list for Saturday. They are quick reads that are immensely enjoyable. Two are from authors I've read and enjoyed before: Truth is Fragmentary by Gabrielle Bell and An Age of License by Lucy Knisley. On the Books by Greg Farrell is a graphic tale of working at Strand Bookstore – my favorite bookshop in NYC. I couldn't resist the the chance to read about life behind the scenes in one of my favorite places.
I don't know yet how much I'll blog during the day. Maybe a little, maybe not at all. I will post a recap of the day, and my thoughts on participating again after so long. But mostly I expect to be staying involved in the Readathon conversation on Twitter, where you can find me posting updates throughout the day.
Happy Readathon to everyone participating!
UPDATE 10:28pm – I've finished 2 books (Anne of Ingleside and Letter to My Daughter) and have participated in several mini-challenges, which I've posted on my tumblr to avoid spamming this blog's email/RSS feeds.