VSR: Very Short Review
China Dolls by Lisa See
Pages: 376
Published: June 3, 2014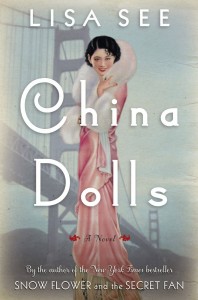 China Dolls begins when three young Asian-American girls, Grace, Helen, and Ruby, meet during a time in each of their lives when they are setting out on their own and trying to define who they are. They are also trying to make it big in show business, starting in San Francisco at the nightclubs in Chinatown and the newly opened World's Fair on Treasure Island. The story follows their friendships, disputes, romances, struggles, and careers through WWII and the years following. Different priorities emerge for each girl, and they occasionally treat each other pretty horribly in pursuit of what they want or need. It dives into some pretty weighty areas, like the treatment of Japanese citizens in America during WWII and the struggle for identity of Chinese and Japanese Americans and the cultural expectations placed on them from their immigrant parents and families.
Getting a look into what life was like for Chinese-Americans and Japanese-Americans during the nightclub era before and during WWII was fascinating. Lisa See does extensive research for her historical novels, and readers reap the benefits. I enjoyed reading China Dolls for this reason. But the evolution of the three main characters and their friendship is much weaker than the strong female characters we meet in her other novels. It left me feeling a bit unsatisfied. It was an entertaining travel read, and I'm grateful for the historical elements, especially the insight into Japanese-Americans experience in the USA during WWII, but it is not my favorite of Lisa See's novels. That's ok though, I enjoyed it all the same.
You should read this book if:
You're interested in the experiences of Chinese-Americans and Japanese-Americans in the USA before and during the second world war.
You have read Lisa See before and enjoyed her writing.
You're in the mood for a well written but relaxing to read novel.
You should not read this book if:
If you've never read Lisa See, you'd be better off starting with one of her other excellent novels. Snow Flower and the Secret Fan is a fantastic novel of girlhood and female friendship set in 19th century China. Peony in Love, and Shanghai Girls and its sequel, Dreams of Joy, are all excellent as well, with strong female characters and stories that transport you to another time and place in history.
My quick categorizations: easy reading, captivating stories, armchair time-traveling, vacation appropriate novels
Where I read this book: driving and camping through the American West.
Support our independent bookstores: buy this book at your local indie.