Sometimes I buy vintage photo lots from Etsy. I love flipping through old photos of people or places I've never known. If it's a person, I like to imagine what his/her life was like at the moment the photo was taken. I've scanned some of the photos I've collected, and posted them here to show you:

Who is this girl? The back of the photo says that her name is Martha. Where is she? It looks like she might be at a camp. Where was she heading before she half-turned back to smile for the photographer?

Where is this house? Who lived here? Was it a big family? Did they like to sit on that beautiful porch in the summer? Where do they keep their car(s)? Is this house still standing? Who lives there now?

Who is this man and this woman? How do they know each other? Are they a couple? She has a lovely hat on. Who took the photo? Were they dressed up for an occasion, or did they always dress nicely to go out?
I think Elena Mauli Shapiro and I are kindred spirits, because this type of curiosity is how she wrote the novel 13, rue Thérèse. From the book jacket:
Elena Mauli Shapiro was born and raised in Paris, France, in an apartment below the real-life Louise Brunet's. Shapiro found herself in possession of a box of Louise's keepsakes after her neighbor died and no relatives arrived to claim them. These postcards, gloves, photographs, coins, letters, and other mementoes utterly captured her imagination.
So, this novel was right up my alley. Shapiro took the objects left behind and imagined the life of Louise Brunet that surrounded them. Very little is known of the real Louise, but her keepsakes inspired this work of fiction. Printed throughout the novel are color photographs of the actual objects. You can go to http://www.13ruetherese.com to see the objects and learn more about the book.
This novel has:
1. Time Travel
2. Romance
3. Paris
4. Color photographs of real letters and photos
…what's not to love?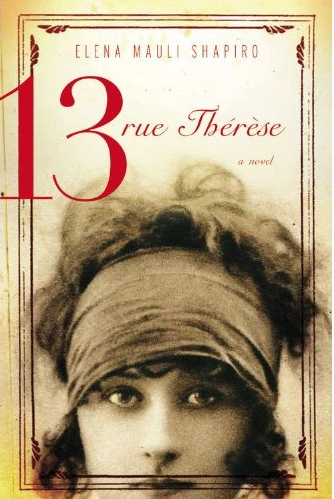 This novel was a lovely and unusual read. I think those who enjoyed The Guernsey Literary and Potato Peel Pie Society will enjoy 13, rue Thérèse. It has the same combination winning combo of historical fiction and wartime letters, but with more passion and mystery. I didn't want to put it down.
Here are my two favorite lines from the book:
"She leans in and kisses him, kisses his lax and comforting lips. She does love him. Yet she is riddled with flaming foolishness – and she knows such things don't last, but she cannot accept that such things are false just because they are fleeting." page 131
"He is driven by something he cannot understand – some unknown thing inside him pushes him on and he yields. It must be that whatever is to follow is already written." page 191