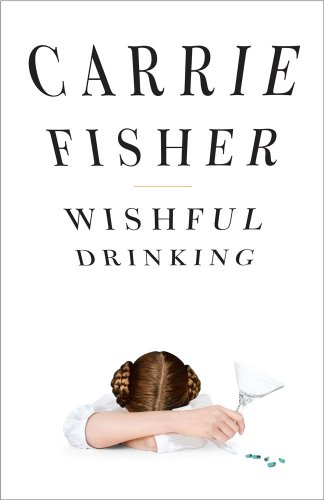 Title: Wishful Drinking
Author: Carrie Fisher
Published: 2008
My edition: Simon & Schuster Hardcover 2008
Borrowed From: Hoboken Public Library
Pages: 163
Synopsis (from Strand): If ever there were living proof of just how intense coming of age in Hollywood can be, Carrie Fisher's story could very well be considered the ultimate. Born the daughter of Debbie Reynolds and Eddie Fisher, Carrie was in a unique position of being involved with icons growing up, and becoming an icon herself by the age of nineteen. In "Wishful Drinking" Fisher speaks candidly on just how her extraordinary life and unpreccedented success led to her eventual mental collapse and struggles with addiction. Filled with all of the candor and intelligence that have come to mark Fisher's career of late, this stunningly original and insightfully poignant memoir pulls back the curtain on a life unlike others.
I read this because: My friends and I saw her Broadway show last week and loved it. This book was adapted from her stage show, and is fairly similar with a little bit of extra detail.
My thoughts: While I don't think anything can compare directly with her show and the warmth and humor she brings to the stage, her memoir is definitely fun on its own. It's lighthearted, despite most of the subject matter being a bit heavy (death, drugs, infidelity, etc). She never feels sorry for herself though, nor asks the reader to. She simply tells you fascinating details about her life in an extremely funny way.
Book club worthy? Not particularly. (I don't consider many memoirs good for book groups, though there are exceptions, of course.)
Follow up required: I'd like to read her autobiographical novel, Postcards from the Edge.

You might like this book if you liked: Any humorous memoir writers, like David Sedaris and Augusten Burroughs

Links to purchase: Indie Bound, Amazon, Barnes and Noble, Book Depository, Strand
My favorite lines & passages:

Resentment is like drinking a poison and waiting for the other person to die. (page 153)
Cry all you want, you'll pee less! (page 154)