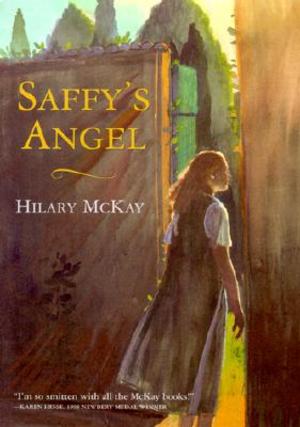 Title: Saffy's Angel
Author: Hilary McKay
Published: 2002
My edition: Margaret K. McElderry Hardcover 2002
Borrowed From: Hoboken Public Library
Pages: 152
Synopsis (from Publisher's Weekly): McKay's sparkling novel once again introduces an eccentric, entirely engaging British family whose members readers will immediately embrace. The Casson parents, both artists delightfully distracted Eve paints in her backyard shed and comically distant Bill spends weekdays painting in his London studio named their children from a paint color chart: Caddy (for Cadmium), Indigo and Rose. All but Saffron, "so fierce and alone," who learns at the start of the story that she is actually the Italian-born daughter of Eve's twin sister, who died in a car crash when Saffy was three. Eve explains that Grandfather had been visiting Saffy and Saffy's mother in Siena at the time of the accident, and delivered the girl to the Cassons, who adopted her. Now elderly and catatonic after two heart attacks, beloved Grandfather sits in silence when he visits the family, as the children hover around him, endearingly sharing news of their lives. When Grandfather dies, "They felt as if they had lost a battle they might have won if only they had tried a bit harder."The man leaves something to each of the children: Caddy receives his crumbling cottage on a cliff in Wales; Indigo his aged Bentley (which Bill dismisses as an "absolute wreck"); Rose his remaining cash (L144). Attached to the will by a rusty pin is a note scrawled in a shaky hand, "For Saffron. Her angel in the garden. The stone angel." As McKay shapes an intriguing plot around Saffy's angel, the Cassons' capricious capers and understated, droll dialogue will keep readers chuckling. Especially entertaining subplots include: reckless Caddy's driving lessons with her patient instructor (who fabricates a girlfriend to keep his flirtatious student in check), aspiring polar explorer Indigo's sessions sitting on his bedroom windowsill, hoping to cure his vertigo, and Rose's efforts to create works of art using such unlikely materials as "the entire contents of the refrigerator" and the pound coins that constitute her inheritance. An unlikely friendship with Sarah ("the wheelchair girl"), a neighbor, brings out another side of Saffy as the two attempt to find her angel in Siena, and Saffy makes all kinds of discoveries, including her love for the Cassons. The author blends a generous heaping of humor and joy with a dose of pain in a memorable portrait of a vastly human family.The only disappointment for readers may be that McKay's affecting conclusion arrives too soon. They'll close this book hoping for the Casson clan's swift return.
I read this because: I first heard of Hilary McKay while reading her interview in Funny Business. The interview included an excerpt from Saffy's Angel, and it was so good I had to get the book right away so I could read it myself.
My thoughts: I adore children's books with quirky families. I think they help kids realize that no family is really "normal" and that being unique is not only okay, but more fun. And the Casson family is tons of fun. Even though this book features Saffy, you get to know the three other children and their parent's through the subplots. As an adult, I appreciated the excellent writing and style, and loved the story. This book would be a great gift to give young readers.
Other books I've read by Hilary McKay: None, Saffy's Angel is the first.

Book club worthy? Not so much, just a light children's book to read and enjoy.

Follow up required: I love the Casson family, and am reading the second book about them, Indigo's Star.

You might like this book if you liked: The Penderwicks
Links to purchase: IndieBound, Barnes and Noble, Amazon, BookDepository.com
My favorite lines & passages:
"Why have you got all this stuff?"
"Everyone's got stuff," said Sarah.
"Two computers!"
"I only use one of them."
"Two guitars, and a keyboard!"
"Well, you can't play drums all the time!"
"TV, music center – what's that thing for?"
"Lighting system!"
"Why've you got kites hanging all over the ceiling?"
"I just have. I like them."
"Ten thousand teddy bears!"
"I used to collect them."
"Is that a refrigerator?"
"Only a little one!"
"Why do you need two beds?"
"I get bored easily."
"And a hammock!"
"I use that for shoving things in!"
"Have you read all those books? What do you look at with that telescope? I've never seen so many CDs!"
"Okay! Shut up now, Saffron!"
(page 54)
Extras: Hilary McKay's Website