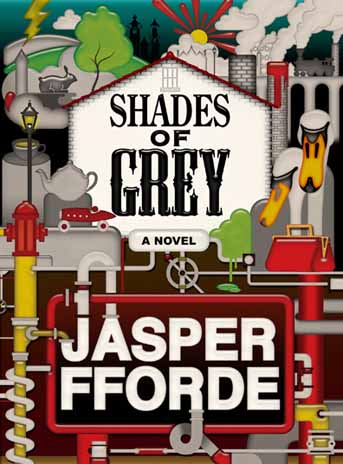 Title: Shades of Grey
Author: Jasper Fforde
Published: 2009
My edition: Viking Hardcover 2009
Purchased From: Strand
Pages: 388
Synopsis (from StrandBooks.com): Welcome to Chromatacia, a land governed by the Colortocracy and plagued by upheaval and disorder. The society is dominated by color though everyone has limited color perception. It is Eddie Russett's wish to move up in the social hierarchy. After all, his ability to sense the color red is better than average, but soon he finds himself immersed in a world of sneaky Yellows. Eddie is roped into a forced marriage with the hideous Violet deMauve, but it is an intriguing Grey named Jane who captivates him. Jane unveils the mechanics of their society as the cruel regime it really is and forever changes his life. Jasper Fforde's "Shades of Grey" is a wildly imaginative and fantastical novel.
I read this because: I love the Thursday Next series and hoped to get a Jasper Fforde fix while waiting for the sixth TN book, due out in January 2011.

My thoughts: I think the Thursday Next books always hold a very special place in the hearts of all bookworms who read them, so it was interesting to read something different by the same author. Shades of Grey may be unlikely to dislodge Thursday as the favorite Fforde series, but it's quite an entertaining story that demonstrates the same quirky imagination that is so fun to read in his other novels. Our hero is uncommonly common (and endearing), the villains are despicable, and the plot is thick. All of Jasper Fforde's books are hard to describe, and this one possibly moreso than others. You just have to read it for yourself and prepare for a fun and crazy ride.
Other books I've read by Jasper Fforde: The Eyre Affair, The Well of Lost Plots, Lost in a Good Book, Something Rotten, First Among Sequels

Book club worthy? Yes: many interesting ideas, especially about government and societies (and of course, our relationship to color), that would be fun to discuss.

Follow up required: Very interested in what happens next and looking forward to two more books in the trilogy.

You might like this book if you liked: The Thursday Next series, The Hitchhiker's Guide series
Links to purchase: IndieBound, Barnes and Noble, Amazon, BookDepository.com
My favorite lines & passages:
"I don't need you to agree with me," she said quietly. "I'll go away happy with a little bit of doubt. Doubt is good. It's an emotion we can build on. Perhaps if we feed it with curiosity it will blossom into something useful, like suspicion – and action." (page 112)
"Being in the invisible part of the spectrum can be lonely, but one does get all the best gossip. Okay, this is the wisdom: First, time spent on reconnaissance is never wasted. Second, almost anything can be improved with the addition of bacon. And finally, there is no problem on earth that can't be ameliorated by a hot bath and a cup of tea." (page 210)