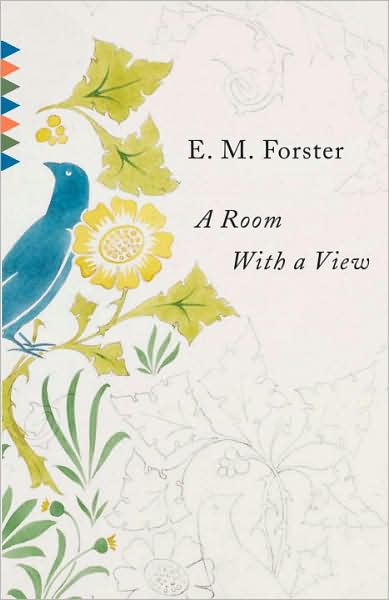 In effort to help me keep up with posting book reviews, I'm going to try using a set format for each review. Many other bloggers do this, and I borrowed some ideas from them. I'd love to hear your thoughts/feedback on the new format in the comments.
Title: A Room With a View
Author: E. M. Forster
Published: 1908
My edition: Vintage Classics 1989
Purchased From: Strand
Pages: 242
Synopsis (from BN.com): A charming tale of the battle between bourgeois repression and radical romanticism, E. M. Forster's third novel has long been the most popular of his early works. A young girl, Lucy Honeychurch, and her chaperon—products of proper Edwardian England—visit a tempestuous, passionate Italy. Their "room with a view" allows them to look into a world far differentfrom their own, a world unconcerned with convention, unfettered by social rituals, and unafraid of emotion.
Read because:
1. It's a classic I've always meant to read.
2. I recently purchased the lovely new Vintage Classics edition.
3. It fulfills the last decade I needed to meet my "Read at least 1 book published in every decade of the 20th century" 2009 reading goal.
My thoughts: I greatly enjoyed this lovely classic novel. I loved Forster's style and descriptions, was surprised by how humorous the book was. I also loved the characters, although I found Lucy's motives to be a little unclear at times. The story is told in third person, and the narrator seems to be a bit omniscient – just a tad stingy with information.
Book club worthy? Since my friends and I are all book club crazy recently, I now always think about whether the books I read would be good for discussion. Most classics are good book group picks, and this one is no exception. The vivid characters would lend well to a lively discussion.
Follow up required: I moved the 1986 movie edition to the top of my Netflix queue (it's actually available instantly right now, so I might just do that). I would also like to read Forster's A Passage to India soon.
You might like this book if you liked: The Great Gatsby by F. Scott Fitzgerald, The Age of Innocence by Edith Wharton. It's a very readable and romantic classic that also conveys some of the restlessness of youth during the early 20th century.
Links to purchase: IndieBound, Strand, Book Depository, Barnes and Noble
My favorite lines & passages:
"The world," she thought, "is certainly full of beautiful things, if only I could come across them." (page 47)
Hitherto truth had come to her naturally. She saw that for the future she must be more vigilant, and be – absolutely truthful? Well, at all events, she must not tell lies. (page 133)
For the companion who is merely uncongenial in the mediaeval world becomes exasperating in the classical. (page 137)
The Miss Alans were found in their beloved temperance hotel near Bloomsbury – a clean, airless establishment much patronized by provincial England. They always perched there before crossing the great seas, and for a week or two would fidget gently over clothes, guidebooks, mackintosh squares, digestive bread, and other Continental necessaries. That there are shops abroad, even in Athens, never occurred to them, for they regarded travel as a species of warfare, only to be undertaken by those who have been fully armed at the Haymarket Stores. (page 220)
Take an old man's word; there is nothing worse than a muddle in all the world. It is easy to face Death and Fate, and the things that sound so dreadful. It is on my muddles that I look back with horror – on the things that I might have avoided. (page 232)