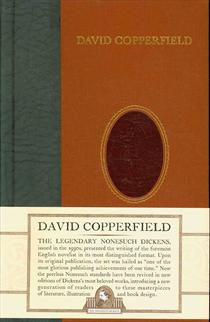 Before last year, I had only read one book by Charles Dickens: A Tale of Two Cities for AP English in high school. I am not someone who hated books just because I read them for school. In AP English we read, and I enjoyed, Hamlet, Macbeth, The Canterbury Tales, and many others. However, I hated A Tale of Two Cities. I found it dull, slow, and confusing. I would probably appreciate it more now that I'm older and a more seasoned reader, but at the time I hated it and swore off Dickens altogether.
Over the last few years, I slowly realized I needed to give Dickens another shot. The following things contributed largely to my change of heart:
-Nick Hornby's enthusiasm for David Copperfield (his May 2004 Polysyllabic Spree)
-References to Great Expectations in the Thursday Next series by Jasper Fforde, especially Miss Havisham
-Reading Mister Pip by Lloyd Jones
-My Mom's love of Dickens, especially David Copperfield and Great Expectations
So I made it a reading goal in 2008 to read David Copperfield. It almost didn't happen, I made it to October without even taking it off the shelf. But mid-October I got it down and read the first few chapters. I liked it a lot, but for some reason didn't read much more. I got serious about it again in November, and read about half in November and half in December. (I read it sporadically, especially because my edition was the huge hardcover Nonesuch Dickens that was too big to bring to and from work every day.)  I finished the last 20 pages on the morning of January 1, 2009. It was a little bit heartbreaking to not finish the last 20 pages in the year 2008, but I'm proud that I accomplished the goal of reading it. I even brought it with me to my friend's apartment for her New Year's Eve party, but obviously didn't get much reading time. I could have stayed home and finished it instead of celebrating 2009, but that would have been ridiculous. And sad.
Anyway, to the point: I loved David Copperfield! It's a wonderful story, and I learned to appreciate Dickens's writing style. He's wordy, but it's ok because he's so good with them. There were many lines that I loved, but this one is by far my favorite, and had me laughing for several minutes:
"These observations, and indeed the greater part of the observations made that evening, were interrupted by Mrs. Micawber's discovering that Master Micawber was sitting on his boots, or holding his head on with both arms as if he felt it loose, or accidentally kicking Traddles under the table, or shuffling his feet over one another, or producing them at distances from himself apparently outrageous to nature, or lying sideways with his hair among the wine-glasses, or developing his restlessness of limb in some other form incompatible with the general interests of society; and by Master Micawber's receiving those discoveries in a resentful spirit."
What I love best about David Copperfield is the characters. Whenever I've truly disliked a novel in the past, it's usually because of the characters – I didn't care about them, they weren't relatable, they were annoying or unrealistic, or some combination of these problems. David Copperfield was the opposite, I did really enjoy the plot/story, but it was the fantastic characters and Dickens's gift at making them come to life that made this book one of the best classics I've ever read. Some of his characters may not be the most realistic people ever imagined – a few are extremely eccentric, but certainly some of the most entertaining characters I've encountered. And despite some of them being improbable, Dickens makes them seem as real as anyone you might meet today. As Nick Hornby said in his comments about the novel, I too was genuinely sad to end the book and to say goodbye to the characters.
Also – their names! Dickens has the best names in literature, hands down. Whenever I finally get to adopt a puppy, I hope to name it Traddles.
(This post was brought over from emilyw.vox.com.)