Graham and I traveled to Belize in November last year, on a small group tour with G Adventures. We chose Belize for many reasons: we liked the ability to spend time in the jungle and spend time in the ocean—and the chance to see a variety of land and sea wildlife. We liked that it wasn't a long journey from NYC, which meant we could minimize time spent traveling and jet-lagged and maximize time spent enjoying our vacation. It's also a fairly small country, so we could see a lot of it without spending long days traveling during the trip.
We landed in Belize City and were greeted at the airport by a man from our hotel, the Black Orchid Resort, and driven to their property outside the city. We stayed there for three nights, and it was the perfect place to begin our trip. The resort property is on the Belize River and the grounds are a beautiful place to relax and watch wildlife.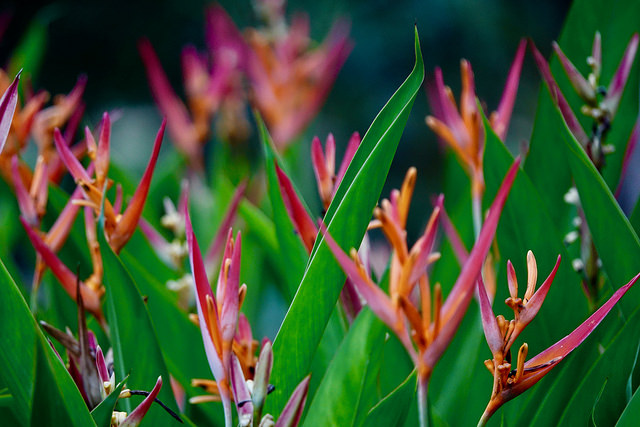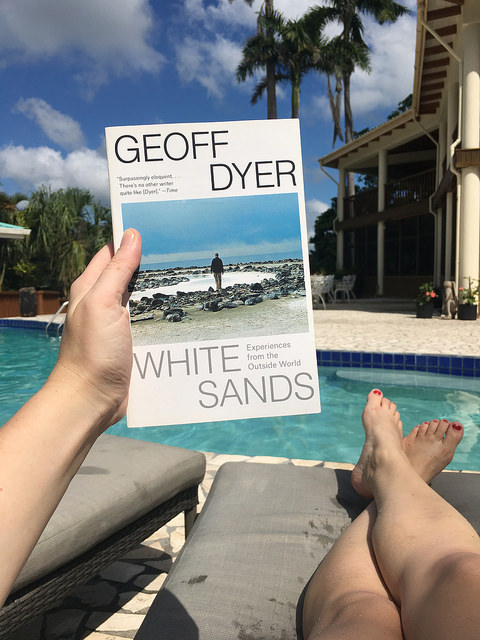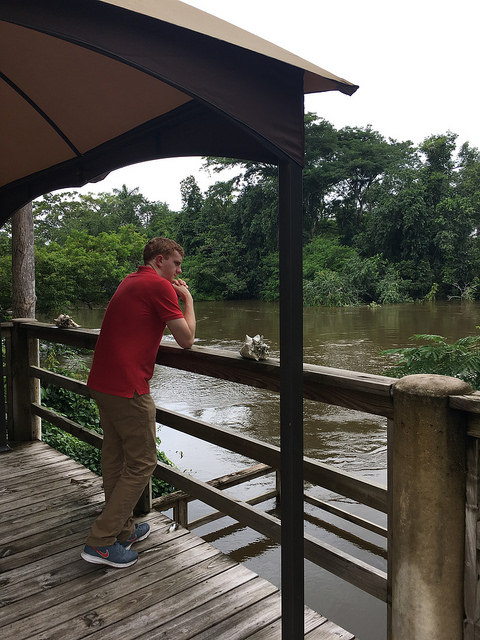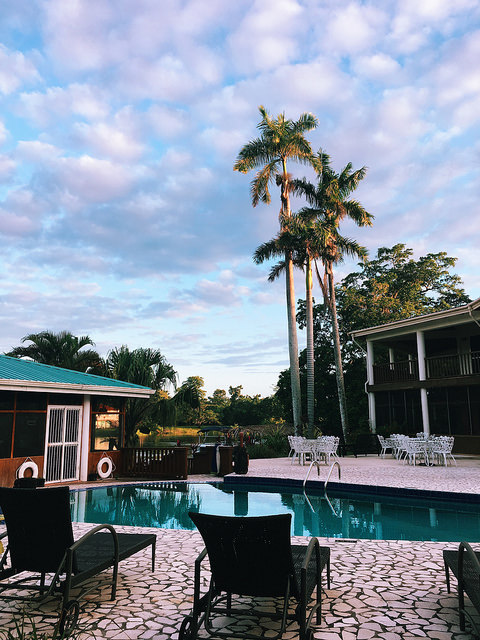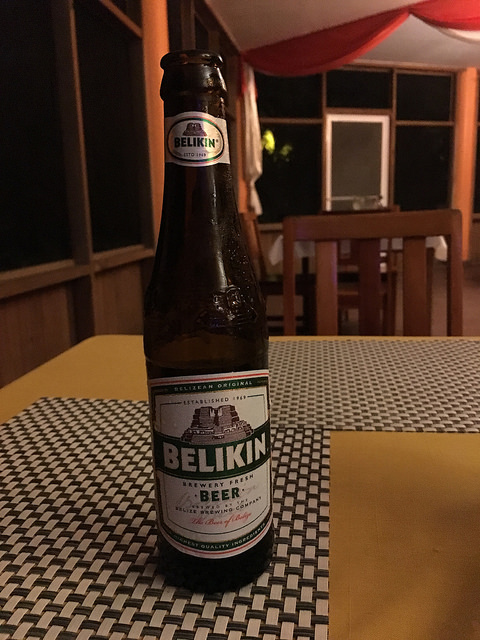 Here's my first meal in Belize  – I had the "Belizean lunch" – wonderfully seasoned chicken, rice and beans, a delicious plantain slice, and a side salad.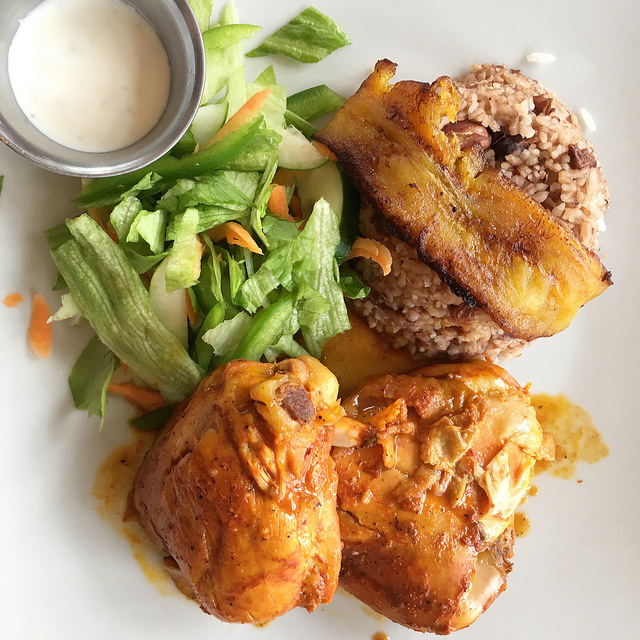 Belize is normally one hour behind NYC, but they don't participate in daylight savings time. The two hour advantage in the mornings made it really easy to get up with the sunrise to look for birds. My favorites were the Red-lored Parrots, which were easy to spot every morning. They are such charismatic birds—when they noticed me they would tilt their head, watching me closely. As they moved through the branches I could tell they were aware of my presence, and they almost seemed to be showing off as they used their beak to reposition themselves in the tree. They were very fun to watch.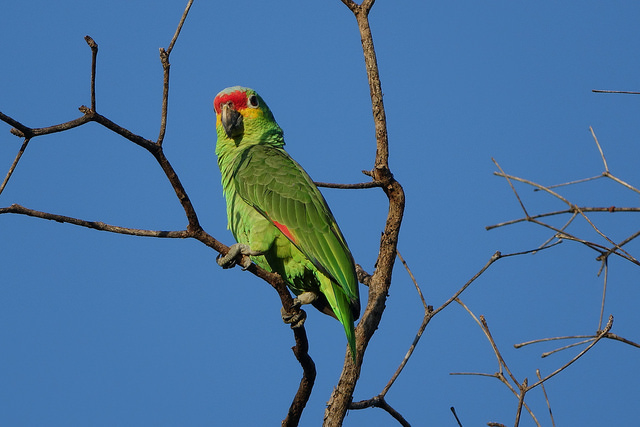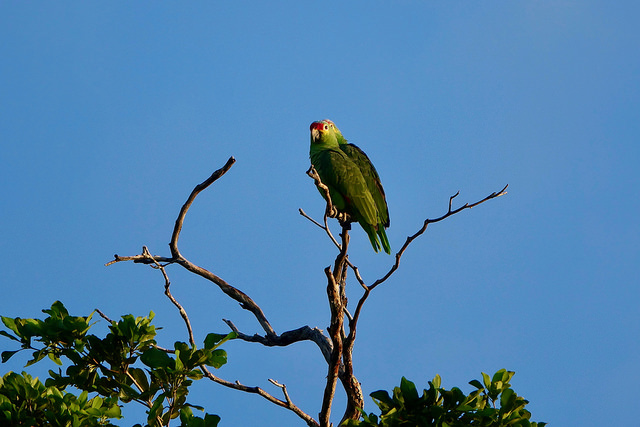 Brown jays are common all throughout Belize, and I saw many during my morning bird walks at the resort. Like most jays, their call is loud and alarming.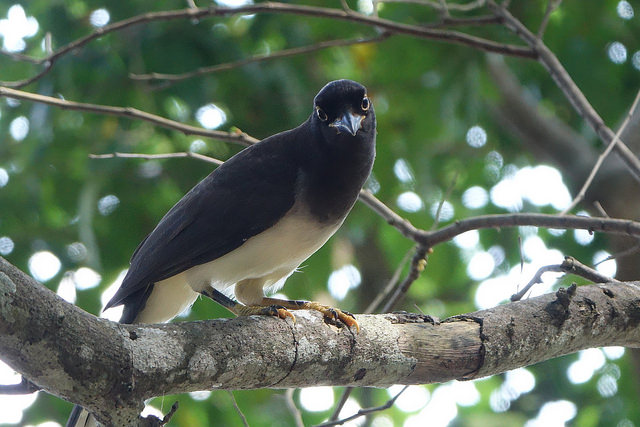 Great Kiskadees were also common at the resort, and they liked to land near me while I was photographing the parrots and pose for a few photos too.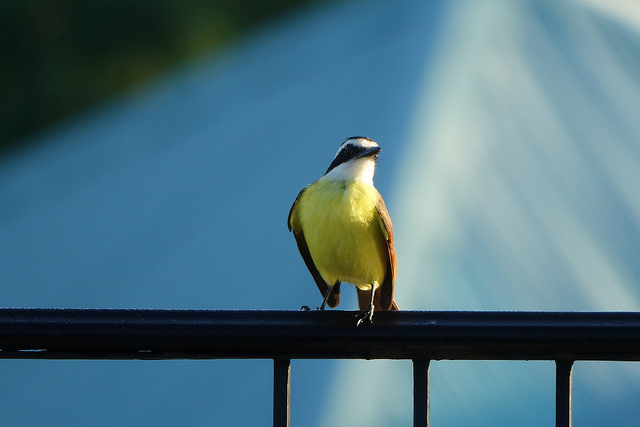 There were also many iguanas on the resort grounds (and all over Belize), and I always love taking photos of Zen iguanas basking in the sunlight.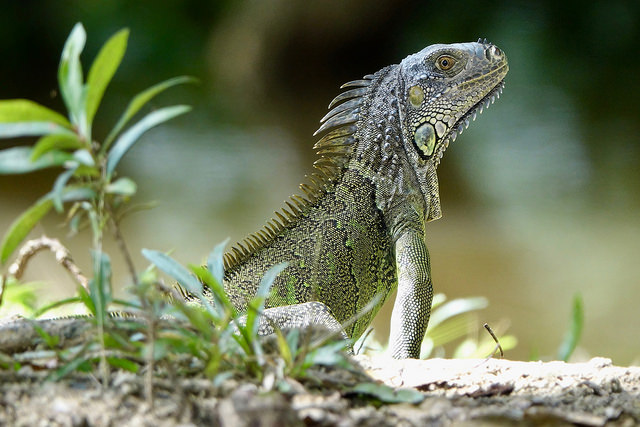 Here's a young one, still quite green: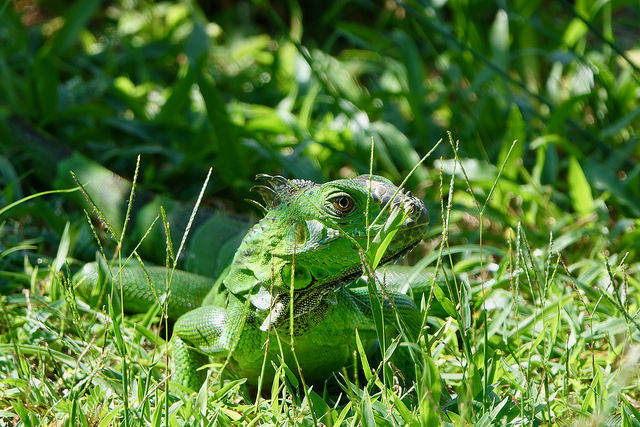 They grow very large and can be seen perched up in trees throughout the country. This one was across the river from our resort, but it's so enormous that it was still easily visible from across the wide river: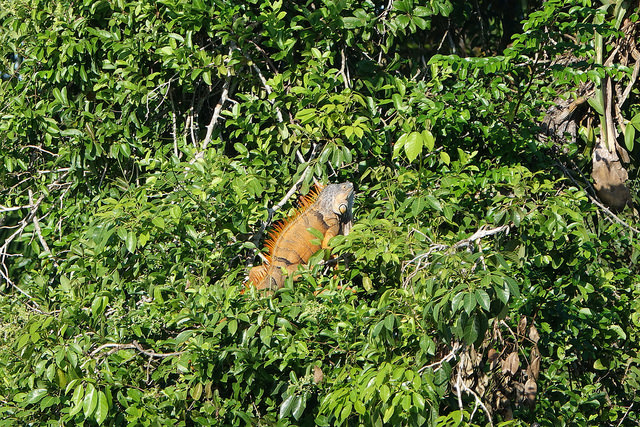 Hummingbirds were also common around the resort, but difficult to photograph. Here's a few shots I got of a Rufous-tailed hummingbird: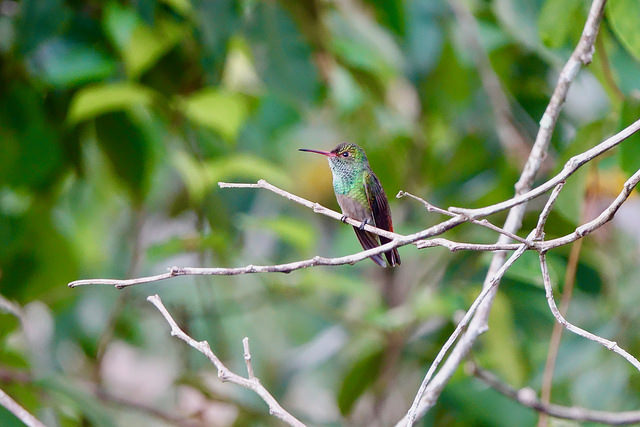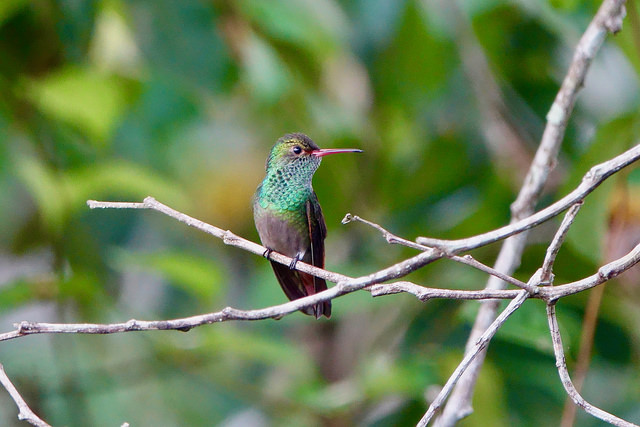 I saw a Pale Billed Woodpecker and a Yucatán woodpecker out in the morning, and was happy to get a few decent photographs, since they move around the tree so quickly, and are a bit skittish: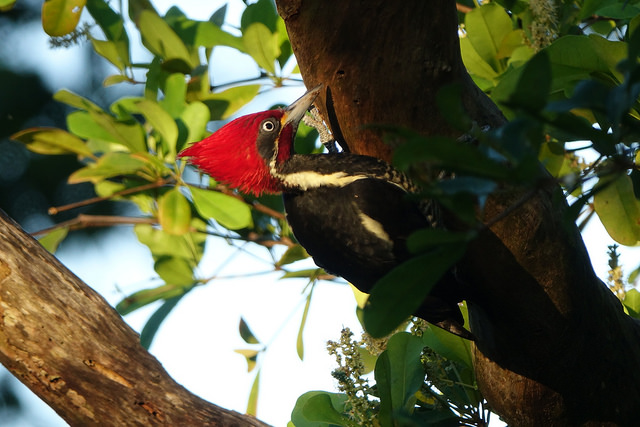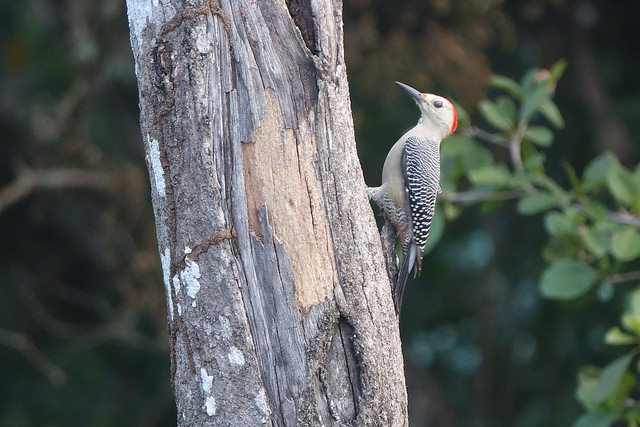 There were many other beautiful things to see around the resort grounds, in addition to the birds. Here are a few shots: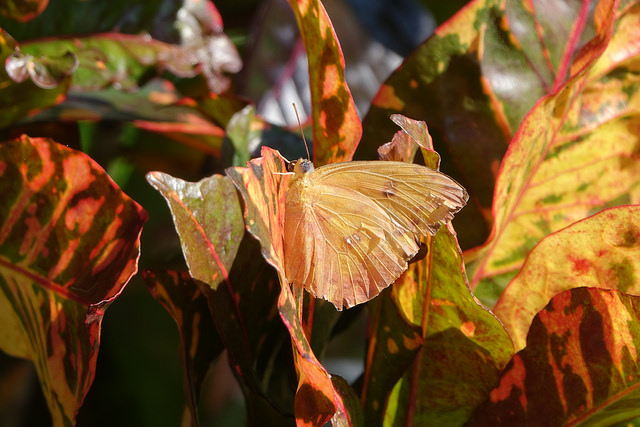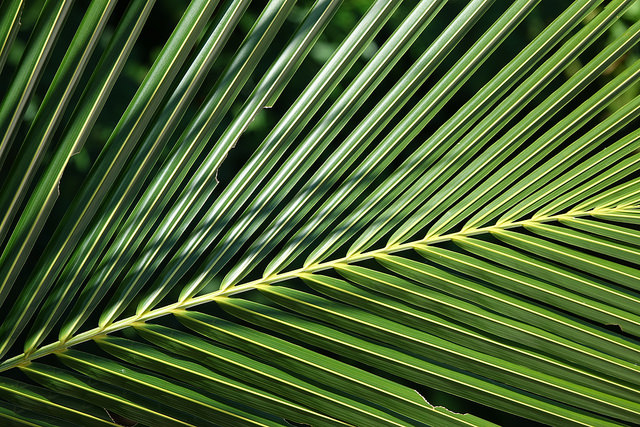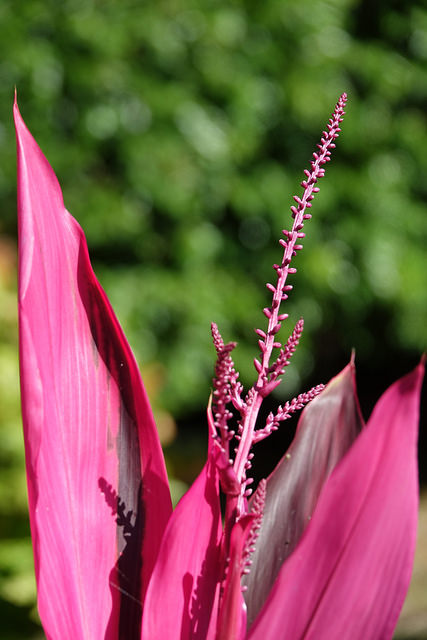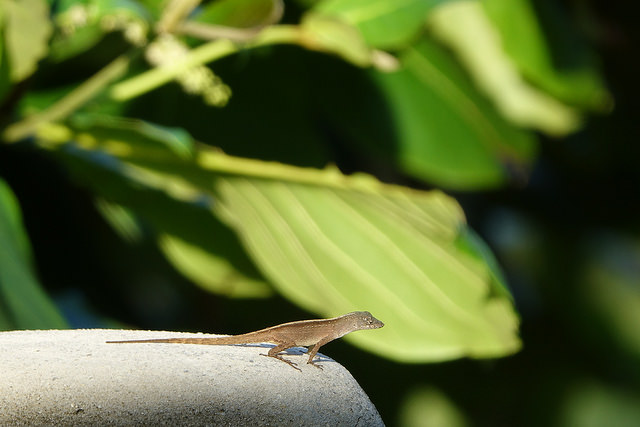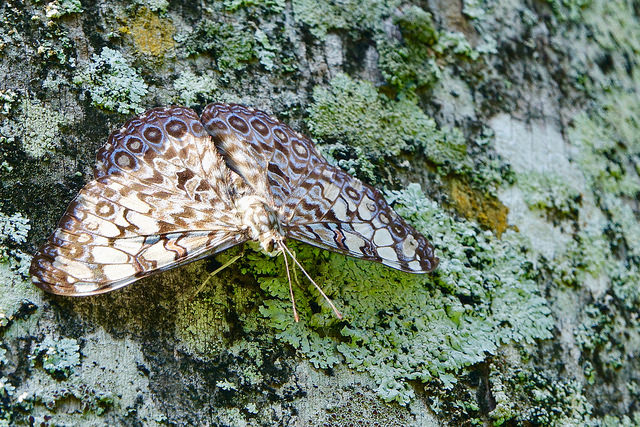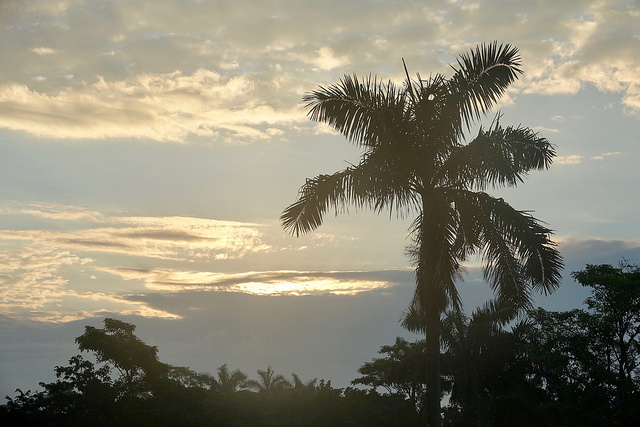 The moon was full the day we arrived, and it hung around well after sunrise, perhaps wishing it too could enjoy the beautiful day in Belize.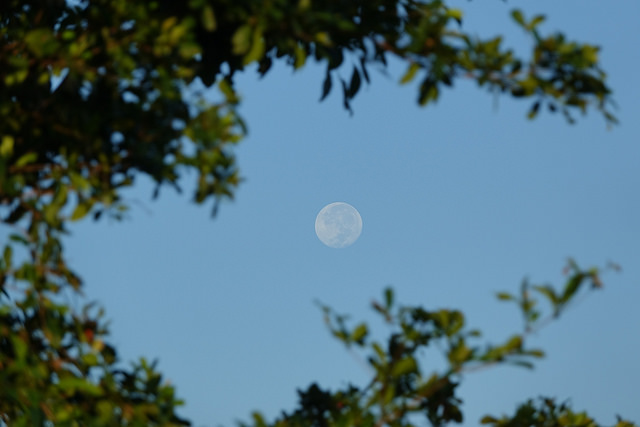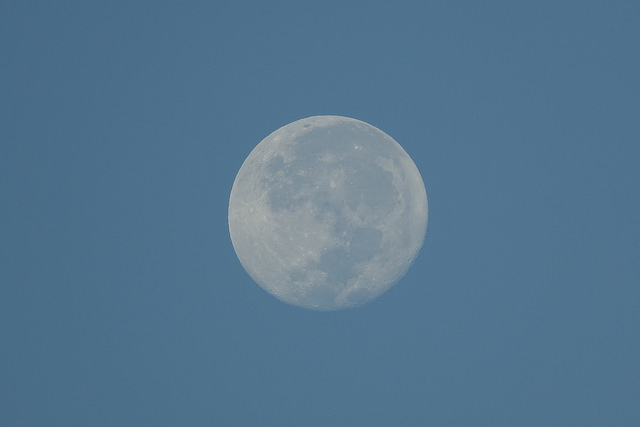 The resort was home to a few very cute, friendly pups, including Prince.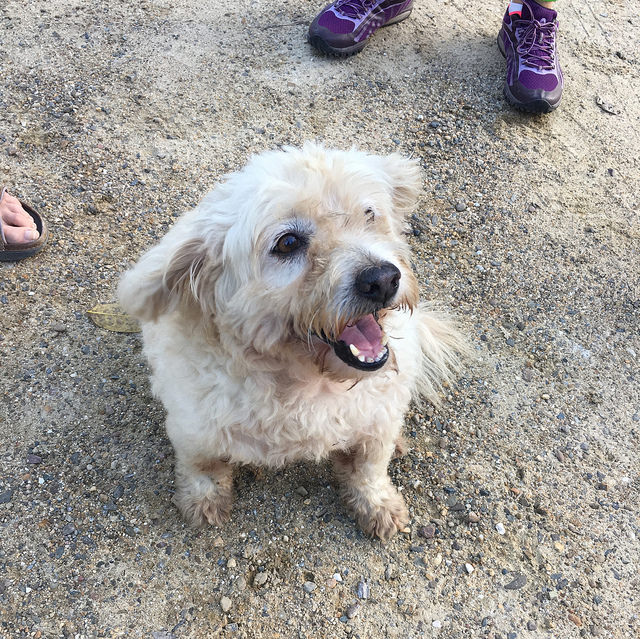 The next day we visited the Lamanai Mayan ruins. Getting there was half the fun – we took a wonderful hour long trip up the river in a speedboat to the site, and our guide helped us spot Belizean wildlife along the way.
The first thing we spotted was another iguana in a tree (which became a theme of the trip):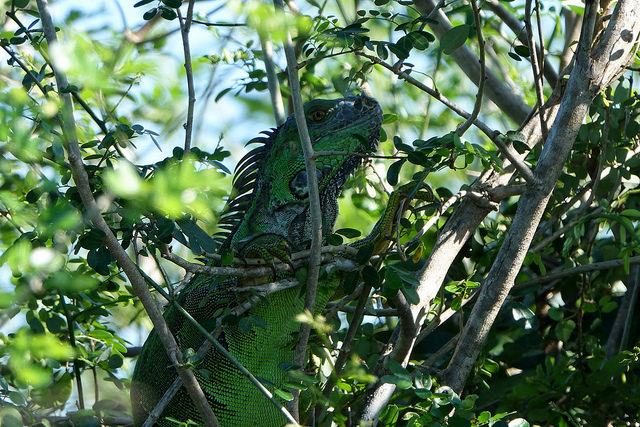 Then our guide spotted a crocodile and turned the boat around for a better look, but I didn't get a good photo. Here's what a frantically excited photo of a crocodile taken from a rocking boat looks like: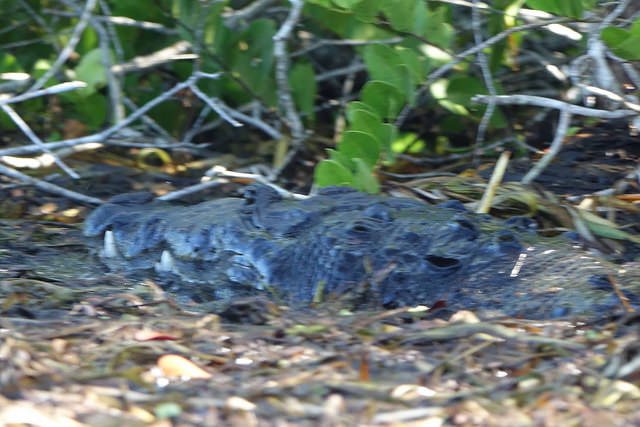 Next up was a Northern Jacana, busily looking for insects on the water. It's also known as the "Jesus bird" because it often appears to be walking on water. Moments after this photo was taken it walked right by a submerged young crocodile, and we all held our breath to see if we were about to witness the food chain in action. Luckily, the croc didn't seem hungry, and let this chap walk by unharmed.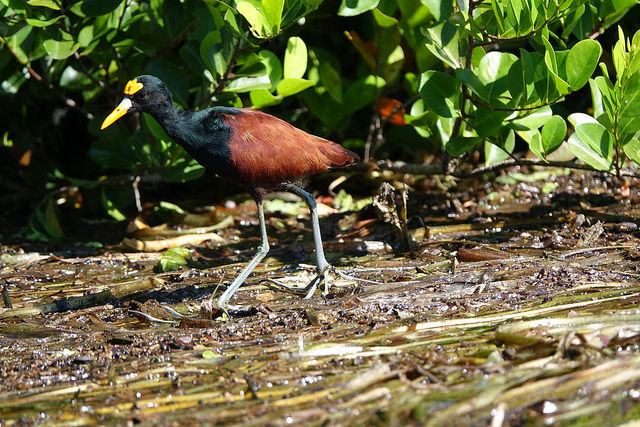 The vegetation along the river was lush and tropic, the air smelled like the jungle and I loved every minute of being out on the water.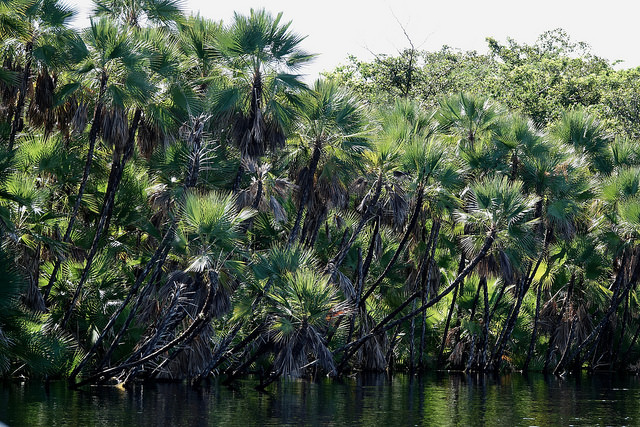 My favorite sighting along the river was this Snail Kite. Encountering birds of prey at a close range is thrilling.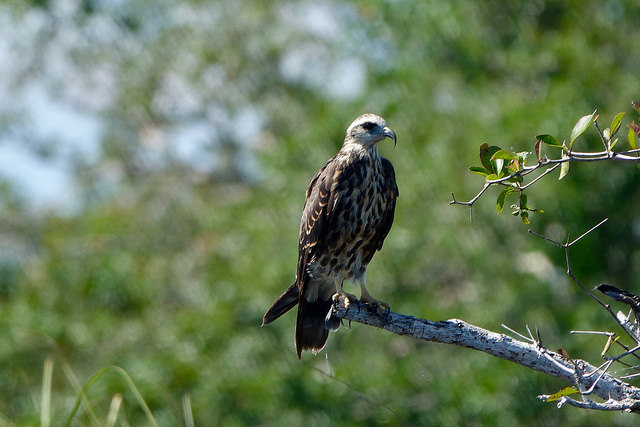 Look closely at the photo below – can you spot the insect bats?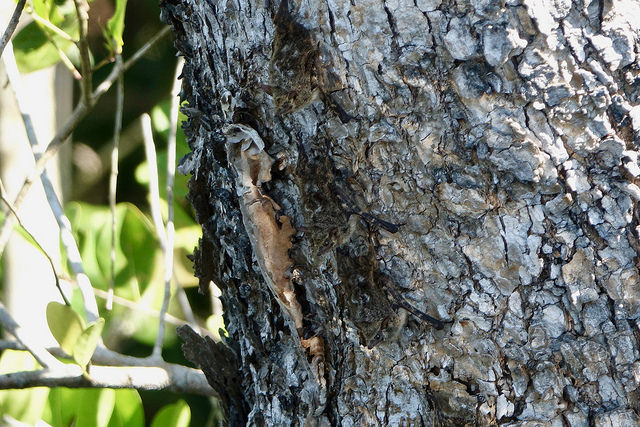 The Church of Jesus Christ of Latter-day Saints has a rather large presence in Belize, and we passed one of their farms on the river during our boat trip.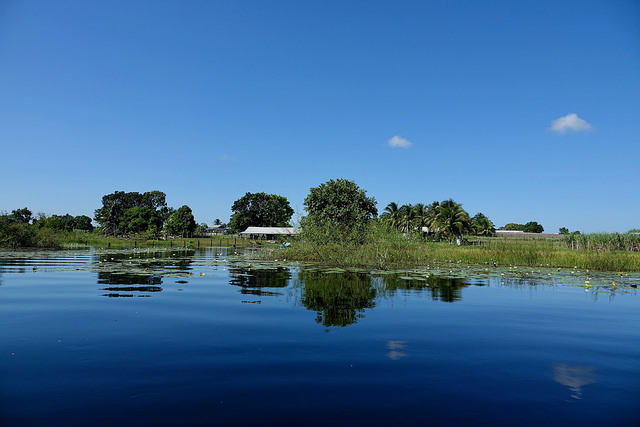 We arrived at the site of the ruins and were greeted on the dock by a few Mangrove swallows.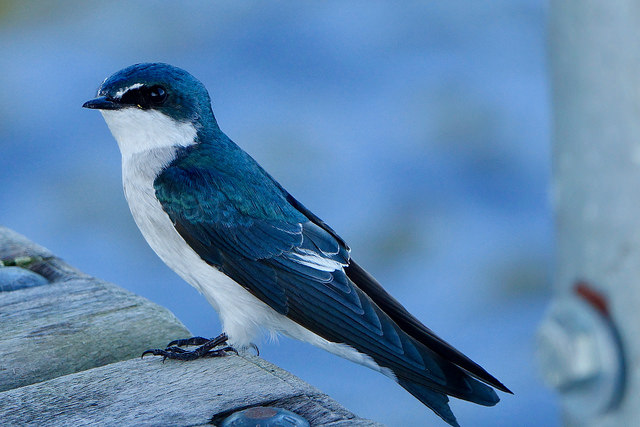 Another spot along the dock, this tiny toad: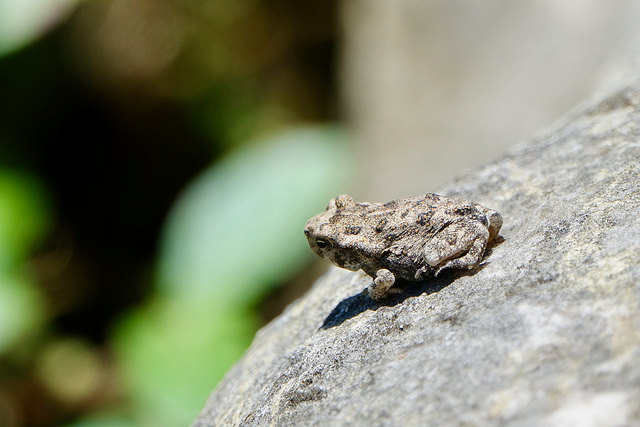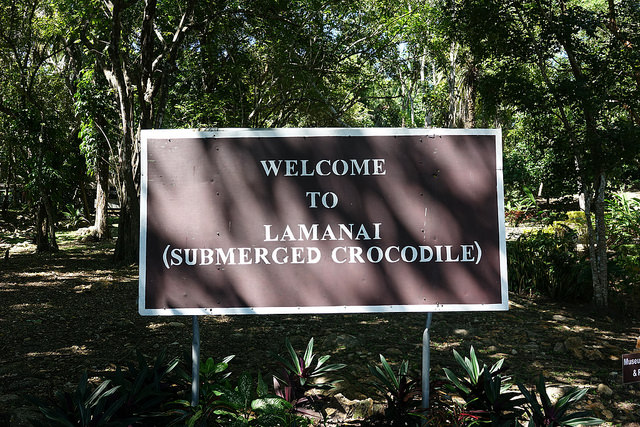 We were really in the jungle then, and walked through lush vegetation (and swarms of mosquitos) as we walked through the site between temples.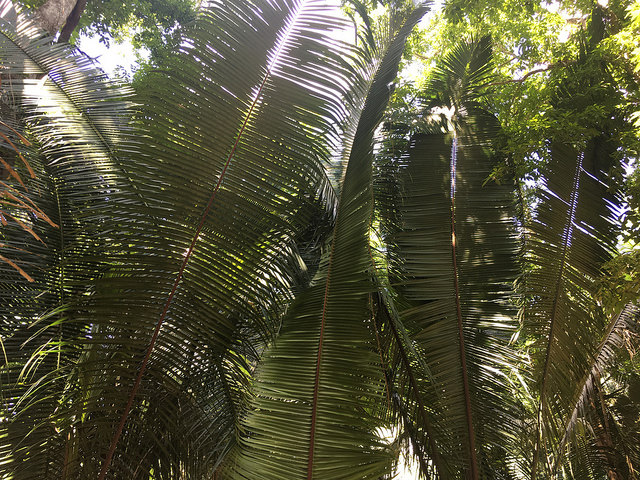 Here's a photo of cactus vines that grow up trees and cover their branches: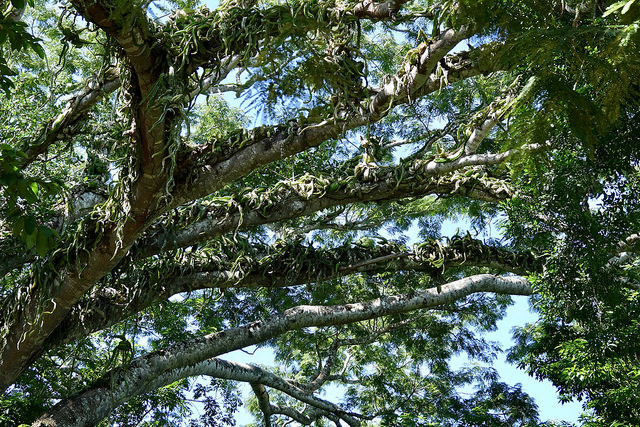 Lamanai was founded as early as the 16th century BC, and was occupied for over three millennia. It's a beautiful site, and humbling to visit. Here are some photos from the temples: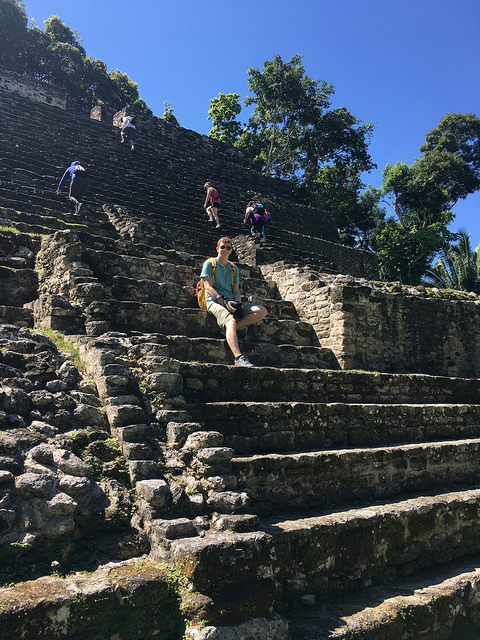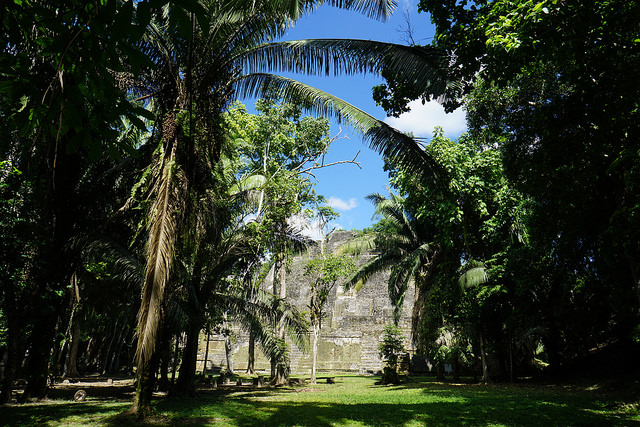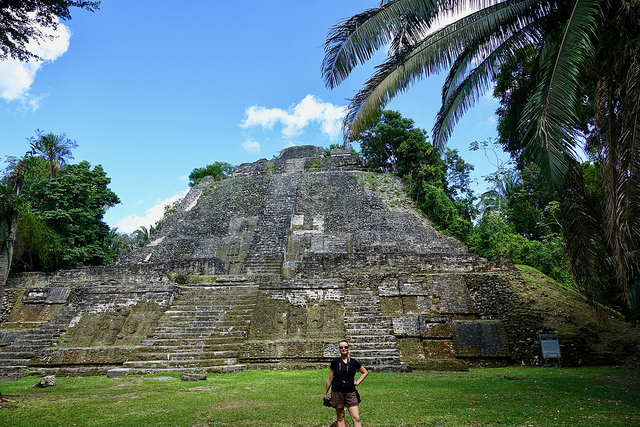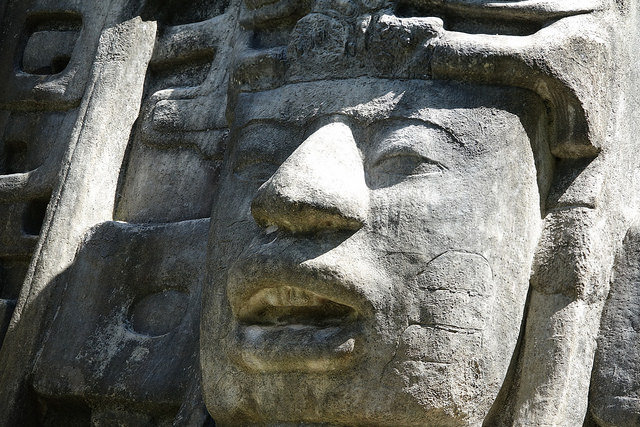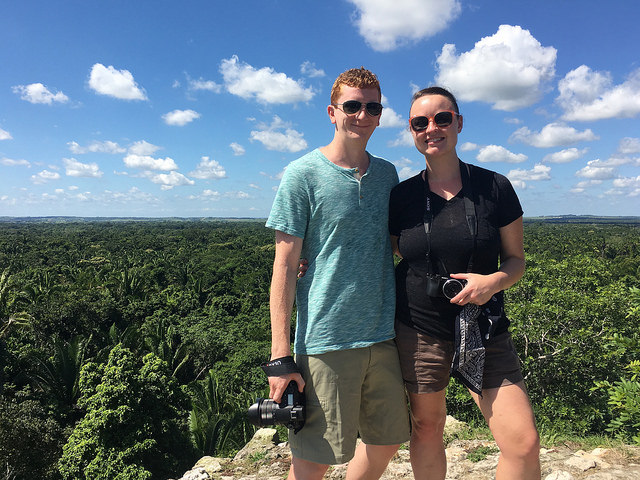 The view from the top of the High Temple: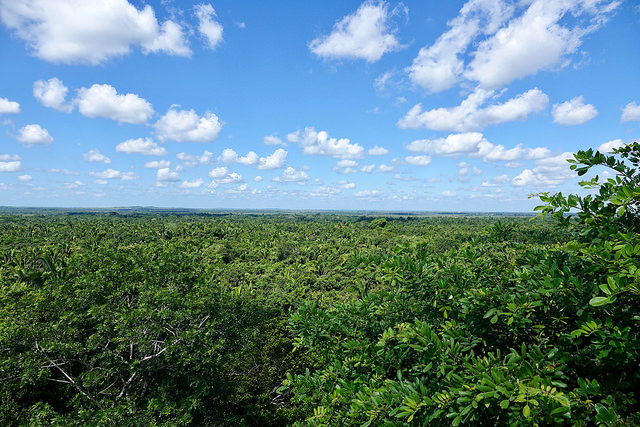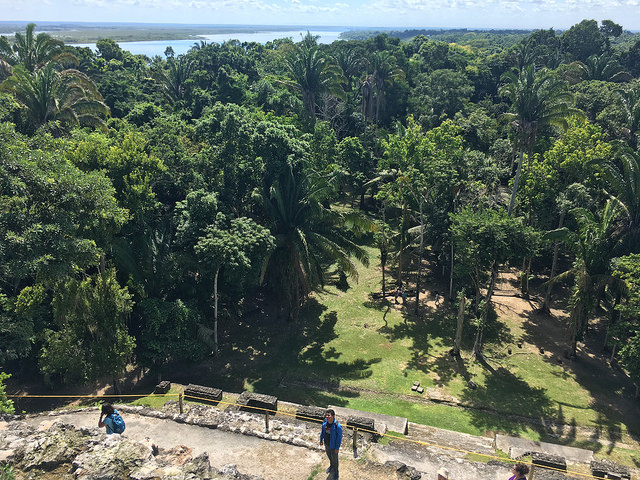 We were so excited to spot our first Howler Monkey at Lamani. Because of their name, I think I was expecting their call to sound like a dog howling at the moon, but it's more of a deep and terrifying growling noise.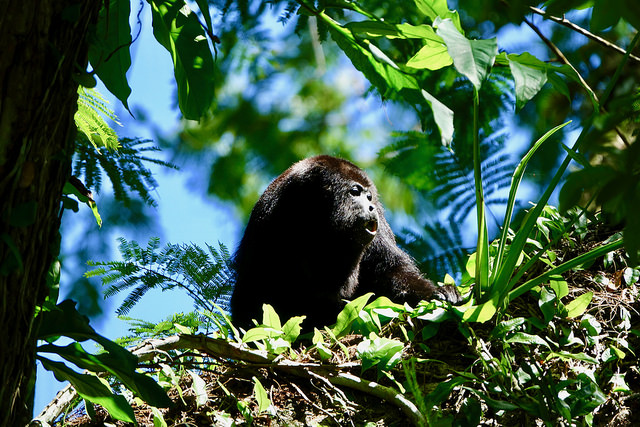 It was also a great place to spot birds. Here's a Slaty-tailed trogon: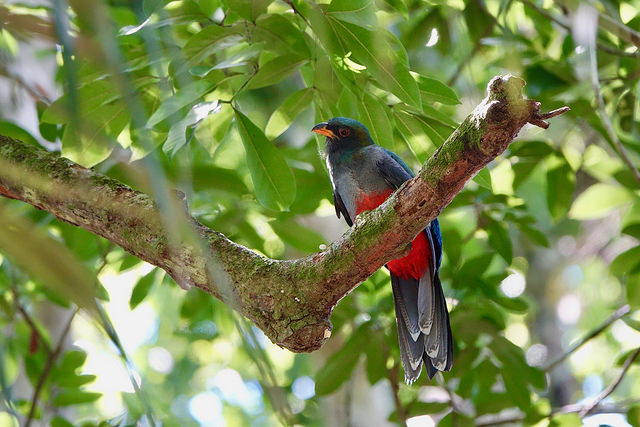 Graham took my favorite bird photo of the trip at the end of our day there, this Little blue heron. I love the variety of beautiful blue tones from the bird and the water, it's a very calming photograph.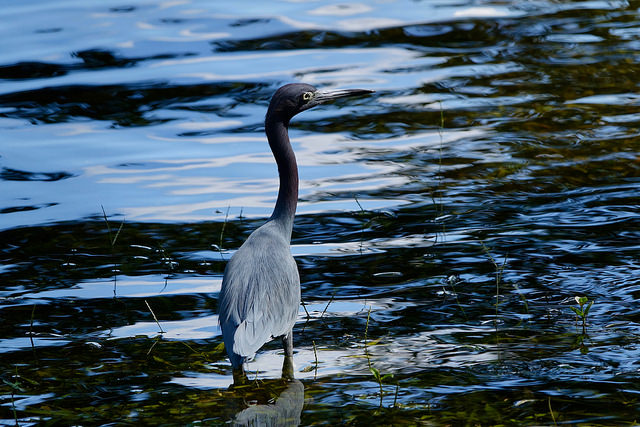 Here's Graham stalking the heron as he slowly got close enough to take a good photo: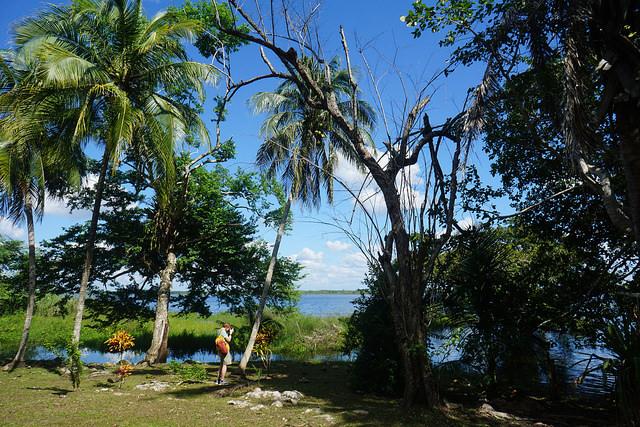 After that final wildlife encounter, we hopped back on the boat for a much speedier trip back down the river. (No stopping for iguanas on the way back.)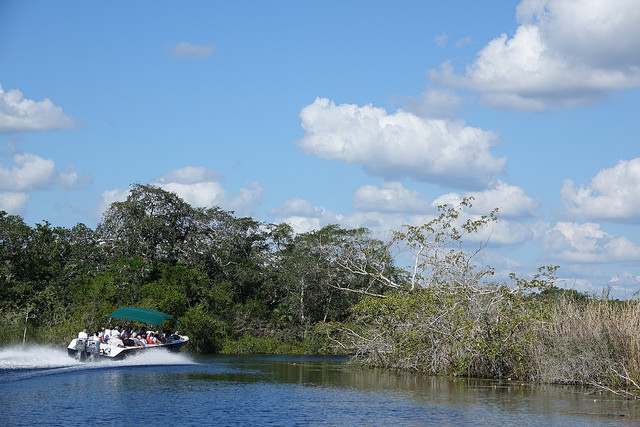 That's all for part 1—stay tuned for photographs from San Ignacio and our trip to Tikal in Guatemala!