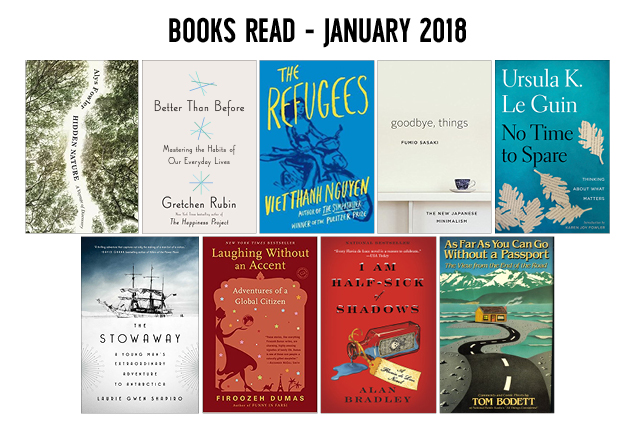 Books Read: 9
NON-FICTION
Hidden Nature by Alys Fowler was the first audiobook I finished in the new year. It's an unusual but beautiful book. Fowler recounts her mission to explore Birmingham's canal network in an inflatable canoe, with a goal of exploring her city in a new way. But the real journey she takes in this memoir is internal: out on the canals she has the time and space to explore who she really is, and that exploration upends her entire life. Fowler poses more questions than she's able to answer, but her beautiful writing and deep honesty make this a moving listen.
Goodbye, Things: The New Japanese Minimalism by Fumio Sasaki was a daily deal on Audible last fall, and I listened to it this month to help inspire a fresh round of stuff purging. I still really like Marie Kondo's book, but I think Sasaki does a better job of explaining exactly why owning fewer material possessions is life changing.
I finished reading Ursula K. Le Guin's latest essay collection, No Time to Spare, a few days before learning that she had passed away. Her passing makes the title essay—where she responds to one of the questions posed by Harvard in a survey sent to alumni, asking what she does in her 'spare time'—all the more poignant. Le Guin says "The opposite of spare time is, I guess, occupied time. In my case I still don't know what spare time is because all my time is occupied. It always has been and it is now. It's occupied by living. […] None of this is spare time. I can't spare it. What is Harvard thinking of? I am going to be eighty-one next week. I have no time to spare." Le Guin is one of my favorite authors, and I really enjoyed this collection of selected essays that she first posted on her blog: ranging from serious discussions of culture, literature, and life, to charming updates about her cat, Pard.
The Stowaway: A Young Man's Extraordinary Adventure to Antarctica by Laurie Gwen Shapiro was my favorite book of the month. Billy Gawronski was 17 in 1928 and living in New York City, a first generation American and the son of Polish immigrants. His future seemed to be mapped out for him: his father was eagerly anticipating his son joining the family furniture business. But Billy was dreaming of a life that held a lot more adventure and excitement, and was following news of his idol Richard E. Byrd's upcoming Antarctic expedition. One evening before Byrd's ship left the New York Harbor, Billy jumped into the Hudson river and snuck onto the ship as a stowaway. What follows is an incredible story and a wonderful adventure to experience vicariously through Shapiro's engaging writing. It's also great on audiobook.
Laughing Without an Accent: Adventures of an Iranian American, at Home and Abroad is Firoozeh Dumas's second memoir, and I've enjoyed listening to both of them on audiobook. She shares heartwarming and often funny stories about her family and life as an immigrant, and it's such a treat to hear her narrate them herself on audio.
As Far As You Can Go Without A Passport by Tom Bodett was a "Read My Own Damn Books" selection – it's been sitting on my shelves for 3 years. It's a collection of very short reflections on living in a very small town—Homer, Alaska. I believe they started out as short pieces for public radio. The pieces had a soothing tone, but there wasn't much in them. I probably wouldn't have finished this one if it hadn't been such a quick read.
RE-READS
I always have a burst of motivation at the start of a new year, and I love making resolutions. I was pretty successful at building some core healthy habits last year, and in 2018 I want to continue those habits while adding new goals. I re-listened to Better than Before by Gretchen Rubin to get a refresher on all of Gretchen's great advice about effective habit formation, and an extra dose of motivation. If you're looking for ways to build new habits in your life, this is one of the best books to read.
FICTION
The Refugees is a short story collection by Viet Thanh Nguyen, who won the 2016 Pulitzer Prize for Fiction for
The Sympathizer (also on my TBR list). All of the stories in The Refugees are centered around Vietnam or Vietnamese refugees living in America. I haven't read a lot of literature about the Vietnam war, and these stories helped to expand my understanding of the human impact of the war. It's also a fantastic and beautiful story collection, and I'm looking forward to reading more from Nguyen.
I devoured the fourth Flavia de Luce mystery novel, I am Half-Sick of Shadows, in less than 24 hours. This was an especially fun one: it's set entirely at Buckshaw, the English estate that is a recurring character itself in the series, and takes place over Christmas. I loved it, and am happy my library copy of the fifth volume has already arrived. I'm going to take it with me on our trip to Philly in a few weeks—it will make an excellent travel read.