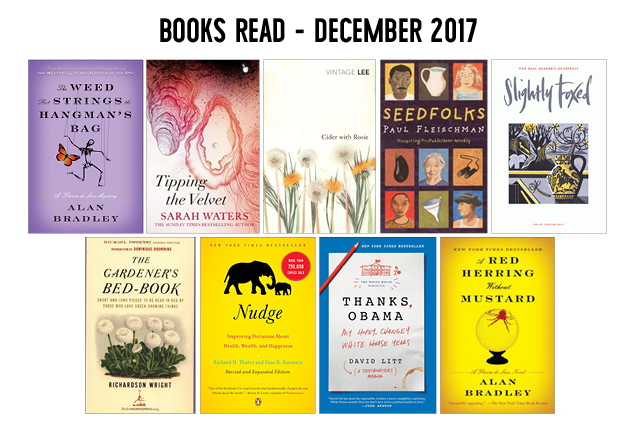 Books Read: 9
FICTION
I started and ended the month with Flavia de Luce: I read the second (The Weed that Strings the Hangman's Bag) and third (A Red Herring Without Mustard) installment in this cozy mystery series. I don't normally read a lot of murder mystery novels, but I quickly became obsessed with this series. I love the setting, the writing, and living vicariously through 11-year-old Flavia as she thrills at the trouble and adventure that seem to arrive directly on her doorstep. Now I'm waiting patiently (or trying to) for I am Half Sick of Shadows to come in for me at the library.
Tipping the Velvet by Sarah Waters was one of the last categories I needed for the 2017 Read Harder challenge (Read an LGBTQ+ romance novel), and it was also a Read My Own Books selection – I've owned this since 2014. I ended up listening to it on audiobook to make sure that I could get to it by the end of the year. The audiobook is narrated by Juanita McMahon, and she does a wonderful job bringing the character voices to life. I often struggle to follow fiction on audiobook (unless I'm doing a read-a-long with a print copy in front of me), but I had no trouble with this one. It's the second Sarah Waters novel I've read, and I'm eager to read more.
I read a few chapters of Seedfolks by Paul Fleischman during my monthly volunteering sessions at the Arab American Family Support Center—the student I was partnered with would read a chapter aloud to me, and then we'd discuss it together. Each chapter nearly stands alone as a short story as we meet each new narrator, but they all weave together into a beautiful portrait of a community. I didn't get to read all the chapters during my sessions, so I checked out a copy from the library and read it in its entirety. I'd recommend it to people of any age, but it's an especially wonderful book for young readers.
NON-FICTION
I listened to Cider with Rosie in advance of visiting the Cotswolds during our Christmas holiday. Laurie Lee narrated the audiobook himself decades after he wrote it, and it's a treat to be able to listen to it in his beautiful voice—it brings the brilliant descriptions to life in a way that made me appreciate the book more deeply than if I'd just read it in print.
The latest issue of Slightly Foxed, #56, was delightful as always. I loved reading the start of a three part series about In Search of Lost Time, and added the Essays of George Orwell and Travelling in Amherst to my TBR list. My in-laws also kindly got me a Christmas gift of the new Slightly Foxed edition of Erich Kästner's memoir about growing up in Dresden, When I Was a Little Boy.
Last year I discovered the delights of a "Book of Days" – a book with 365 (or 366) short entries, designed to be read daily. I can't remember how I first heard about The Gardener's Bed Book by Richardson Wright, but I bought it and enjoyed reading a short passage about gardening, plants, wildlife, and assorted miscellany every night before bed. I kept it on my nightstand, and it was a treat to have a relaxing and short passage to read before going to sleep. This year I've selected Wonderland: A Year of Britain's Wildlife, Day by Day as my bed-book.
I read Nudge by Richard H. Thaler and Cass R. Sunstein, and found their analysis of the psychology behind human decision making absolutely fascinating. Many people might be "choice architects" without even realizing it, and this book provides so much insight into how we can preserve choice and freedom while improving the ability to easily make good decisions.
Thanks, Obama: My Hopey, Changey White House Years is a memoir by former speechwriter David Litt. I listened to it on audiobook, and really enjoyed his behind the scenes tales of working for President Obama. It's a great lesson in the realities of political movements: he shares the background of his transition from a "fanboy" employee on the campaign trail through his coming-of-age into a career as a senior White House employee, as he comes to terms with how change and progress really happens.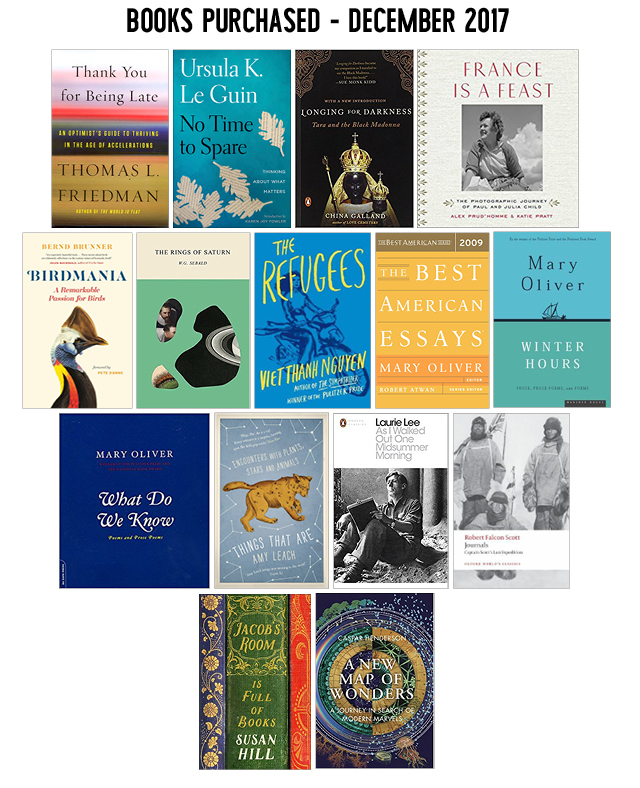 Here's the thing of it: I acquired a lot of books in December. A lot. This isn't even all of them. I bought some vintage books on arctic exploration and adventure at the wonderful Evergreen Livres bookshop in Stow-on-the-Wold, and I got some lovely Slightly Foxed editions for Christmas. I need to pump the book buying brakes in January—my bookshelves are packed and need to go on a New Year's diet!
//
Cheers to a great year of reading ahead!