(Frantically catching up on monthly reading recaps before the end of the year! Let's go!)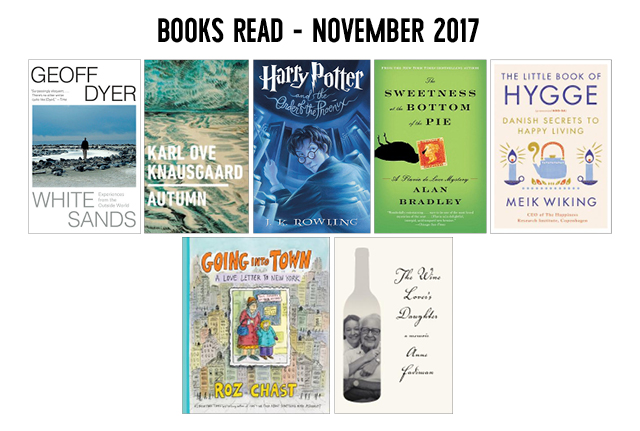 Books Read: 7
NON-FICTION
I took White Sands by Geoff Dyer with me to Belize, and I don't think it was the best choice. It's enjoyable but a bit slow going in parts, and I often find it challenging to focus on my book while I'm traveling. But overall I enjoyed Dyer's literary approach to travel writing, and I loved the essay about his experience visiting Walter De Maria's The Lightning Field.
I'd never read Karl Ove Knausgaard before, but the premise behind Autumn intrigued me: short essays written to his unborn daughter describing the extraordinary and ordinary world she's about to arrive in. Each short chapter has a different topic, some exalted and some mundane: Apples, Wasps, Plastic Bags, The Sun, Teeth, Porpoises, Petrol, and Frogs. This kind of writing is not for everyone, but if you can put a need for plot aside to enjoy beautiful and simple meditations on life on earth, then you'll probably find this book as charming as I did. He's planning on releasing a book for each season, and Winter will be out in January.
The Little Book of Hygge by Meik Wiking was recently an Audible daily deal, and I listened to it when I needed something light during a busy and stressful few weeks. It served its purpose as an easy, lighthearted, stress-relieving listen, but there wasn't much depth to this book. As much as Wiking insists that Hygge is different from "cozy," I don't really buy it. He attempts to make the case that family, friends, and human relationships are often a key part of Hygge, but spends more time talking about candles, baked goods, and material goods. The commoditization of Hygge seems to be a fad that plays into the feelings of a movement that's been strong for years (think "cabin" decor and lumberjack plaid) vs. a groundbreaking new idea.
Going into Town: A Love Letter to New York by Roz Chast is a darling book. It's a perfect introduction to NYC for people new to the city, and a lovely tribute for those of us who know and love it.
I love Anne Fadiman's essays (book loving friends: Ex Libris and At Large and At Small are both so wonderful) and I was thrilled to get a galley of her latest book, The Wine Lover's Daughter. It's a memoir of her father, Clifton Fadiman: his life, his love of wine, and the shame he felt about his roots. It's also about their father / daughter story: their shared passion for literature and writing, and his devotion to wine that she can't match. It's a beautifully written book and the stories about her father are captivating. It's a loving (and also critical) look at an interesting man. If you're curious about this one, there's a great interview with Anne Fadiman on Bookworm.
FICTION
I read the first Flavia de Luce mystery by Alan Bradley, The Sweetness at the Bottom of the Pie, after reading about it in the Autumn 2017 issue (#55) of Slightly Foxed. I don't usually read a lot of mysteries, but I'm hooked on Flavia de Luce. I love the setting, the writing, the descriptions, the humor, and most of all I love this precocious 11 year old narrator and her passion for chemistry. I'm now on book three of the series—as fun as it is to read a new series and anticipate the next release, it's also delightful to get into an established series and have eight books waiting to be devoured (and easily reservable from the library with no wait!).
RE-READS
I always think that Harry Potter and the Order of the Phoenix is my least favorite book in the series, and that might be true, but whenever I re-read it I enjoy it more than I think I will. I love reading about Dumbledore's Army meetings and seeing Umbridge get her Karmic payback. Let's just forget about the ending.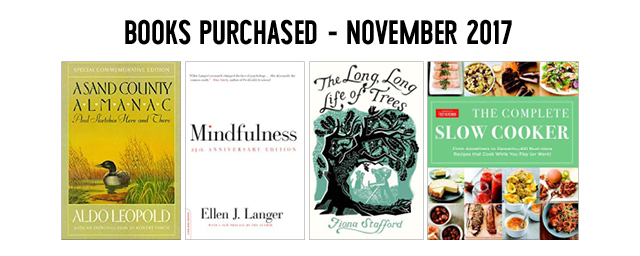 A Sand Country Almanac by Aldo Leopold has been on my To Buy list for a while, and I've brought this classic of nature writing into my collection so that I finally can read it. I bought Mindfulness after hearing Ellen J. Langer on this episode of On Being podcast. The Long, Long Life of Trees by Fiona Stafford and America's Test Kitchen's The Complete Slow Cooker were impulse purchases while I was book shopping with my Mom in Michigan over Thanksgiving.