This post is considerably overdue – being away from home for nearly all of November didn't give me much time to blog. But I read a lot of great books in October, and I'm going to catch up on my monthly recaps so that I can tell you about them.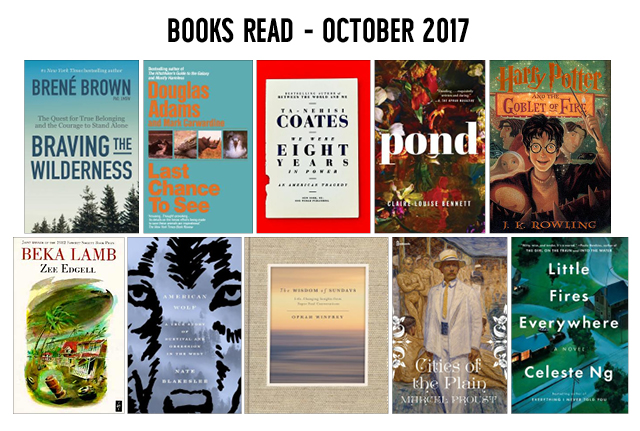 Books Read: 10
NON-FICTION
Brené Brown is a wise sage, and I enjoy reading everything she publishes. Braving the Wilderness is her latest book, and I listened to it on audiobook in October. It's about finding true belonging in our communities in the face of increased polarization. It's a timely topic, and I enjoyed listening to it, but for me, this one didn't quite live up to her previous work. I thought it was a little too short and rushed, and that she didn't really have time to dig into the subject in the way she typically does. Worth a listen for fans, but maybe not the greatest introduction to her work.
Graham and I recently watched and loved the 2009 BBC series Last Chance to See, with Stephen Fry and Mark Carwardine. In it, Fry and Carwardine retrace the world tour that the latter took with Douglas Adams 20 years earlier, searching for animals that were endangered or nearly extinct. It was a reunion trip that Adams and Carwardine were supposed to take together, but Adams passed away. The book Last Chance to See was written by Douglas Adams about their first attempt to see these animals, in the late 1980s. Earlier this year, Graham grew interested in listening to it on audiobook, and asked me if it was available. Unfortunately, it was never made into an audiobook… until this year when I recorded myself reading the entire book aloud as a birthday present for Graham. It's a wonderful book, and a somewhat unusual combination of two things I adore: the natural world and the sense of humor of Douglas Adams.
We Were Eight Years in Power is a collection of eight pieces that Ta-Nehisi Coates published in the Atlantic over the course of Barack Obama's presidency, each introduced by Coates reflecting back on the piece. I hadn't read any of these essays before, and they are so powerful as a collection. This one is a must read for understanding America today.
American Wolf by Nate Blakeslee was my favorite book of the month, and will be near the top of my list of favorite non-fiction this year. The audiobook's narrator, Mark Bramhall, brought the social history of the reintroduction of wolves in Yellowstone National Park to life in gripping narration. It's a beautiful introduction to the fascinating social structure of wolf packs, and the life story of O-Six—a fiercely protective and intelligent alpha female in Yellowstone's Lamar Canyon. It highlights the struggle between reintroduction program advocates and local hunters and community members, and gives a voice to each side of the conflict.
I listened to The Wisdom of Sundays on audiobook, and discovered that it's completely different from the print edition. While the print edition features short quotes from dozens of Oprah's Super Soul Sunday guests, the audiobook shares 10 longer interview excerpts from the show. It provides a boost of inspiration and transcendence, and it's a lovely audiobook that I'll return to again, especially her moving interview with Elie Wiesel.
FICTION
If you like strange little novels, you may like Pond by Claire-Louise Bennett. Our narrator comes across as being a bit lost in her own head, and we're there with her. She describes her days in beautiful and thoughtful details, and I enjoyed the unique perspective.
Before I travel, I like to read fiction set in the location I'm going to visit, and Beka Lamb by Zee Edgell was the novel that came up most often when I searched for Belizean literature. It's a coming of age story set against the country's struggle for independence in Belize City. Beka is an engaging heroine, and it was a treat to get to know her and see the city through her eyes.
My major reading achievement in October was finishing the fourth volume of Proust's In Search of Lost Time, Cities of the Plain. I hope to finish the last 3 volumes in 2018, and then I'll write up all my thoughts on the experience.
I heard incredible things about Little Fires Everywhere by Celeste Ng from many bookish friends, so I gave it a go too. The plot was so interesting—a town divided over a child custody case, and a look a motherhood from a lens I haven't often seen before in literature. I think I would have loved it (vs just liking it) if I had felt a greater connection to the characters, but it was an interesting and engaging read.
RE-READ
I continued my re-read (listen) of the Harry Potter series, and I finished the audiobook of Harry Potter and the Goblet of Fire. Now I need to catch up on my movie re-watch as well.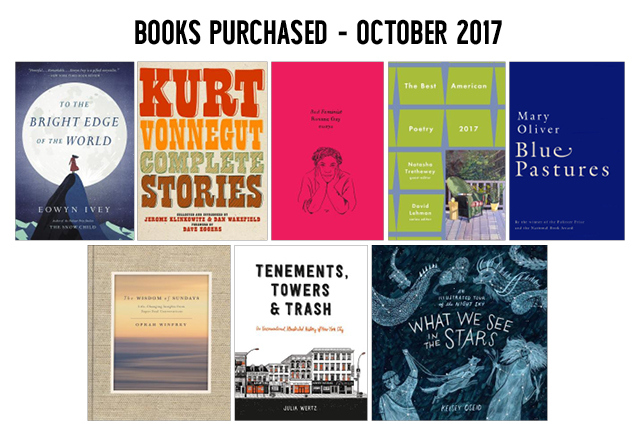 I can't resist books about arctic adventures or explorations, and so bought To the Bright Edge of the World by Eowyn Ivey, which recently came out in paperback. As a Kurt Vonnegut completist, I had to get the new complete volume of his stories. Ever since listening to the audiobook of Bad Feminist by Roxane Gay I've wanted to own the print volume as well, and the new Olive edition gave me the perfect excuse to finally buy it. I want to branch out a bit more with poetry and discover new poets I like, so I bought a copy of The Best American Poetry 2017. But I will always be most loyal to Mary Oliver, and so continue to collect all of her volumes. Blue Pastures (which is mostly a prose collection) was one of the few that I didn't already own. The Wisdom of Sundays is a beautiful book, full of beautiful quotes from people I admire. It's a great nightstand book – something to pick up and open to a page at random when you need a dose of inspiration or joy. I'm a big fan of Julia Wertz, and her latest book Tenements, Towers and Trash is her masterpiece: a charming and detailed look into NYC. I love the history she includes – the "then and now" drawings are fascinating. And finally – What We See in the Stars is an absolutely gorgeous illustrated look at everything we might see in the night sky.