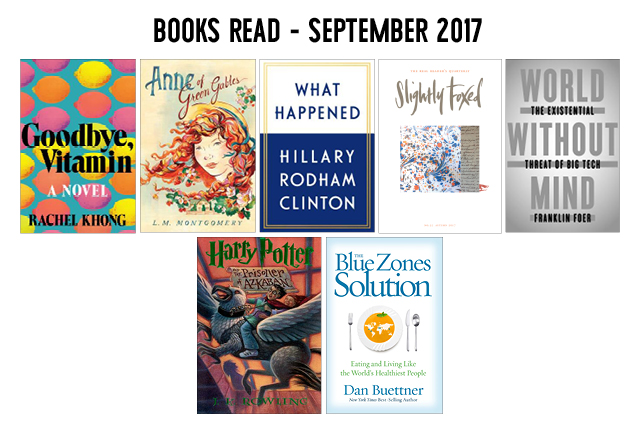 Books Read: 7
FICTION
I'm confident that Goodbye Vitamin will be one of my favorite books of the year. It's a short, quirky little novel about 30-year-old Ruth Young, who arrives home for Christmas after a break up with her fiancé to find that her father's Alzheimer's has gotten worse. That sounds like a recipe for a depressing story, but this book is full of charm. It's also strange and introspective, and I was completely enraptured.
NON-FICTION
I pre-ordered What Happened on Audible ages ago, and decided to buy the hardcover on release day as well, so that I could stick this inside it, and also so I could mark my favorite passages while I listened. It was a bit painful at times to relive some of the most outrageous elements of the election, but I'm really glad I read it. And even though everything felt surreal while we were living through it, hearing the craziness spelled out clearly and completely in one go was absolutely mind boggling.
I read the new autumn issue of Slightly Foxed, and it was lovely, as always. Right away I had to buy Lost in Translation by Eva Hoffman, and The Little Grey Men and Down the Bright Stream by B.B.
World Without Mind by Franklin Foer is a critical look at big tech, specifically Amazon, Apple, Google, and Facebook. Foer is pessimistic about the ability of these companies to behave ethically with their robust power and control, and makes a compelling case for questioning our acceptance of these monopolies.
I read The Blue Zones Solution slowly over the summer, finally finishing it in September. I realized earlier this year that I use reading to help motivate me to achieve my goals. I don't necessarily need a book to convince me of the merits of certain activities, and in this case the healthy lifestyle described isn't revolutionary information. But books can often be hugely motivating for me. If I want to focus on my health, a book like this helps jump start my enthusiasm for roasting broccoli more often, and taking the stairs at work. If I need to re-commit to my meditation practice, I pick up something by Thich Naht Hahn. I did really enjoy reading about the Blue Zones lifestyle, and specifically about Buettner's success integrating this lifestyle into American cities. I'd recommend it if you—like me—want something to help motivate you to make healthy changes.
RE-READS
I re-read (via audiobook) two of my favorite books in September: Anne of Green Gables and Harry Potter and the Prisoner of Azkaban. It was a busy month, and so it was nice to treat myself with these two lovely favorites.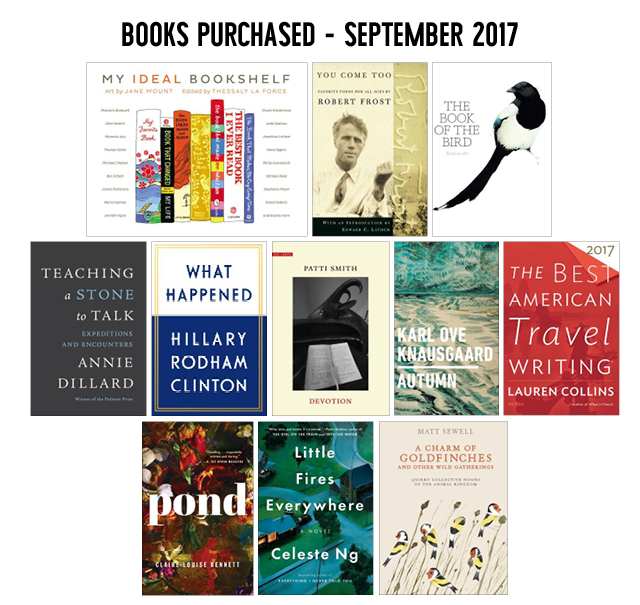 A lot of really excellent books crossed my path in September, and I found myself unable to leave most of them be. I love Jane Mount, and found a copy of My Ideal Bookshelf on the sale table at Brookline Booksmith. Also from that lovely bookshop (one of my favorites, and a must visit when I'm in Boston): You Come Too by Robert Frost and The Book of the Bird by Angus Hyland. I picked up Teaching a Stone to Talk by Annie Dillard at my neighborhood's own endlessly delightful bookshop: Books are Magic. As I mentioned above, I bought my print copy of What Happened by Hillary Rodham Clinton on my walk to work on release day. Devotion by Patti Smith and Autumn by Karl Ove Knausgaard couldn't be left on the shelf after a visit to Barnes and Noble. The day before my birthday I had a bit of a splurgy book outing, and came home with The Best American Travel Writing 2017, Pond, and Little Fires Everywhere. And finally, my charming husband bought me a book I love for my birthday: A Charm of Goldfinches and Other Wild Gatherings.