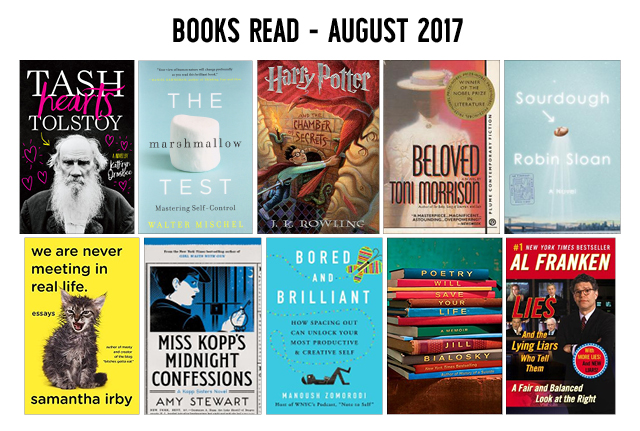 Books Read: 10
Previously Reviewed:
FICTION
I started out the month with the delightful young adult novel Tash Hearts Tolstoy. I don't read YA that often anymore, but I couldn't resist the idea of a novel for teens that stars one of the giants of classic Russian literature. It was so much fun to read about the modernized Anna Karenina web series that Tash and her friends create, and the challenges created by the show's sudden success. Bonus: Tash is romantic asexual, and it's great to see this representation in teen lit.
At long last, I have read Toni Morrison. I read Beloved, and it moved me deeply. It's an incredibly well told story and perfectly constructed novel—I really loved it as a piece of literature. And it's absolutely heart-wrenching. Highly recommended.
NON-FICTION
I listened to The Marshmallow Test by Walter Mischel on audiobook. I thought the basic premise was interesting (self discipline in children has been linked to their future success in a variety of areas), but didn't find the book or its lessons very memorable. (Probably why I'm struggling to write anything meaningful about it. Or maybe as I child I was unable to resist marshmallows.)
I also listened to We Are Never Meeting in Real Life by Samantha Irby, which is so fun on audio. I enjoyed her funny stories, unique perspective, and deep self knowledge.
Bored and Brilliant by Note to Self's Manoush Zomorodi is the result of a podcast project that challenged thousands of listeners to follow a seven day experiment to help them disconnect from their phones to rediscover boredom (and the world around them). The goal? Creativity. I really enjoyed this one, and my plan is to follow the seven day challenge soon and then share a full review of the book and my experience.
Poetry Will Save Your Life by Jill Bialosky was an impulse read this month. I wasn't familiar with the author and it wasn't on my new release radar when it appeared on a bookstore table that I was browsing. It's a story of a life, shaped around an anthology of poems. The structure of each chapter follows the same pattern: a short reflection on a period of the author's life, a poem that relates to that time, and a brief analysis of the poem. It was mediative and thoughtful, and I discovered many new-to-me poems that I liked very much. It's a perfect book for anyone who loves poetry, and anyone who wants to learn to love poetry.
After loving Al Franken, Giant of the Senate, I decided to listen to Lies and the Lying Liars Who Tell Them. It was published in 2004, and I was a little apprehensive that listing to it in the middle of all the current lies and chaos of this administration might be overwhelming, but it was almost like an escape to spend a little while in the company of 2004 Al while he landed some sharp hits.
RE-READS
I'm slowly making my way through the Harry Potter series again, and I've lost track of how many times I've done so. I'm sure I've read Harry Potter and the Chamber of Secrets at least a dozen times, and I find it just as magical as I did the first time.

I've been wanting a book from the Penguin Orange Collection ever since they came out, and I picked up The Snow Leopard at the delightful Words Bookstore in Maplewood, NJ. I expanded my "tarot as self growth" book collection with a copy of Modern Tarot by Michelle Tea. Kerry inspired me to get a copy of Delights and Shadows by Ted Kooser, and I grabbed a copy of The House of the Dead and Poor Folk by Fyodor Dostoyevsky in Barnes and Noble's $5 classics sale.