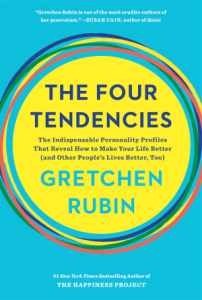 "I've spent years studying happiness and habits, and it has become obvious to me that there's no magic, one-size-fits-all answer for building a happier, healthier, more productive life. Different strategies work for different people—in fact, what works for one person might be the very opposite of what works for someone else."
I'm a big fan of Gretchen Rubin, and the quote above sums up why I think her work is so effective. She has shared her process of building self knowledge in her books The Happiness Project and Happier at Home. Then she developed and introduced her Four Tendencies concept in Better than Before, a book on how to build new habits.
The Four Tendencies is her deep dive into this framework, and the basic premise behind it is simple: how do you respond to expectations—your own, internal expectations, and outer expectations from those around you at work and in your personal life? Your usual response to outer and inner expectations will classify you as an Upholder, Obliger, Questioner, or Rebel. You can take a quiz on Gretchen's website to find out what your tendency is.
Obligers are the biggest category (based on the hundreds of thousands of people who have taken the quiz online), and they struggle with meeting inner expectations, but easily meet outer expectations. So, for example, they might struggle to go for a run in the morning on their own, but when people are counting on them—such as a deadline a work, they have no trouble getting things done. It seems like people who realize they are Obligers benefit especially from understanding their tendency. Once you know that you need external accountability, you can start to seek it out. An Obliger who wants to start running in the morning could make plans with a running buddy, and then would most likely have no trouble going, because someone is counting on them.
I'm a Questioner. Here's the description of my tendency:
"Questioners meet only inner expectations—and that includes outer expectations that they've turned into inner expectations. In accepting those inner expectations, Questioners show a deep commitment to information, logic, and efficiency. They want to gather their own facts, decide for themselves, and act with good reason; they object to anything they consider arbitrary, ill-reasoned, ill-informed, or ineffective. […] Questioners meet an expectation only if they endorse it as efficient and reasonable." (page 61-62)
That is largely true for me. (She also explains that the tendencies can overlap: I'm a Questioner who "tips" toward Upholder, so I have an easier time than others meeting external expectations.) Learning more about my tendency has been fascinating, and so helpful. Understanding this about myself helped me realize why some of my attempts at habit forming in the past haven't worked, and how to better set myself up for success in the future. The "why" is so important to me, and I have to focus on that—always, especially with hard to keep habits like exercising. The efficiency part is also crucial for me: my habit of exercising didn't successfully take off until I worked out a way to exercise as efficiently as possible: abandoning the gym and running outside instead. The moment I step out my front door I can start my workout.
Unlike many other personality assessments that try to group all people into buckets based on the entire scope of their personality, this framework aims to classify people based on a very narrow aspect of their personality: a much more feasible task. And unlike many other personal development books, it doesn't espouse the idea that one way or method is the best way that will work for everyone. It's all about figuring out what's right for you. ("What the most successful people do before breakfast" could be an interesting article to read, but it doesn't mean that everything in it would be a good thing for you, personally, to start doing.)
Gretchen and her sister, Elizabeth Craft, talk about The Four Tendencies often on their wonderful podcast: Happier, but this book goes so much deeper into how to strategically use your own tendency to build the habits you want in your life. It also shares extremely helpful advice about how to work with, deal with, motivate, and/or instruct people of each tendency.
I've learned so much about how to build effective habits for myself, how other people might react to my tendency, and how to help best encourage and support Graham, a Rebel, with his goals.
I'd recommend this book to everyone who is curious about improving their lives and better understanding the actions and motivations of the people around them, at home and work. It's also invaluable for teachers, parents, coaches, doctors—anyone who needs to motivate others or help people change their habits.
//
Add The Four Tendencies on GoodReads. Buy it from an Independent Bookstore.
I received a review copy of this book from the publisher.