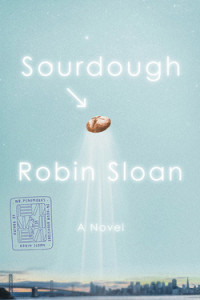 If you've never read a book where one of the main characters is a sourdough bread starter, you're missing out.
Robin Sloan's first novel was the wonderfully quirky and fun Mr. Penumbra's 24-Hour Bookstore. In his new novel, Sourdough, the scene changes from a mysterious bookstore to a mysterious food market, but his charming characters, unique writing voice, and delightful weirdness still shine.
Lois Clary is a young software engineer living in San Francisco. She works at a company called General Dexterity, which manufactures robotic arms that are rapidly becoming smart enough to replace humans in a variety of tasks and jobs. Her high pressure work environment dictates that she nearly live at the office. When she eventually arrives home exhausted each evening, she gets a deliciously spicy soup and sandwich combo delivered from a nearby takeout business owned by two brothers.
One evening, her usual delivery order arrives with a devastating surprise: the brother's visas have expired and they are leaving the country, taking away her main source of happiness and substance. But before they leave, they present her with their sourdough bread culture: a starter that she is instructed to keep alive through a strict care-taking regimen that includes daily feeding and exposure to specific music from the brother's homeland.
The story that follows is a story of self-discovery, challenge, and the courage to remake oneself. It's also filled with warmth, humor, and delightful quirkiness. You'll find yourself wanting to bake bread, visit underground markets, and join a Lois Club.
Novels that feature food and cooking should be warm and satisfying, and Sourdough is filling and unique, just like its namesake.
GIVEAWAY: I have an extra galley of Sourdough to giveaway here! If you'd like to enter to win a copy, fill out this Google form. Entries will be collected through September 15, and I'll contact you by email to get your mailing address if you win. (Unfortunately, the giveaway is only open to the US & Canada due to high shipping costs.)
UPDATE: Congrats to Megan from St. Louis who won this copy of Sourdough! Thank you to everyone who entered.