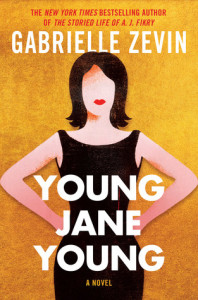 Young Jane Young by Gabrielle Zevin has everything I want in a summer novel: wonderful characters, a fresh story, smart humor, and pages I can't stop turning.
It's the story of Aviva Grossman, a congressional intern who begins an affair with her boss. And writes a blog about it—anonymously. Of course, the affair doesn't stay secret forever, and when news of the scandal breaks, her "anonymous" blog is soon matched up to her very public situation, which adds to her humiliation and ensures that a damaging digital legacy will follow her for the rest of her life.
The congressman's career isn't impacted, after he makes a public apology with his wife by his side. "The congressman's staff took great pains to distance itself from Aviva. They characterized her as the Lolita intern, a Lewinsky wannabe, and a variety of other synonyms for 'slutty.'"
The rest of the story is about what happens when you start over. When you attempt to escape your past. Zevin's brilliance is that she makes this story, despite its heavy themes, so much fun. She packs a powerful message for society into a novel filled with light and quiet strength. It's also told through rotating narrators (all women), a technique I love when it's done this well. I love being able to examine a story through multiple points of view.
Summer's almost over, but you can still fit in one more perfect summer read: a page turner with depth, feminism, and laughter.
//
Add this book on GoodReads or shop for it on IndieBound.
I received a review copy of this book from the publisher.