July was filled with some pretty lovely books, and I'm excited to tell you about them.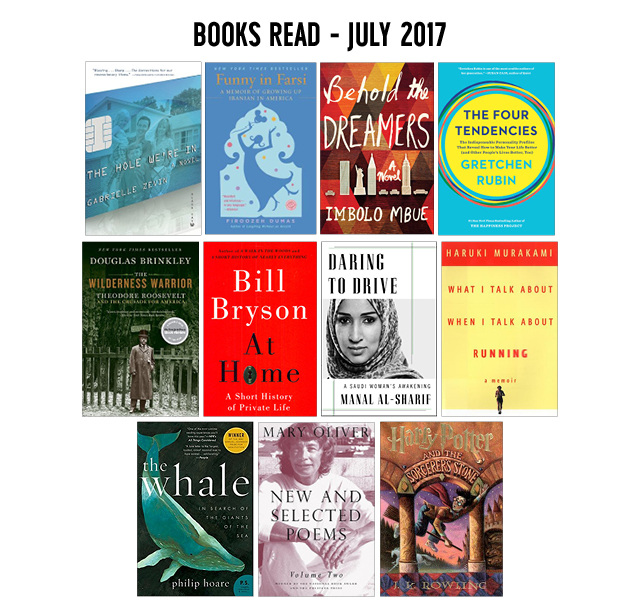 Books Read: 11
FICTION
Reading Young Jane Young last month left me craving more Gabrielle Zevin, and Teresa recommended The Hole We're In. It's not a plot that I would normally be drawn too if I weren't so confident in the author (middle class family gets in over their head with debt), but it's such a common American story, and Zevin tells it wonderfully. A lot of the fiction I've read this summer has been told through multiple points of view, and I find myself drawn to this style more and more often.
Behold the Dreamers was fresh out in paperback when Oprah picked it as her latest book club selection, and I couldn't resist picking up a copy of this novel I'd heard so much about. If The Hole We're In is a common American story, here is another one: the story of hardworking immigrants who leave the country they love to test their fate in the land of the free. It's powerful, beautifully written, and engaging.
NON-FICTION
I listened to the audiobook of Funny in Farsi: A Memoir of Growing Up Iranian in America by Firoozeh Dumas, and enjoyed it very much. This is a happy story of immigration—not at all to say they didn't encounter hardships and discrimination as Iranian immigrants—they certainly did, but that their story of a happy, loving family is an inspiration to read. I really enjoyed listening to Firoozeh Dumas narrate the audiobook herself.
I read The Four Tendencies by Gretchen Rubin, and loved this deep dive into the personality framework she introduced in Better than Before. I'll post a full review of it when it comes out on September 12.
It took me two months to finish The Wilderness Warrior (I was reading other things too), but I finally finish all 817 pages. This is a thorough account of how much of an environmentalist badass and hero Theodore Roosevelt was. His achievements in protecting wildlife were truly incredible. If you're a TR fan, animal lover, or conservationist, this giant biography is worth reading.
Daring to Drive: A Saudi Woman's Awakening by Manal al-Sharif is one of my favorite non-fiction books of the year, and the audiobook is excellent. I learned so much about feminism in Saudi Arabia (and life and culture there in general), and the subject of women driving. This should be on everyone's diverse reading list this year, it's wonderful.
As much as I enjoy Haruki Murakami's fiction, I wasn't terribly interested in reading his memoir What I Talk About When I Talk About Running, probably because I classified it as a book for runners. This was silly, because talented writers can make any subject interesting, and it's also fascinating to read about other people's passions, even if they aren't your own. (I will forever be grateful I picked up Barbarian Days by William Finnegan, despite not being a surfer myself. That book fed my soul, and I'm already looking forward to re-reading it.)  Anyway, I've picked up a small running habit myself, as well as a copy of this book in a recent Audible sale, and so this book finally entered my life. I wouldn't say I'm passionate about running as of yet, but I am starting to enjoy it and crave it. (Getting off the treadmill at the gym and running outside in the cool morning air is the secret, it turns out.) Murakami's impressive dedication to the sport was more kindling to my newly found flame for running, and I'm glad I got to spend a little time in his real world, which it turns out is just as appealing as his stories.
And my final non-fiction read of the month was The Whale by Philip Hoare. I'm not sure if I overdosed on non-fiction (hard for me to do), or if this one just didn't resonate with me. Possibly both. The Whale is a human history of whales, the whaling industry in particular. Sprinkled in are reflections on Moby Dick, and light biology. I'm interested in the horrible history of whaling, but this book was perhaps a little too in the weeds on that topic for what I was in the mood for. (Essentially I was in the mood for a longer version of Diane Ackerman's beautiful essay about whales in The Moon by Whale Light.)
POETRY
I am always in the mood for Mary Oliver's poetry, but find myself particularly craving it this time of year. Looking at the natural world through her eyes is especially wonderful in the summer, when every living thing seems to be bursting with life and energy. (Except my husband, who hasn't adjusted to New York City summer heat, and frequently has to lay in the bathtub.)
RE-READS
I've been in a weird audiobook mood lately, and not much was appealing to me in July. So I turned to some old favorites: At Home by Bill Bryson and Harry Potter and the Sorcerer's Stone. My aversion to any new audiobook is still going strong in August, so I'm carrying on with my Harry Potter re-listen. I think I need some really good autumn releases to pull me out of my mood, but in the meantime I'm greatly enjoying going back to Hogwarts.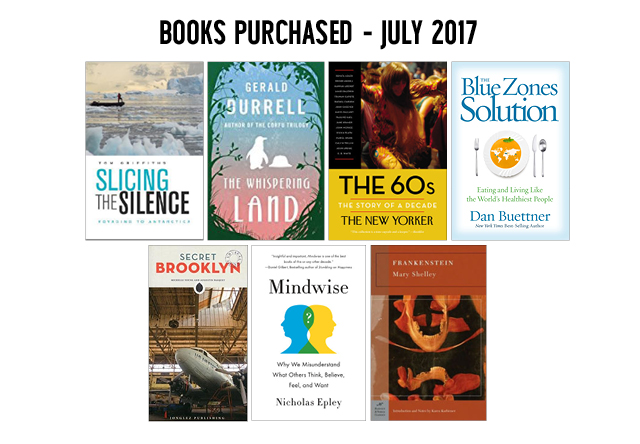 The image above is a little misleading. I actually bought nine books last month, but two were very old and didn't really have a good image online that I could use for my graphic. So just imagine that beautiful vintage volumes of Nature in Miniature by Richard Headstrom and Our Polar Flight by Roald and Lincoln Amundsen are pictured above, along with Slicing the Silence: Voyaging to Antarctica by Tom Griffiths and The Whispering Land by Gerald Durrell, all of which I got during our trip to Hudson, NY at lovely secondhand bookshops. I love the "Story of a Decade" volumes that The New Yorker puts out, and I was excited to pick up the brand new paperback edition of their most recent collection: The 60s. The Blue Zones Solution was an impulse purchase, which I'm reading and enjoying now. Secret Brooklyn was also an impulse purchase, and I'm already loving the quirky and interesting places I'm learning about. Mindwise and Frankenstein rounded out another month of buying too many books (but at least my July books read count is still higher).
//
That's July! What books do you hope to read before summer ends?