It's been pretty quiet here on the blog. I've been fully embracing summer this year. Normally I dread the heat, but this year I'm in such a summery mood and I'm embracing it all: sun, sweat, sunscreen…everything. I also haven't been in much of a blogging mood – which I'm hoping to fix soon by loosening up my blogging routine and finding ways to make blogging joyful again. Stay tuned. In the meantime, these monthly reading recaps are the one blog tradition I'm not planning on nixing yet. I enjoy looking back over what I've read and sharing my thoughts with all of you. (Selfishly, it's also helpful for my memory too!)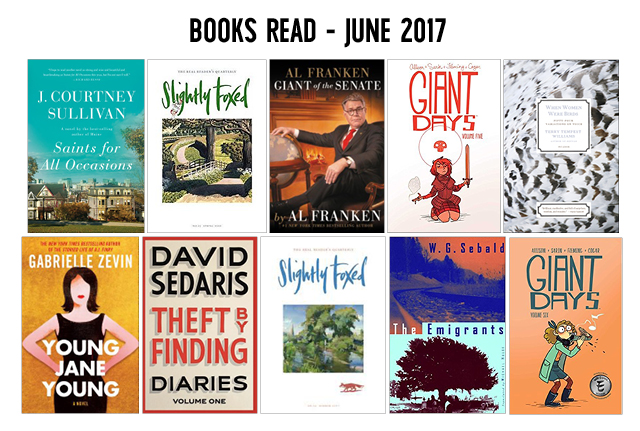 Books Read: 10
FICTION
At the beginning of June I was craving a great "summer read." To me that means a well-written, engaging novel that I don't want to put down. It can be an older book (reading classics during the summer always appeals to me), but this time I was in the mood for something hot of the press. I enjoyed Maine, so I picked up J. Courtney Sullivan's latest novel: Saints for All Occasions. It hit the spot – it was the right book at the right time to help kickoff my summer reading. When you're in the mood for a multi-generational family saga that has it all (Irish catholics! an interesting matriarch! a mysterious death! nuns!), grab this one.
I devoured Young Jane Young by Gabrielle Zevin in just over 24 hours. I'm aiming to post a full review on its release date, but in the meantime I recommend adding this one to your list.
I haven't been doing a great job of Reading My Own Damn Books this year, but The Emigrants has been on my shelf since 2013 when I read Austerlitz and loved it so much that I went out and bought a few more of W. G. Sebald's books. The Emigrants is a novel comprised of four separate stories about German emigrants, told through the perspective of an unknown narrator. I love Sebald's writing so much—it creates a mood of melancholic memories, bringing the past to life and showing us what has been lost.
NON-FICTION
I finished two issues of my beloved Slightly Foxed Quarterly this month: one was a back issue (#25) that I had been slowly reading since Christmas, and the other was their latest (#54), another gem.
Al Franken's new book, Giant of the Senate, is so much fun on audiobook! I really enjoyed listening to the story behind his decision to run for Senate, and all the chaos that goes into running for political office. He also shares details on what it's like to serve in Congress, and he's so down to earth and funny that the whole listening experience is a treat. I was sad when this audiobook ended.
When Women Were Birds by Terry Tempast Williams was an impulse purchase last month at Strand, and I'm so glad it came into my life. It's short, but I read it slowly, lingering over the wisdom and truths on every page. I have The Hour of Land sitting on my shelf, and I'm very much looking forward to it.
I listened to Theft by Finding – the first volume of David Sedaris's collection of diaries. He's spoken a lot about his diaries / notebooks – many of his essays start as little moments or observations he jots down in his notebook. These entries are fun to dabble in (it's hard to dabble in an audiobook – but I managed by switching back and forth to podcasts). I wouldn't really recommend this to anyone who's not already a Sedaris fan, but for those of us who are it's fun to get a glimpse deeper into his world.
COMICS
I read the latest two collections of Giant Days comics: volume 5 and volume 6, and I'm still so in love with this comic. I'm close to catching up to the latest issue, and then I'll have to patiently await each new dose like everyone else.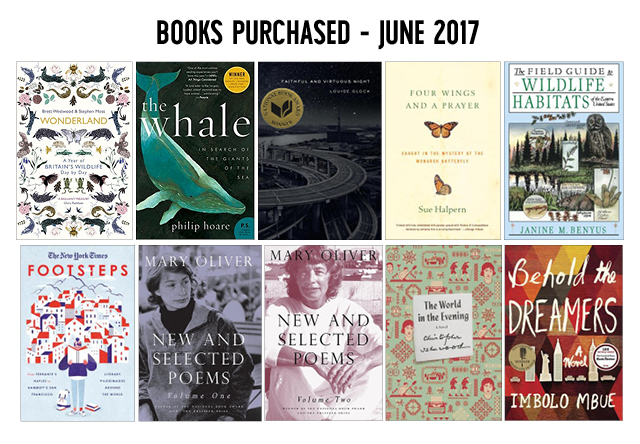 Wonderland: A Year of Britain's Wildlife Day by Day is a lovely Book of Days that highlights different things you can look for in nature throughout the year. (It's a British book, and so is of course focused on English wildlife, but I will relish the opportunity to experience it from afar, through literature.) I can't remember why I bought The Whale by Philip Hoare, other than it's about whales and they are one of my rotating obsessions. I bought a few wonderful books at a great secondhand bookshop in Albany (Dove and Hudson): Faithful and Virtuous Night by Louise Glück, Four Wings and a Prayer: Caught in the Mystery of the Monarch Butterfly by Sue Halpern, and The Field Guide to Wildlife Habitats of the Eastern United States by Janine M. Benyus. Footsteps is a collection of essays from the New York Times travel section that features stories of literary pilgrimages, which is one of my very favorite brands of travel writing. My Mary Oliver fandom is so robust that I not only need to collect all her individual volumes, but I've also decided I need her collected volumes as well, so now I own Volume One and Volume Two. (And because I'm strange, I've started by reading Volume Two first.) The World in the Evening was an impulse purchase at Strand that I'm very much looking forward to reading. And finally – I'd heard good things about Behold the Dreamers, and its recent release in paperback and happy selection for Oprah's Book Club made this the final book purchase of June.