May wasn't the greatest reading month for me: work was stressful and life was busy, which made it hard to focus on reading and to commit to a book. But I read a novel that I'm sure will be on my list of favorite books of the year (A Tale for the Time Being), and many other good books. Shorter books and audiobooks helped redeem my total books read count. June reading is already off to a good start, so cheers to the summer of reading ahead!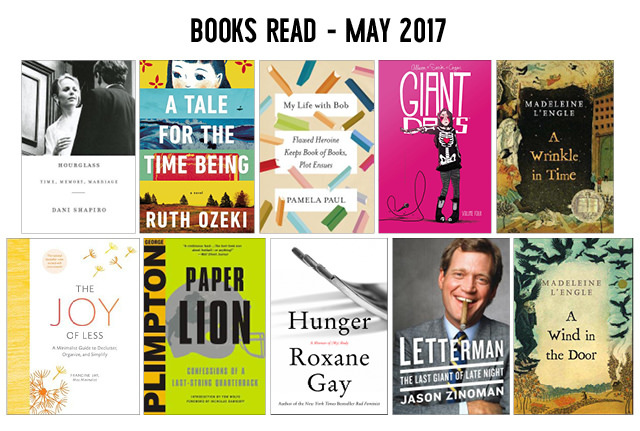 Books Read: 10
Already Reviewed: Hunger by Roxane Gay
MEMOIRS / BIOGRAPHIES
I listened to Hourglass: Time, Memory, Marriage by Dani Shapiro at the beginning of the month, when things were a bit chaotic and I needed something relaxing to listen to. Shapiro has published five novels and four memoirs, but this is the first of her books that I've read. She writes beautifully, and if you like meditative, intimate memoirs you'll likely enjoy Hourglass too.
Pamela Paul is the editor of the New York Times Book Review, and My Life With Bob: Flawed Heroine Keeps Book of Books, Plot Ensues is her memoir in books. "Bob" is her Book of Books – a notebook where she's logged every book she's read for the past 28 years. Her memoir shares how the books she's read form a backbone to all the events of her life—how who she was at the time influenced what she was reading, and vice versa. It's a shining example of how lovely "books about books" can be to read, especially for people who are equally shaped by their reading.
I listened to the audiobook of Letterman: The Last Giant of Late Night by Jason Zinoman. I think Zinoman did a good job of documenting Letterman's influence to late night, and both the highs and lows of his career and personal life. If you're a fan of Letterman and/or comedy, this is an objective account of the comedian and man—the flaws and the charms.
FICTION
My favorite book of the month was A Tale for the Time Being by Ruth Ozeki. The story follows two narratives: a sixteen year old Japanese American girl, Nao, living in Tokyo whose diary washes up on the shore of Canada, and the writer who finds it, Ruth, who lives on a small island. This novel is so wonderful: it's beautifully written, it's fascinating to follow along with the writer as she investigates the mystery of the diary and the life of Nao, it has a grounding in Buddhism (Ruth Ozeki is a Zen Buddhist priest), and it even has a sprinkling of magical realism. I highly recommend this one.
I was due for a re-read of A Wrinkle in Time by Madeleine L'Engle, and I must shamefully admit that I've never read any further into the Time Quintet series. So after a lovely re-read of A Wrinkle in Time, I read book two, A Wind in the Door, which I regret to report I didn't much like. I'm hoping I like book three more.
COMICS
I devoured the fourth volume of Giant Days, the only comic series I've been able able to stick with.
NON-FICTION
The Joy of Less, A Minimalist Living Guide: How to Declutter, Organize, and Simplify Your Life by Francine Jay was exactly the book I wanted it to be: reading it inspired a fresh dose of spring cleaning & purging that we needed. It has much of the same decluttering inspiration as Marie Kondo's book, but doesn't go into the crazy "Kondo lifestyle" that many people find completely unrealistic (such as putting the hand soap away in a cupboard or drawer after each use…how do you get it when your hands are dirty???). However, Francine Jay isn't without her minimalist quirks that are probably too extreme for most readers—for example, she and her husband don't have a bed, they sleep on a futon mattress on the floor. I can understand a regular mattress on the floor, but a futon mattress full time just sounds mean to your back.
Paper Lion by George Plimpton has been on my TBR list for years, and I somehow missed the news that an audiobook edition of it was finally released last year. I queued it up last month and really enjoyed listening to George Plimpton's "participatory journalism" highlighting the season he attended training camp with the Detroit Lions, and played in an exhibition game. You don't have to be a football fan to enjoy Plimpton's storytelling and gift for capturing the stories of the people he meets.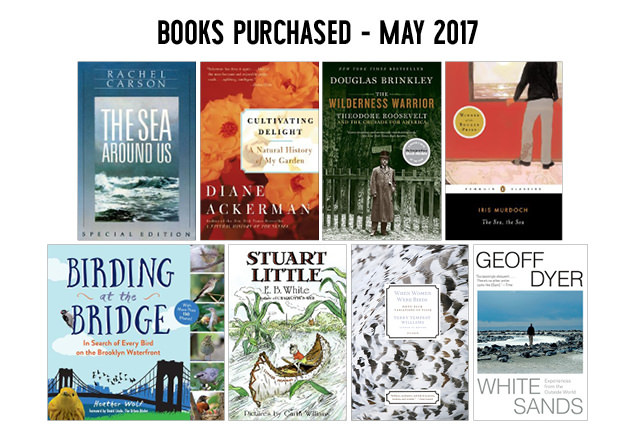 I bought four books while I was in Michigan in May: I couldn't resist copies of The Sea Around Us by Rachel Carson and Cultivating Delight: A Natural History of My Garden by Diane Ackerman at a favorite secondhand bookstore, Kazoo Books. I bought a copy of The Wilderness Warrior—Douglas Brinkley's biography of Theodore Roosevelt from an naturalist perspective. I have a habit of buying giant non-fiction books (Brinkley's is 800+ pages) and then leaving them unread on my shelves, so I'm happy to report that I'm already reading this one, progressing very slowly because I'm reading several other things alongside it.) I got The Sea, the Sea after becoming intrigued by an essay on Iris Murdoch's work in Slightly Foxed. Back in Brooklyn, I got a copy of Birding at the Bridge, a book by the creator of one of my favorite Instagram accounts. I'm slowly gaining the ability to recognize and name more and more of Brooklyn's birds, and this beautiful book will help expand my knowledge. And finally, I had a beautiful day off from work towards the end of the month that I spent wandering all around the city and visiting seven bookstores. I was quite restrained, buying only three books: Stuart Little by E. B. White, When Women Were Birds by Terry Tempest Williams, and White Sands by Geoff Dyer.
//
That's May in books! What did you read last month?