I didn't mean to go MIA here for over a month, but when life gets crazy my blog is usually the first thing to get neglected. The nice thing about a blog is that it stays right where you left it, and though it might feel like it should be covered in dust or moss from disuse, it's still clean and pixely. So I'm just going to jump back in where I left off and tell you about April's reading.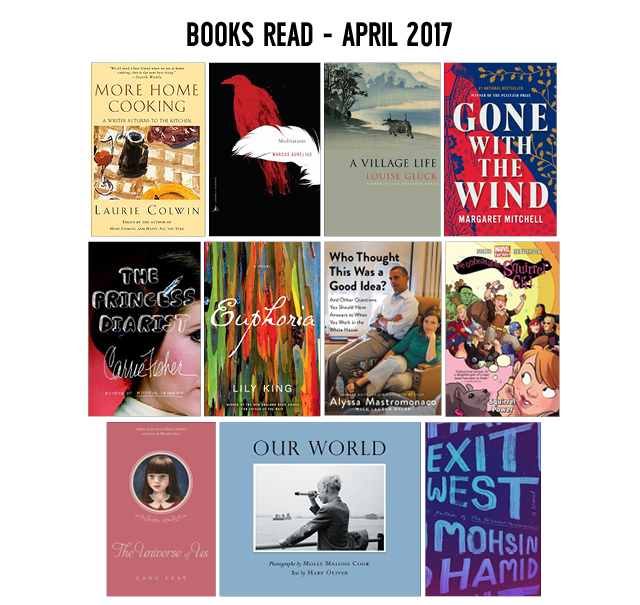 Books Read: 11
Already reviewed: Gone With the Wind by Margaret Mitchell
RE-READ
Laurie Colwin's collections of cooking essays are two of my favorite books to re-read—they are reliably cozy and charming. I re-read More Home Cooking in April, and made one of her recipes from it as well: Wensley Cake. It's a spicy fruit cake, and it's now Graham's favorite dessert that I've baked.
NON-FICTION
I bought a copy of Meditations by Marcus Aurelius after reading this post on Farnam Street in 2013. I was determined to read it as soon as possible, and then four years went by. The blame is my own, not the Roman Emperor's. He wrote honest and wise reflections that he never meant to have published, and yet are still intensely relatable nearly 2,000 years later. If you're interested in reading this one, I recommend the Modern Library edition translated by Gregory Hays. There's an introduction written by Hays that includes background and context that helped me appreciate Aurelius's work even more.
I listened to The Princess Diarist by Carrie Fisher on audiobook. Parts of it were poignant to hear so soon after her untimely death. I enjoyed listening to her reflections on making Star Wars and her affair with Harrison Ford, but the actual diary entries from the set were painful to listen to. It was an easy audiobook that had fun moments, but I liked Wishful Drinking more.
Readers of this blog know how much I love Mary Oliver's poetry, and I finally picked up Our World—a collaboration she put together after her long time parter Molly Malone Cook passed away. This book includes Cook's talented photography combined with words and poems from Mary Oliver. It's a beautiful portrait of lives lived fully in lovely companionship.
I listened to the audiobook of Who Thought This Was a Good Idea?: And Other Questions You Should Have Answers to When You Work in the White House by Alyssa Mastromonaco, and I loved hearing her fascinating stories about the day-to-day challenges of planning and managing political events on the campaign trail and in the White House. My only critique is that it was a little hard to follow sometimes—jumping forward and backward in time. I get that she was trying to group the stories by theme, but I got lost a few times, probably not helped by the fact that I was listening to it vs reading it in print.
POETRY
A Village Life is the first collection of poetry I've read from Louise Glück, and I enjoyed it very much. I loved the sense of place each poem evokes and by the end I was longing to pack up our bags and move to a small village. (Even more than usual.)
I've enjoyed Lang Leav's poetry in the past, so I read The Universe of Us during April's Readathon. I had the same reaction to it as I did to Milk and Honey by Rupi Kaur—the feeling that maybe I've outgrown this kind of poetry. My inability to relate to it so immediately caused it to lose its power.
FICTION
I was in a bit of a reading slump after finishing Gone With the Wind—everything felt a little flat after Scarlett O'Hara. But Euphoria by Lily King lifted me right out of my slump and dropped me down into the middle of a love triangle between anthropologists conducting tribal field study in New Guinea. I didn't look back. This novel is gorgeously written, captivating and unique. A perfect slump buster, vacation read, or anytime book.
My library hold for Exit West by Mohsin Hamid finally came in, and I read it quickly during the Readathon. Hamid uses magical realism to paint a moving portrait of the refugee crisis. A study about how reading literary fiction improves empathy made the news a few years ago, and this novel is a shining example of a story that will make your heart expand.
COMICS
I read The Unbeatable Squirrel Girl Volume 1 during the Readathon. I picked it up for the "Read a superhero comic with a female lead" category of this year's Read Harder challenge. I don't normally read superhero comics, so this was definitely outside my wheelhouse. And I'm glad I read it: Doreen Green is so much fun. I'll definitely be back for more adventures with Squirrel Girl.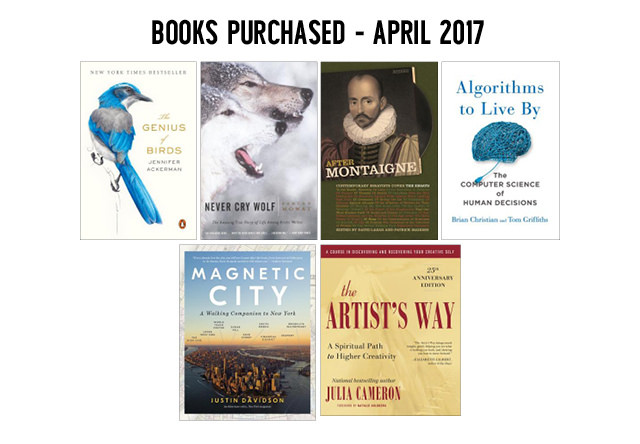 I've been drawn to the nature shelves in bookstores lately, and it hasn't been easy to leave without bringing home new books, which led to welcoming The Genius of Birds by Jennifer Ackerman and Never Cry Wolf by Farley Mowat to my shelves. I also brought home After Montaigne – a collection of essays that I could not resist, due to the connection to one of my favorite literary mentors. Algorithms to Live By: The Computer Science of Human Decisions by Brian Christian and Tom Griffiths looked really interesting, so I bought it. (However, I started it and had to put it aside—reading it felt like a chore. I hope to give it another try soon.) And finally, I visited my neighborhood's brand new independent bookstore, Books are Magic, on its opening day, and left with Magnetic City: A Walking Companion to New York by Justin Davidson and The Artist's Way by Julia Cameron.