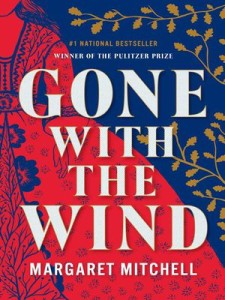 Gone With the Wind wasn't on my radar as a 'must read classic' until two years ago when I read Sarah Lawson's essay Frankly, My Dear in Slightly Foxed: The Real Reader's Quarterly, Issue 45. But, like many books that get added to my TBR list, there it sat for a few years.
Last month, my manager at work inspired me to get the audiobook of GWTW; she was listening to it at the time and was completely captivated with the story. Despite being intimidated by the length of the audiobook—49 hours!—I decided to give it a go.
I bought a print copy as well, intending to read along with the narration like I did for a few other giant classics I've tackled via audiobook: Moby Dick and The Brothers Karamazov. But I needn't have bothered: despite its size, the epic scope of the plot, and its 100+ characters, this novel is a breeze on audiobook. It's a perfectly crafted story, and there isn't a single dull or dry moment. If Margaret Mitchell reintroduces a minor character you haven't heard from in 200 pages, she slips in a gentle reminder of who the heck they are. I never felt lost or overwhelmed anywhere in the 49 hours and 7 minutes. (Although I will admit it was very satisfying to move my bookmark forward in the print edition each night to the place I left off in the audiobook, to see my progress in a very tangible way.) 
I also will say this: I would have liked this story very much if I had read it only in print, and probably still counted it as a favorite, but I suspect much of my love and adoration is specifically because of the audiobook. Linda Stephens brings this story to life. Her character voices are delightful. She conveys Scarlett's passions and dramatics with humor, every single "God's nightgown!" and "Fiddle-dee-dee!" will make you smile. And her Rhett Butler voice is dreamy—you won't be able to help falling for him. Additionally, Margaret Mitchell uses phonetic spelling throughout the dialog, a device that hasn't aged well. It's much easier to listen to Linda Stephens tackle the variety of accents with grace than to clumsily make your way through the phonetically spelled dialog.
OK, so now to talk about the story itself. Here are three things that make this book so excellent:
1. Masterful storytelling: I think a good rule of thumb for writers is: don't write a 900+ page novel unless you're damn good at it. And Margaret Mitchell was. Characters, description, dialog, plot, scenery, setting: everything is crafted to perfection. From the sunny barbecue at Twelve Oaks that opens the novel, the war ravaged Atlanta rebuilding itself after the war, to the enduring plantation at Tara: every single page feels alive, every character is richly developed, every event is significant. There's drama, a lot of humor, and a whole lot of humanity. The only word for it is masterful, and it's a pleasure to inhabit this world for a while.
2. Exceptional female characters: Many people call Gone With the Wind a romance, and maybe that's true. But it's also one of the most powerful stories of female friendship I've ever read. The evolution of Melanie and Scarlett's friendship is one of the most complex and moving portraits of female courage and friendship in literature. The core of this book is the strength and perseverance of women, and their journey gives this book its heart.
"Margaret Mitchell (1900-1949) explained one of her motives for writing GWTW: as a child in her native Atlanta she had noticed that older women in the family circle who had been young at the time of the Civil War had a special quality of gentleness but also a certain intriguing toughness. Mitchell wanted to explore the sources of that toughness and find out how those older women got that way."

– From Sarah Lawson's article Frankly, My Dear, in Slightly Foxed: The Real Reader's Quarterly, Issue 45.
3. A deeper understanding history: As a northerner (or as Scarlett would call me, a Yankee) born 119 years after the Civil War ended, it was hard for me to understand why so many in the south still felt bitter over the war. It's ancient history, right? We all agree slavery was wrong, right? This book helped me understand how Southerners felt after the war, feelings that were passed down through generations and that still persist today. Does it portray a biased view of slavery, African Americans, and the war? Absolutely. But this perspective was and still is held by many, and learning about it is key to understanding the history of America. And regardless of whether you think it's right or wrong, it's helpful to understand how it happened.
From Pat Conroy's introduction to the 1996 edition:
"Gone With the Wind works because it possesses the inexpressible magic where the art of pure storytelling rises above its ancient use and succeeds in explaining to a whole nation how it came to be this way." 
I don't know when I'll re-read (re-listen to) Gone With the Wind, but I'm already looking forward to it.
//
If you'd like to read Sarah Lawson's essay that I mention & quote above, click on this link to Slightly Foxed and click the "Read Excerpt" link that appears over the cover image. The essay is the first in that issue, and it appears right after the From the Editors note. Or treat yourself to a subscription to Slightly Foxed, which comes with access to their complete digital archives. I can't praise this lovely quarterly enough—it's brought so many wonderful books into my life, and is a literary delight itself.