I managed to read quite a lot of books in March, which is partially why it's taken me nearly all of April to post my monthly reading recap post. (Spring weather in NYC and zero desire to focus on blogging the first half of the month were also factors.) But now I'm back to report on all the titles that I enjoyed in March (and one that I didn't).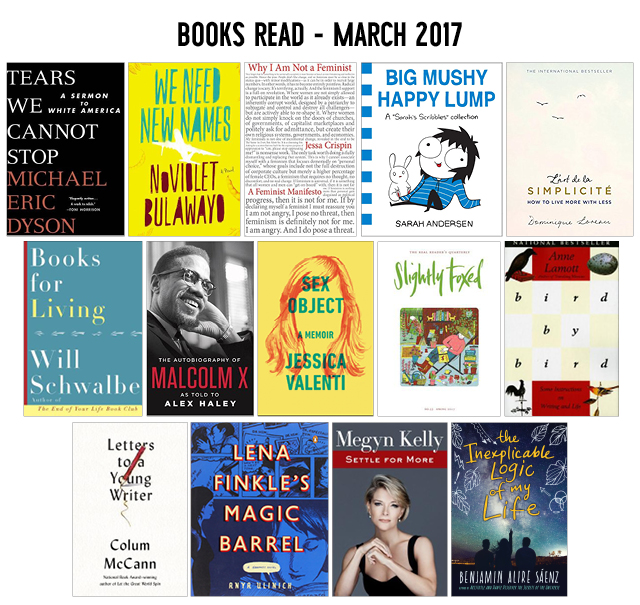 Books Read: 14
NON-FICTION
Half of the books I read in March were audiobooks, starting with Tears We Cannot Stop by Michael Eric Dyson. It's another important addition to the social justice bookshelf: compassionate, compelling, personal, urgent, informative, needed, soaring. This one was extra powerful on audio, as Dyson narrates it wonderfully.
I also listened to Why I Am Not a Feminist: A Feminist Manifesto by Jessa Crispin. I've thought a lot about this book since finishing the audiobook, and I've concluded that I need a print copy to refer back to before I can share any cohesive thoughts. This book has received a lot of criticism, and some of it is probably fair, but I think Crispin raises many points that are worth hearing and considering. I'd like to re-read this for a book group discussion, and spend some time marking up a print copy and then talking it through with other ladies. Apologies for the lack of anything more interesting to say about this one, but the audiobook version (despite being a good listen) didn't provide enough opportunity to digest these big ideas.
I was curious about Will Schwalbe's first book The End of Your Life Book Club, but I was afraid it would be a little too devastating. Books for Living, his latest memoir / book about books, seemed like a much lighter selection. I listened to the audiobook, and enjoyed hearing about the some of the books that have influenced his life, so much so that I've already bought two of them.
I haven't given a book a 1 star rating on GoodReads in some time, but L'art de la Simplicité: How to Live More with Less by Dominique Loreau got the honor this month. I listened to this on audiobook hoping it would give me a fresh boost of the spring cleaning / purging inspiration that The Life Changing Magic of Tidying Up gave me a few years ago. I would have been better off just re-reading Kondo's book. If I had L'art de la Simplicité in print, I would have thrown it out a window unfinished. Because it was a pretty easy audio listen I ended up finishing it, but only because it was so spectacularly ridiculous that I wanted to hear what absurd thing she was going to tell me to do next. I raised my eyebrows when she proclaimed that a side chignon with pearl or diamond earrings and red lipstick was the best look for women. (I don't think there's anything wrong with this look at all, but didn't enjoy the implication that this is the ideal standard of women's style.) She then goes further down a waspy tunnel of perfection by detailing obsessive skin care and health regimens that include washing your eyeballs and regular periods of fasting. Kondo notes that it's better to have a few, quality things that you love vs. heaps of cheap things, but doesn't tell you to go out and spend a lot of money replacing all your possessions with the luxury version, as Loreau recommends. In the end, this is not a book about living simply, it's a book about how to achieve Loreau's personal opinion of feminine perfection.
I tried to read The Autobiography of Malcolm X at the same time that the Social Justice Book Club read it, but I started late, and for some reason it took me ages to finish it. I didn't know very much about Malcolm X, but I found myself completely hooked by his powerful story. There's something about the way it's written – it feels so alive and urgent. It's a brilliant account of one of the most important and interesting figures of the 20th century, and I recommend it highly.
Sex Object by Jessica Valenti was my fifth audiobook of the month, and I flew though it. It's an interesting, very personal, take on feminist issues. Some of her experiences are difficult to read, but that's what makes this book important.
The latest issue of Slightly Foxed, #53, was lovely, as always. I didn't buy any of the books featured in it, but that's not why I read it anyway. I read it because every essay is delightful, and I learn something new about the world in each one. This issue also features an essay about War and Peace, which I was happy to read since I am gearing up to tackle it soon.
I re-read Bird by Bird via the audiobook, inspired by Will Schwalbe's chapter on it in Books for Living. It was fun to revisit this one on audio—it's been a while since first read it in 2009.
I received a review copy of Letters to a Young Writer by Colum McCann, and I enjoyed reading his advice on writing, which seems to soar off the page. It's (of course) titled as a nod to Letters to a Young Poet, and McCann humbly throws his best advice into the cannon of books about writing. I've read a lot of books on writing lately, though not on purpose. This one is more philosophical than Bird by Bird or On Writing, which makes it valuable in a different way. It deserves a spot in a writer's workspace, and I could picture it being a treat to pick up and read a bit at whim for motivation. It's a perfect gift for a literary minded graduate, or any aspiring writer in your life.
My final audiobook of the month was Settle for More by Megyn Kelly. It might also be my favorite audiobook of the month, or at least tied with Books for Living. Kelly classifies herself as an Independent, but her long stint on Fox News made me feel like this book was a "diverse" read! She shares the story of her life (so far) with humor, humility, and grace, and I was bummed when my time with her was over. She's a hardworking, badass lady, and her memoir is excellent. (And the backstory behind her feud with Donald Trump is fascinating and troubling.)
FICTION
One of my reading goals this year is to read books from a greater variety of author nationalities, so I picked up We Need New Names, a well reviewed debut novel by Zimbabwean author NoViolet Bulawayo. I enjoyed this coming of age story of a girl, Darling, navigating a changing world in Zimbabwe before emigrating to the United States and facing new challenges and changes. A bonus easter egg for me: not only does she move to Michigan, she moves to my hometown! I don't see my hometown in literature very much, and it was strange and amazing to watch Darling go to the same mall I went to in middle school and high school.
I selected The Inexplicable Logic of My Life by Benjamin Alire Sáenz for the 2017 Read Harder Challenge (category: Read a YA or middle grade novel by an author who identifies as LGBTQ+). I picked it because I enjoyed Aristotle and Dante Discover the Secrets of the Universe, but this one fell a bit flat for me. The characters had so much heart and the story is beautiful, but there was something about the dialog that felt out of place kept taking me out of the story. But it's a quick read, and still has many redeeming qualities.
GRAPHIC NOVELS
I was excited to see there was a new Sarah's Scribbles collection just released, Big Mushy Happy Lump. It's just as fun as the first volume (Adulthood is a Myth), and I devoured it in a single sitting. (Check out Sarah on Instagram if you're new to her work.)
I'd heard good things about Lena Finkle's Magic Barrel by Anya Ulinich, and it didn't disappoint. It's a story about online dating and finding love as a divorced single parent, and it's beautifully drawn and told.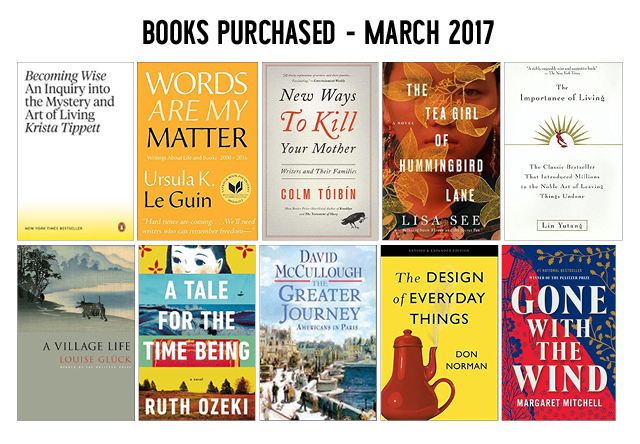 This month I bought: a book by one of my favorite podcasters, Krista Tippett's Becoming Wise, Words Are My Matter: a new collection of essays by Ursula K. Le Guin, a book about authors and their families: New Ways to Kill Your Mother by Colm Tobin, the latest novel from one of my favorite fiction authors: The Tea Girl of Hummingbird Lane by Lisa See. I bought two books that I read about in Books for Living: The Importance of Living and A Tale for the Time Being. A visit to Strand led to a few impulse purchases: A Village Life by Louise Glück, The Greater Journey by David McCullough and The Design of Everyday Things by Don Norman. And finally, I picked up a copy of Gone With the Wind, so that I could start my readalong with the 49 hour audiobook.
//
That's March in books! This post is coming so late that it's nearly time to tell you about April's books. If this weekend's readathon doesn't boost my reading stats, April's post will be much shorter.